Mitzi Mason, Capt. Steve Southern Honored In Paducah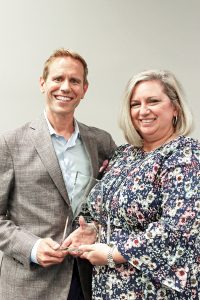 Two well-known Paducah, Ky., river personalities were honored for their river industry dedication during the Paducah Propeller Club's annual Maritime Day celebration conducted at the Seamen's Church Institute May 19.
Caleb King, compliance director at Inland Marine Service and Propeller Club vice president, served as master of ceremonies and welcomed guests and attendees. He said in 1933, Congress designated National Maritime Day to help demonstrate the importance of the maritime industry and to honor the mariners who have lost their lives in the maritime service. Paducah and the four rivers region is known as the hub of the Western Rivers, and the broad reach of the Propeller Club's membership—consisting of 73 associated businesses and several industry retirees is a testament to the interest and importance of the Port of Paducah, he said.
Named Propeller Club Port Person of the Year was Mitzi Mason, general manager of the Kentucky division of Paducah Rigging Company, and honored as Maritime Person of the Year was Capt. Steve Southern, director of motor vessel operations at Ingram Barge Company. Both have been deeply involved with area river interests through their combined decades of service with hands-on vessel operations, shoreside supervision and industry equipment and supply services.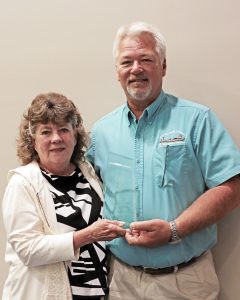 Paducah Rigging Company President Alex Edwards said Mason was certainly worthy of her award. "I think anyone who's been active in the Propeller Club knows she has truly been the backbone of the club for the past 10 or 15 years," he began. He went on to describe her service with two terms as secretary, a term as treasurer, vice president, president and chairman. "And she's still serving on the board," he added.
"Mitzi has brought a unique set of skills to the table and she always has, and anyone who knows her understands that," he noted. Edwards said Mason brings common sense, hard work, organization and a "can do" attitude into every project or challenge, but the quality he most admires about her is that she gets the job done. "In an organization made up of 100 percent volunteers, the only way to succeed is to have 'doers.' … But someone has to execute and that person has been Mitzi, along with a handful of others, but Mitzi has been the backbone."
Prior to presenting Southern with his award, Madonna Cox, Propeller Club board member and Ingram retiree, described him as "a great man, a leader and a true asset to our industry." She said he is posted on the Monongahela, Kanawha, Ohio, Tennessee, Cumberland rivers and the Upper Mississippi to St. Louis. In 1999, he moved ashore as operations manager before assuming his current responsibilities. She went on to name and describe the many industry organizations where he has been instrumental in assisting in mitigating serious channel blockages and coordinating vessel or barge recovery operations. She noted that Southern has served as the Ohio River Ice Committee chairman since 2009. "Anybody that's been on the Ice Committee knows that type of commitment you have to have to this industry," she remarked.
Capt. Southern began his career as a deckhand for Ingram Barge Company in 1983 but soon moved to Reed Crushed Stone, and within five years was a pilot. He later returned to Ingram, where he has spent the remainder of his career.
"I caught my first boat at Lock 52 in 1983 and it seems like I've been working at Lock 52 for the past nine years," he lamented, in reference to the constant problems with navigation delays at the outmoded and failing navigation structure. "It's a privilege and honor to be standing before you and I feel blessed," he said.
Mayor Brandi Harless read a proclamation declaring the date as Maritime Day and then presented a "Duke of Paducah" certificate to Southern and a "Duchess of Paducah" certificate to Mason.
Two local graduating high school seniors—Lauren Shea of Graves County High School and Carson Short of Marshall County High School—were also honored with $1,500 college scholarships in recognition of their scholastic achievements. "These scholarships ideally match one of our club's primary purposes, which is to promote the maritime industry," King remarked. He said the scholarship promotion, application and selection process engages counselors, teachers, parents and students. "While perhaps only at an introductory level, these people are now becoming more familiar with our organization and industry. By planting these seeds, we are hopeful some will become involved in our industry in the future or be supportive of it," he added.
The keynote speaker was Coast Guard Cmdr. Mark Sawyer, commander of the Coast Guard Marine Safety Unit-Paducah.
He congratulated the national Propeller Club on its 100th anniversary, noting the organization has a strong history of supporting numerous maritime interests and organizations such as the Coast Guard, as it has done locally for many years. "We have great honor and respect for what you do."
"Every day is a good day to honor a mariner. Say thank you to a mariner if you can. What they do is tremendous. They've earned their license, they've earned your respect and they're professionals," he said. He also reminded the audience to pay homage to those who've lost their lives. "This is a risky business. Not everyone comes out unscathed."
Andrew Gates, maintenance coordinator for Hines Furlong Line, and acting president of the Paducah Propeller Club, concluded the program with a brief memorial to three local marine industry employees, Timothy Wright, Jerome Smith and Quentin Stewart, who lost their lives in a deadly towboat explosion last January. Wright was a long-term employee of Western Rivers Boat Management while Smith and Stewart were contractors from Louisiana. Also recognized was Dan Owen, former associate editor of The Waterways Journal and editor of the Inland River Record, who also died in January. Owen's most notable contribution to the industry was his dedication to publishing the annual Inland River Record, Gates said. "He had a vast passion for the river and its vessels which travel its many miles," he added.
Attendees and guests were invited to walk across the street and through the floodwall to watch as a memorial wreath was placed in the river by personnel aboard a Coast Guard vessel as Taps was played by Arianna Mundy from the Paducah Tilghman High School band.