It seemed almost more a family reunion than a traditional towboat dedication when American Commercial Barge Line officially welcomed the revamped towboat Capt. Gregory Smith into its fleet during a November 8 ceremony at Paducah, Ky. Multiple generations of the namesake's family gathered for a catered dinner at nearby Walker Hall the night prior to the dedication as they honored Capt. Gregory Smith, a senior captain with more than 45 years service with ACBL and its predecessors.
Smith is a second-generation riverman who followed in the steps of his father, Capt. Larry Smith. Larry Smith, now retired, is credited with training his son and many other Missouri River and Lower Mississippi River heavy tow pilots, including Capts. Harold Dodd and Tony Kelly, stepson Capt. Charles Baughman and nephew Capt. Jim Smith.
Family members from Arkansas to Michigan laughed as Dodd and others regaled the informal get-together with tales of exciting, frightening and funny experiences shared among the close-knit family of career rivermen.
In addition to serving as master on the 11,000 hp., Robert M. Posey, Gregory Smith also serves as a classroom and onboard instructor on a variety of topics. He holds five U.S. patents for marine hardware, including the popular EZ Stick depth sounder pole and a pending patent for an LNG fuel feeder barge. He has also authored a book, titled "River Navigation."
He and his wife of 42 years, Mary, a retired art teacher, live in Hoxie, Ark. They have three sons: Travis, Curry and Tanner Smith; a daughter, Lacy Ann York; a foster daughter, Reba Smith Howe; and seven grandchildren.
Dedication Ceremony
Activities continued the next day with an open house and tours of the glistening triple-screw vessel, followed by a more formal ceremony at the Carson Four Rivers Center, adjacent to the floodwall. A luncheon reception and buffet preceded the actual bottle-breaking event.
Paul Tobin, ACBL senior vice president and chief operating officer, welcomed the family and guests, saying a vessel renaming is the highest honor in the maritime industry. Smith, he went on to say, has earned tremendous respect and admiration over the years through his leadership and pride in being a remarkable teammate as well as his dedication to the company.
"Greg's contributions to ACBL are numerous and significant, but one virtue that stands out to me is his ability to bring out the best in people and to further ensure that each and every job aboard his vessel is performed safely," Tobin said. He added that Smith treats others with respect and dignity, regardless of position, while valuing each person's talents, perspective and experience.
"Greg is a leader who partners with his crew, ensuring accountability through support and coaching," Tobin said. "While this might take extra time, it helps develop leaders and promotes teamwork. As you might expect, teamwork aboard a vessel is essential."
Capt. Randy Chamness, director of river operations, recalled the honoree's career for the audience. Smith began as a green deckhand for Missouri River Barge Line in 1973, and after three years, he took advantage of the opportunity to learn to be a pilot by working with his father, who was already known to have "made pilots" out of many men.
Chamness said Smith's first pilot job was on the ever-changing Missouri River during the summer navigation season and then on to other rivers during the winter, where there was very little "posting" involved. "Back then, posting was nothing more than a chart book and a flashlight," Chamness said. After only a year as pilot, Smith advanced to captain, where both his navigation and leadership abilities were quickly challenged. Through a series of buyouts, mergers and acquisitions, he ended up with Flowers Transportation, where he learned the art of handling heavy tows in 1982. He has remained in that capacity ever since, through the acquisition by The Valley Line, which was in turn acquired by ACBL in 1992.
Chamness praised Smith for stepping up, early in his career, to help other aspiring crewmembers become pilots, back when there was less inclination to train successors because of the perception that new, younger pilots would suppress wages and erode job security for seasoned pilots.
"Greg never relented and has gone on to train countless pilots, many of whom have gone on to become quality captains themselves and have returned that favor by also training new pilots," he said.
Presentations
The official ship's Bible was presented by the Rev. Kempton Baldridge, chaplain for the Seamen's Church Institute, with assistance from fellow SCI chaplain Rev. Don Reusch and  from William Cuscarelli, a member of SCI's support staff. Baldridge also presented the crew with a U.S. Merchant Marine flag to be flown beneath the national ensign.
A new U.S. flag was presented to the vessel's captains by Cmdr. Luis Carmona, commanding officer of the Coast Guard's Marine Safety Office Paducah. It was Carmona's first role at a christening event since assuming the Paducah command a few months previously.
Prior to the bottle breaking, Smith laughingly asked Carmona if there would be any repercussions following any overboard spillage of champagne; he quickly replied, "I'll take care of it!"
The official ACBL flag was presented to Capts. Rob Deluca and David Raines by James Masters, vice president-operations.
The presentation of the company colors at a boat dedication is a long held tradition, symbolic of both change and a new beginning, Masters noted. "At the same time, we honor and hold dear those values that have built this great company and that will remain unchanged; mutual care, personal responsibility, agility, teamwork and high involvement. Greg Smith embodies each of these qualities, and we have been fortunate to have him as a teammate and leader for more than 45 years," he concluded.
Masters then invited the honoree's wife, Mary Smith, to the podium, where he presented her with a large vase etched with the vessel's name, silhouette and dedication date, remarking, "On behalf of ACBL, we are honored to present to you this vase in recognition of this occasion and for all that you do to support Greg."
Capt. Smith was very humble in his remarks, thanking ACBL, his family and his friends for supporting him through his multi-decade love affair with the river.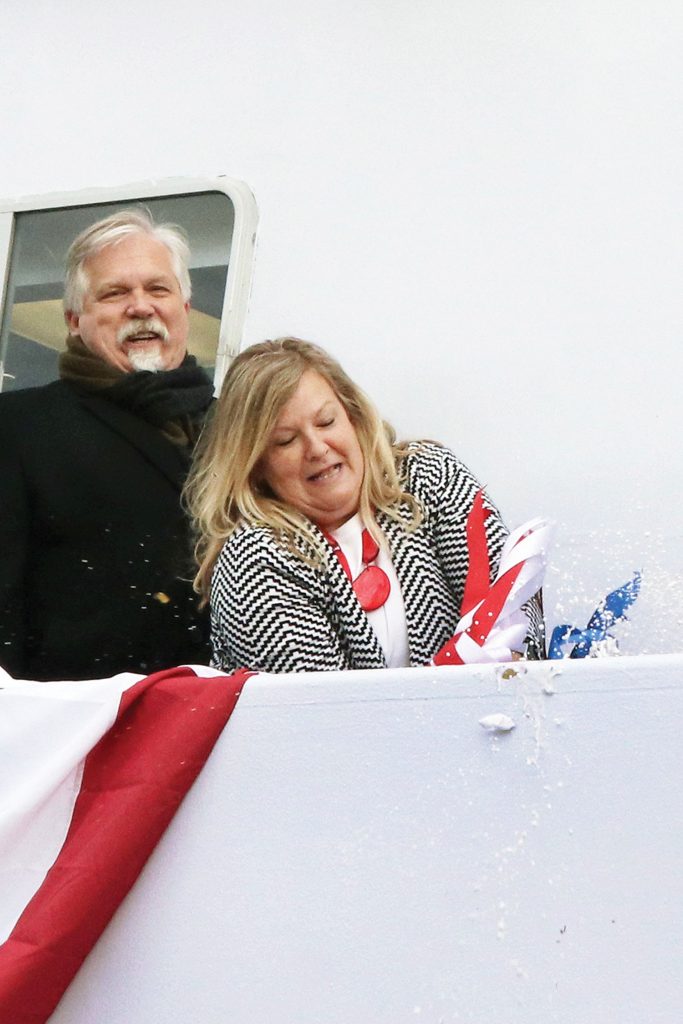 "So many people underestimate all the sacrifices made by mariners' wives," he began as he thanked his wife for everything she has done while he pursued his river career. "She did a miraculous job of raising our family without me. She did the hard work." He continued, "I love my career, but she's the love of my life."
He went on to remind the audience that although he greatly appreciates the recognition that ACBL has bestowed on several senior captains in recent years by naming boats in their honor, he finds it somewhat disappointing that they have not renamed one of their larger Lower Mississippi River boats in honor of CEO Mark Knoy. "He's a man who has strongly supported the industry over the years and has spearheaded the turnaround and transformation of this great company, and I suggest they put his name on the list." He later said following the event, that if given the choice of trading that day for naming the boat in Knoy's honor, "I'd have to think about it!"
Vessel Specs
The Capt. Gregory Smith is a 180- by 52-foot, triple-screw lower river powerhouse, developing 9,120 hp. from three GM 16-645E7B diesels. It was built by Jeffboat in 1971 and had been operated by ACBL as the Frank Rader until being pulled from service for a complete overhaul and refurbishing at James Marine. It returned to service with the new name in 2014.
During the refurbishing project, the interior was stripped and a new modern console was installed in the pilothouse to accommodate the plethora of navigation and communications equipment that had come about during the boat's 43 years of operation. The galley and all living spaces were also updated to provide a more comfortable and safer environment for the crew. During the refurbishing project, the kort nozzles were upgraded and the steering system was redesigned to accommodate new Becker articulating rudders.
Chamness said the three other boats from this series—the mvs. Capt. Carl Page, David A. Lewis, Jacky L. O'Neal—have all been retrofitted with the Becker rudders, which have greatly enhanced their performance and efficiency. He went on to say the Page and O'Neal have had their pilothouses raised and there are plans to do the same to the Capt. Gregory Smith and David A. Lewis in the future.
The crew of the Capt. Gregory Smith currently on board includes: David Raines, captain; Trico Shelton, pilot; Ronald Neathery, chief engineer; Corey Holder, assistant engineer; Kevin Williams, senior lead; Justin Harris and Willie Baldwin, lead deckhands; Caleb Jackson and Jimmy McDaniel, deckhands; and Shelia Jones, senior cook. The crew off now includes: Robert DeLuca, captain; Adam Stephens, pilot; Jeffrey Barton, chief engineer; Jerry Adams, chief engineer; Edwin Madison, senior lead; Evan Mickelson, lead deckhand; Tim Hodges and Zachary Moore, deckhands; Devontae Fair, probationary deckhand; and Kevin Hill, senior cook.
Slideshow with more pictures from the dedication ceremony:
Back row: Capt. Greg Smith, Capt. Charles Baughman and Capt. Jim Smith. Front row: Pauline Smith and Capt. Larry M. Smith.