The windstorm that decimated Economy Boat Store (EBS) in Wickliffe, Ky., two years ago wasn't the first natural disaster the company has faced, but through it all the store has persevered and is ready to serve customers with an all-new facility.
The store, operated by parent company Pilot Thomas Logistics, held its reopening and dedication October 17. More than 60 people were on hand, touring the new, 13,500-square-foot prefabricated steel building constructed on the footprint of the former store.
"It's state of the art, new everything, high efficiency and user-friendly as far as the job that we do," Wickliffe store operations manager Barry Kelley said.
Economy Boat Store will remain "one-stop shopping" for its customers, said David Reynolds, vice president for Pilot Thomas Logistics and managing director of Economy Boat Store. The business offers a full slate of services, including a butcher shop, grocery and marine supplies warehouse. The building has a brand new freezer and cooler as well as an expanded crew lounge for comfort during crew changes, with new couches and televisions.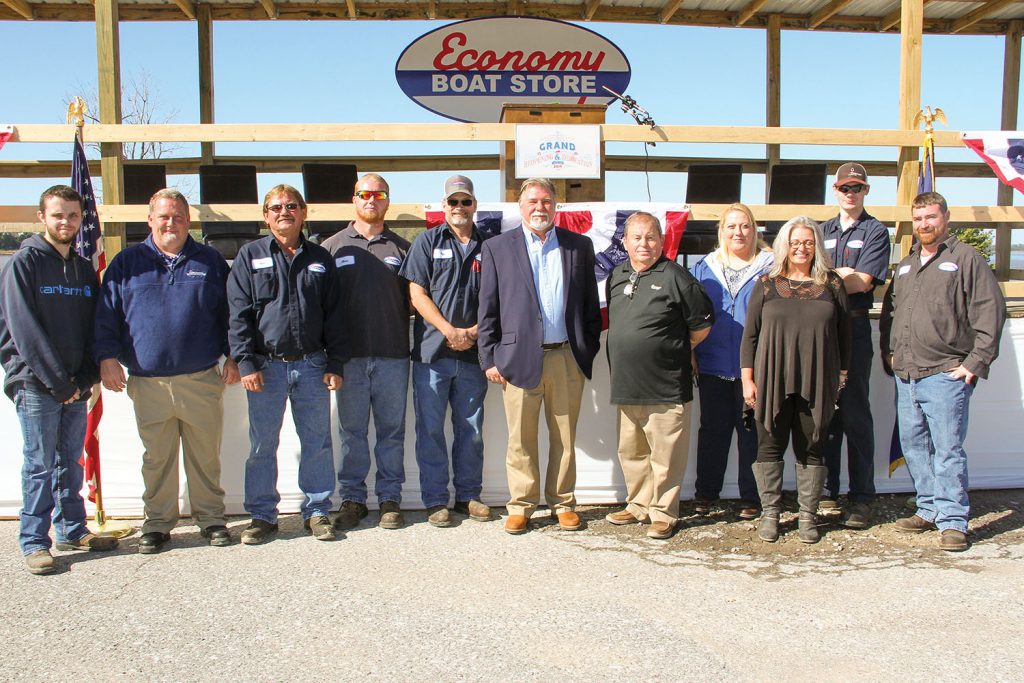 Kevin Beasley, EBS Wickliffe's grocery and marine manager, said the new store is something to be proud of.
"It means the world to us," he said, noting that there is much more space for employees to go about their duties. "It gets us to where we can breathe again. To get a facility like this, it's mind-blowing."
Dee Colborn opened the original Economy Boat Store in 1936 in Wood River, Ill., and EBS pioneered the midstream fueling concept in 1951, according to the company website. Besides Wood River and Wickliffe, EBS now has additional stores in St. Louis, Mo.; Mobile, Ala.; Baton Rouge, La.; and Memphis, Tenn.
The Wickliffe store opened September 15, 1988, near the confluence of the Mississippi and Ohio rivers. It quickly became a stop mariners relied upon. In 2009, when an ice storm devastated far western Kentucky, knocking out most business' power for a week or more, Economy Boat Store stayed open to serve its customers. In 2011, when the U.S. Army Corps of Engineers blew the Birds Point Levee as part of flood control measures, stores in nearby Cairo, Ill., closed, and much of the town was evacuated. Economy Boat Store employees built a road and secured temporary lighting and some aluminum scaffolding for a walkway.
"You as a crew member never got your feet wet," Kelley said.
The store faced its greatest challenge about 4 a.m. March 7, 2017. That is when straight-line winds the National Weather Service in Paducah, Ky., later estimated as 80–85 mph. ripped the roof off. An employee of that time, LeShea Bonnafield, was sitting at her desk in the dispatch center when the wind picked up. She went into the warehouse for safety. When she returned minutes later, part of the roof had landed on her desk and chair, Reynolds said.
Kelley recalled pulling up about 30 minutes after the storm.
"Half of this roof was peeled up and laid over," he said. "There was a monsoon rain coming in over the office."
Employees quickly moved stock into temporary trailers, set up a freezer and a cooler and never lost a full day of service.
"We were back up and running within hours, a testament to our team and the foundation we have here in Wickliffe," Reynolds said.
Congratulations on the store reopening came in from Ballard County Judge-Executive Todd Cooper and Wickliffe Mayor David Phillips. U.S. Rep. James Comer sent a congratulatory letter, along with attendance from his field representative, Martie Wiles. Comer praised the business' sense of perseverance and vision.
Cooper noted that economic development is not only about attracting new businesses, but also retaining the businesses a community already has. Economy Boat Store's decision to rebuild maintained 31 jobs.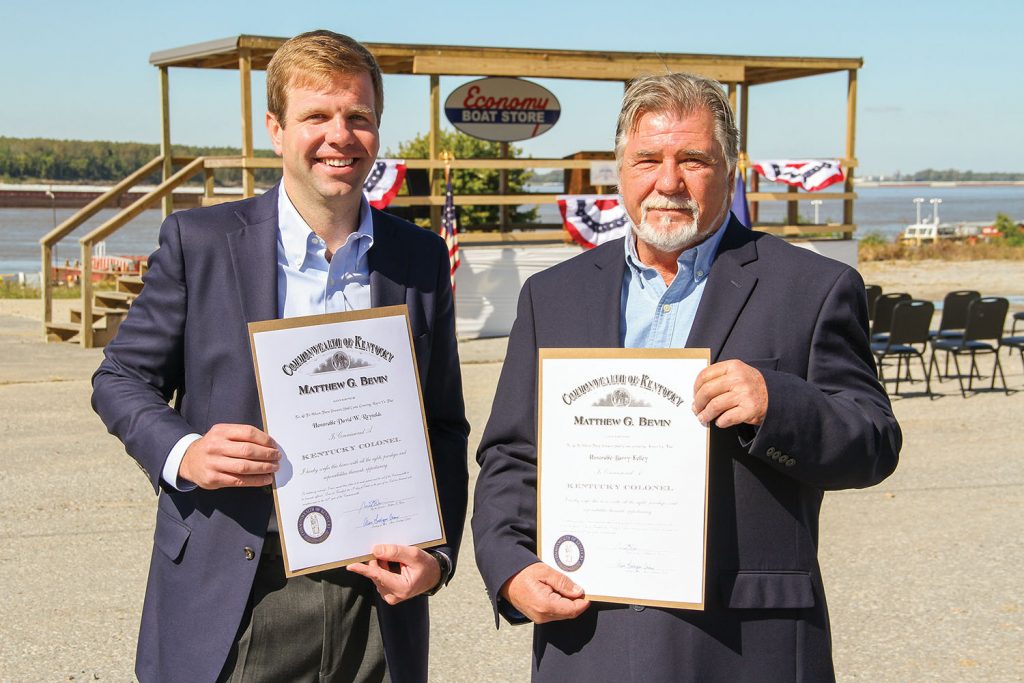 "Anything we can do to support inland waterways, we're going to do it because of the tremendous economic impact on our region," Cooper said.
He also called the new facility very modern and well thought out and planned.
Phillips said Economy has been a good neighbor, and the new facility lays the groundwork for a continuing relationship for many years to come. He noted that the company has stayed in Wickliffe even when the county's largest employer, the nearby Verso paper mill, shut down. Now it is still around to see the mill reopen this year as Phoenix Paper.
"Economy has been with us many years, stayed with us through the good and the bad," Phillips said.
As part of the ceremony, Cooper and Phillips presented Reynolds and Kelley with awards from Kentucky Gov. Matt Bevin recognizing them as Kentucky Colonels. The Seamen's Church Institute also provided a U.S. Merchant Marines flag to fly over the store.
EBS is committed to serving mariners and to the Wickliffe community for many years to come, Reynolds said, and added that holds true no matter what Mother Nature may have in store next, saying, "We've never closed in all the years of catastrophes that have happened on the river."
Caption for top photo: Ballard County Judge-Executive Todd Cooper cuts the ribbon to officially open Economy Boat Store as operations manager Barry Kelly (left), Wickliffe Mayor David Phillips, David Reynolds, managing director of Economy Boat Store, and Chaplain Kempton Baldridge look on. (Photo by Nelson Spencer Jr.)