Construction on Ballard County, Ky.'s new International Fisheries Industrial Park is underway, with four Chinese companies that process Asian carp having already closed on lots.
Two more companies have signed agreements, with sales of those lots expected to be finalized soon. The sales create the first commercial park dedicated to the processing of Asian carp anywhere in the United States.
"It's really neat to see how all of this has played out," Ballard County Judge-Executive Todd Cooper said.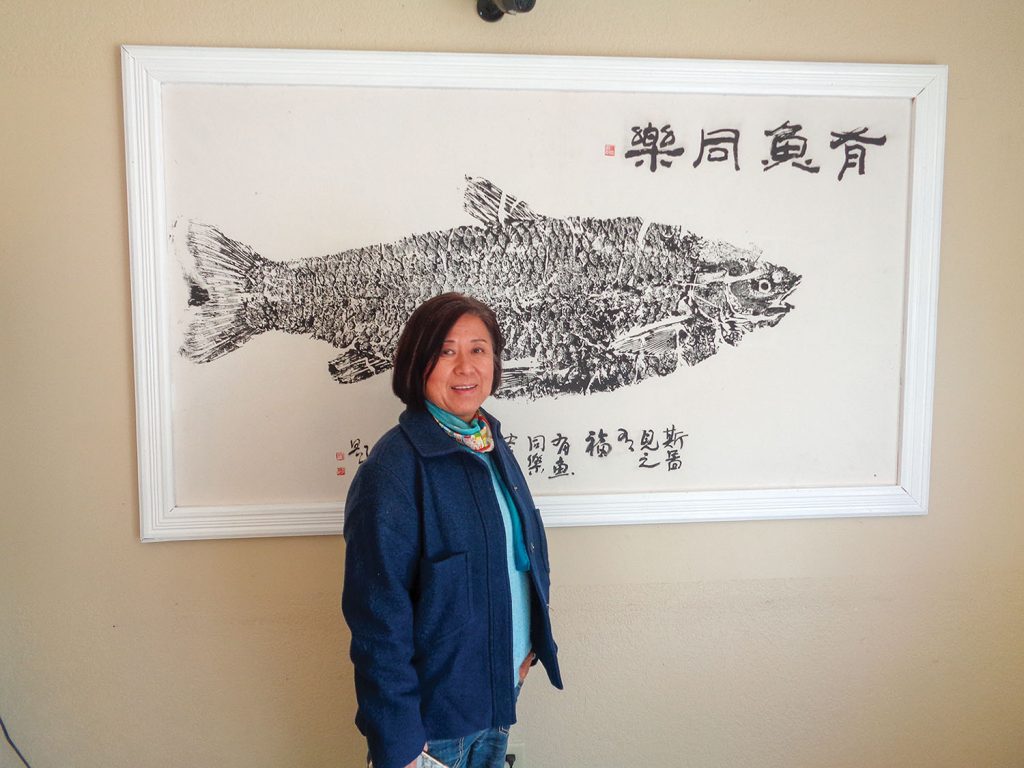 Ballard County bought a 72-acre tract of land facing Ky. 286 in Wickliffe for an industrial park in 1999, but it remained largely uncleared for years. Then, in 2012, businesswoman Angie Yu relocated from California to western Kentucky and established Two Rivers Fisheries on one of the lots. The business is on track to process more than 5 million pounds of three varieties of Asian carp (Big Head, Grass and Silver) from Kentucky waters this year. That's what attracted the other companies and led to the relaunching of the park as a hub for the Asian carp industry.
"Our mission is to reduce, reuse and redefine Asian carp," Yu said of her business.
With most of the carp coming from the Ohio and Mississippi rivers, Kentucky Lake and Lake Barkley, Yu said she is also well aware that she is helping to address the problem of the invasive species taking over the habitat of Kentucky's native fish.
In October 2018, Two Rivers won a contract with the state to establish and operate the Kentucky Fish Center, which receives carp from commercial fishermen and sells them at auction online for guaranteed prices. As part of her role with that company, Yu received a $734,000 low-interest, forgivable loan and additional performance-based incentives from the state that together total up to $4 million. The loan will not have to be repaid as long as Two Rivers shows proof the company has met quotas for removing carp from Kentucky's lakes and rivers. The quota is 5 million pounds of carp for 2019 and increases to 20 million pounds annually by 2024 and is fully funded by boat registration fees.
Yu doesn't see meeting those quotas as a problem, as she notes that the amount of carp Two Rivers processes has continued increasing monthly. In October, it processed 904,743 pounds of fish, with 866,383 pounds of targeted species of Kentucky-caught carp going toward the quota.
"When I started, there were only three or four groups of fishermen," Yu said of commercial fishermen harvesting carp. "Now there are more than 60 groups of fishermen."
Of those, Yu said about 20 groups are what she would deem very active.
Although gill nets are the primary method of harvesting carp, new technologies are being studied that could increase the harvest. That will only help Two Rivers grow, she said.
Carp are a delicacy in many countries. Asian carp account for 13 percent of the international seafood market, a bigger percentage than salmon, for example.
"Everywhere eats Asian carp except the U.S.," Yu said, adding that Two Rivers exports to 11 countries, with the main markets being in eastern Europe and the Midle East. She noted, however, that tariffs and other market issues have meant the company has not recently exported to China.
About 80 percent of the harvest is received at Two Rivers' Eddyville, Ky., facility. It is then taken to the Wickliffe plant, where two shifts of roughly 25 employees process it and flash-freeze it according to customers' requirements before shipping it overseas.
The International Fisheries Industrial Park will mean more of the harvest will instead go to local customers, she said. The county announced the rebranding of the park as a hub for the Asian carp business in April. Much of the funding for it has come from Tennessee Valley Authority in-lieu-of tax funding, along with U.S. Department of Agriculture and Delta Regional Authority grants.
The companies that have closed on lots in the park since April are: United Fisheries Group, Express Fishing and Sports, Two Rivers Travel and Two Rivers Fishing Tech. An individual, Wang Qun, has also signed a purchase agreement, as has Two Rivers Foods. Each business is expected to hire about 10 employees and invest approximately $1 million in the project, Cooper said.
The companies include those that will use fish waste products for fertilizer as well as a commercial fishing supplier and purveyors of smoked and dried food products.
At least one company, United Fisheries Group, would like to begin construction in March, which means the county is on a speedy timeline to finish construction of a road through the park, Cooper said. Last month, Morrison Contractors won the roughly $30,000 bid on the road contract. As soon as the last of the state required environmental studies on the land are complete, road construction can begin, Cooper said.
The county has also worked to expand the fresh (drinking) water lines and sewer lines into the park and been in contact with utilities to provide three-phase fiber and fiber optic capabilities, Cooper said.
He sees the park as the beginning of a major international industry.
"I think there are 16 Chinese-owned businesses in Kentucky," Cooper said. "Eight of them are in Ballard County."