American Commercial Barge Line's new Cairo, Ill., fleet boat, the 70-by 30-foot, twin-screw, Z-drive mv. Mark Glaab, has two 1,000 hp. Caterpillar C-32 diesel engines. It also has one thing no other towboat has: a hat.
No vessel named in honor of Glaab—the facility manager for ACBL's Cairo fleet—would be complete without one, as Glaab is rarely seen without his brown fedora.
"You'll never see Mark without that hat on. I don't even know what the top of his head looks like," joked Mark Knoy, ACBL president.
Thus one of his teammates had the vinyl hat attached just above the vessel's name as a surprise to him.
ACBL christened the boat in a ceremony at the Cairo facility October 24. It was designed by Sterling Marine and built by Steiner Construction Company Inc. out of Bayou la Batre, Ala. The boat was completed January 15 and worked at Tiger Fleet near Baton Rouge, La., during this year's high-water event, prior to its formal welcoming to the fleet.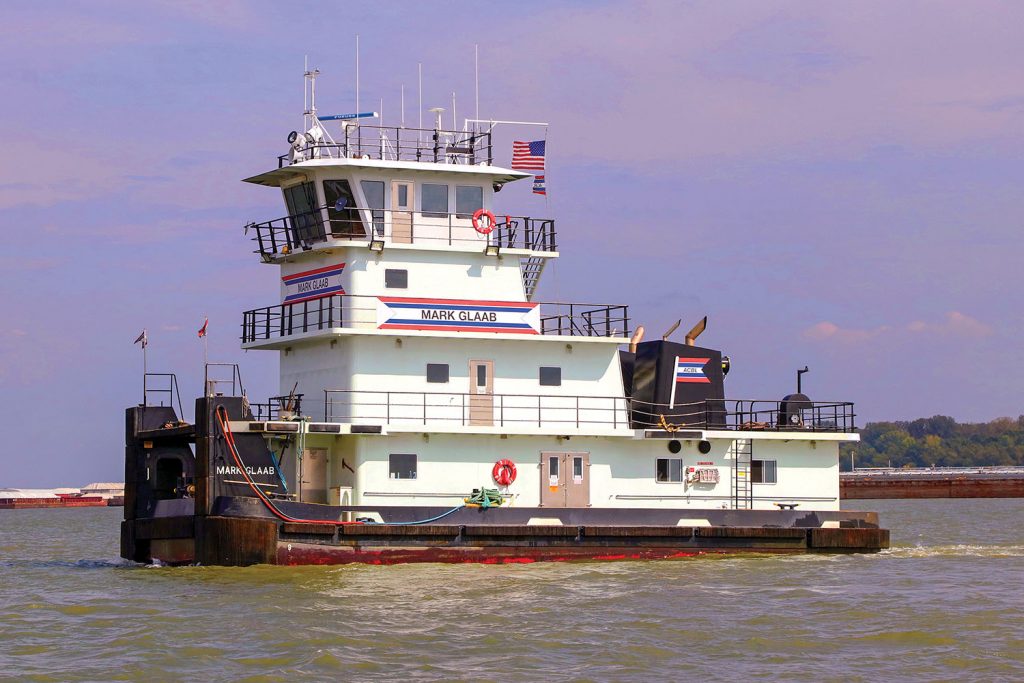 The C-32 engines were furnished by Thompson Power Systems. The propellers are ZF 5111 WM-FB drives; auxiliary engines and generators are John Deere 65 kw.; and the engine cooling system is by Eastpark Radiator. Engine alarms are by Gulf Coast Air & Hydraulic. Wastewater treatment is from Seahorse. Deck winches are by Patterson. Kevels, bitts and chocks are all Nabrico. Deckhouse flooring, paneling, ceilings, lounge and crew quarters are all Kern Martin. It has two baths but no bunk rooms since it will be used in fleeting, but it has the space to add them as necessary in what are now storage rooms.
The vessel is also equipped with Furuno radars and Carlisle & Finch 1000-watt searchlights, as well as fire safety equipment by Hiller, sound and vibration dampening by DB Sound Paint, fendering by Schuyler, and paint and coatings by PPG Coatings.
The boat is 18th built in a series for ACBL since 2013.
Mark Glaab
Glaab has the rare honor of having had two boats bear his name. The ACBL vessel now known as mv. Fort Massac used to be named for him, but the name was changed after ACBL knew the company would be naming the new boat in Glaab's honor.
"For a towboater, it's the highest honor there is," Glaab said.
It's one Glaab said he could never have imagined 34 years ago when he came to Louisiana Dock Company as a deckhand o. At the time, Glaab had imagined it as a temporary job, not as a career. He worked his way up the ranks, becoming fleet coordinator in 1989 and assistant manager in 1998. Glaab worked at the Jeffersonville headquarters in the planning center from 2001 to 2003 and in barge maintenance from 2003 to 2005. That year, he was named facility manager for the Cairo fleet, a position he still holds.
In addition, Glaab is chairman of the Flour Rivers Fleeting Association, vice chair of the Cairo/Alexander County Port Authority, and serves on the board of  both the Illinois Marine Transportation Steering Committee and the Cairo Drainage District.
Christening Ceremony
Paul Tobin, senior vice president and chief operating officer of ACBL, thanked the entire team at the Cairo facility in his remarks before paying tribute to Glaab.
He noted that in 2018, ACBL handled 1,522 vessel turns, or one every 5.8 hours. While doing this, the company handled more than 54,000 barges. ACBL also cleaned approximately 1,000 barges, spread or stacked the covers on 320 barges, drydocked 260 barges and accumulated more than 1,800 boat operating days within the fleet. The company averaged 330 barges in its care, custody and control on a daily basis.
"The reason I'm providing this level of detail is so you can get a handle around the risk profile associated with this segment of our business," Tobin said. "The volume is mind-boggling. What is amazing to me with all these moving parts is how safe this group is at the end of the day."
Part of the reason is Glaab's leadership, Tobin said.
"I've often said that character is defined by the clarity of your convictions, the choices you make and the promises kept," Tobin said. "What you say and do define who you are. I am proud to say that Mark is a man of great character and to Mark there is never a wrong time to do the right thing when it comes to safety. This is demonstrated on a day-in and day-out basis here at Cairo at all levels of the organization."
Tobin also praised Glaab for bringing answers and solutions to the table without being asked when there is a problem or challenge, and through his partnering with other employees, ensuring accountability through support and coaching.
"While this might take extra time, it helps develop leaders from within all ranks," Tobin said. "This is just part of the culture we are trying to create."
In the end, Tobin said, what stood out most to him is Glaab's ability to bring out the best in people.
"Mark has a great team here in Cairo, and he knows it as you all work together and share the same passion for safety and operational excellence," Tobin said. "I know from talking to Mark that he values each person's talents, perspective and experience. Mark is also a humble man who always gives credit to his teammates."
That's just what Glaab did in his speech, in which he talked about the 120 people at the Cairo fleeting facility, including five working there for more than 30 years. Glaab took pride in how the group worked together to accomplish tasks and noted that the cleaning crew, which has the biggest risks, hasn't had an injury in more than seven years. He mentioned several veteran employees by name, thanking them all.
The ceremony continued with the presentation of the U.S. flag by Lt. Cmdr. Christopher Weiser of the Coast Guard Marine Safety Unit in Paducah; company colors from Capt. Harold Dodd, director of river operations and dry cargo for ACBL; presentation of the ship's Bible to Capts. Donald Hutchinson and Harley Showalter and the U.S. Merchant Marine flag by chaplain Don Reusch and Bill Coscarelli of Seamen's Church Institute; presentation of a vase to Glaab's wife, Lisa Glaab, by Jeff Kindl, vice president of gulf operations for ACBL; and finally the bottle-breaking from the sponsor, Glaab's 14-year-old daughter, Charley Kate Glaab. A lunch reception followed.
Kindl said the new boat will decrease downtime, improving efficiency and lessening the cost of maintenance. A pilot and three deckhands will make and break tow and deliver barges to local elevators.
Besides that, he said, it is a pleasure to name the new boat after a teammate he said is "well liked, very popular and well thought of."
Caption for top photo: Charley Kate Glaab, daughter of the namesake, christens the new vessel with the traditional champagne bottle. (Photo by Jeff L. Yates)
For more photos from the christening ceremony, see the slideshow below.
Charley Kate Glaab, Mark Glaab's 14-year-old daughter, poses for a quick photo with her boyfriend, Noah Reeves, amid the festivities. Charley is the boat's sponsor and did the bottle-breaking honors. (Photo by Jeff L. Yates)