Seamen's Church Institute's 20th Annual River Bell Awards Luncheon celebrated the year of the mariner, with remarks from two captains highlighting the speeches.
Nearly 500 people attended the luncheon and awards ceremony December 9 at the Paducah-McCracken County Convention Center in Paducah, Ky.
Each year, SCI presents a distinguished service award, but this year's celebration was a little different. Instead, during what it has named the "Year of the Mariner," SCI used video submissions to select two people to accept the award, officially presented to "Our Industry's Mariners."
Mark Knoy, River Bell chairman as well as president and CEO of American Commercial Barge Line, said that when mariners were invited to speak in their own words about life as a mariner, "the videos were all terrific, so good in fact that we could not choose just one mariner to speak."
Ultimately, the committee chose Capt. Michael Burkhart of Ingram Barge Company and Capt. Gregory Smith of American Commercial Barge Line to accept the award on behalf of all mariners.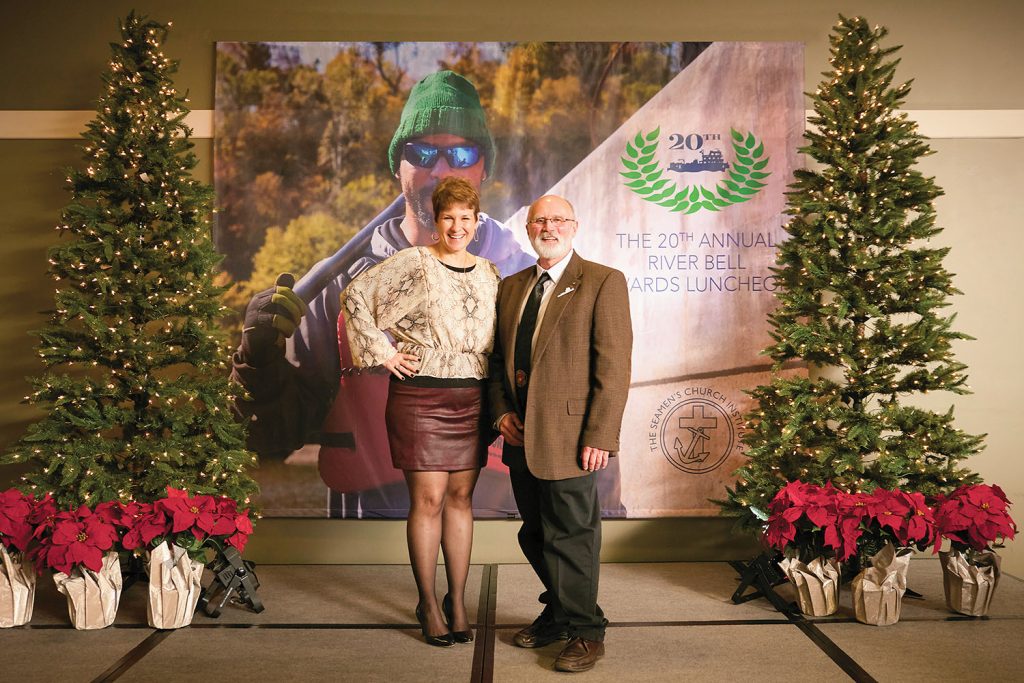 Capt. Michael Burkhart
"For the last 40 years, I've had the privilege of observing distinguished service on a day-to-day basis, out on the river and here in the offices, too, because, to me, the distinguished mariners are in this room," Burkhart said in his speech. "The distinguished mariners are out on our vessels. The distinguished mariners are our CEOs, boards of directors, upper administrative folks—this entire craft together, a safe, green and profitable vision in these ever-changing and complicated times."
He mentioned several roles within the industry, including that of an operations manager, which he likened to someone tasked with trying to saddle a moving horse.
"You guys are amazing," he said. "You keep this thing moving."
He went on, saying, "Distinguished service is all of the young men and ladies who come in every morning, and they crunch the numbers. They put together the packages. They get our benefits. They do so many wonderful things that we out on the line might not see. When I pick up my paycheck, there are 75 or 90 people behind that. That's distinguished service. To me, this is not an industry. It's a community, and I am so privileged to work among giants."
Out on the vessels, he said, "It's that green deckhand that's trying to learn a new trade while trying to figure out how to be a husband and a dad a thousand miles away. It's that mate, trying to cobble together things while he's reaching those middle years and trying to decide, do I want to stay out here or do I want to go into the wheelhouse? Do I want to be an engineer? Do I want to continue being a mate?"
"Or," he said to a few chuckles, "do I want to go work at Walmart?"
He also named engineers "who manage to keep our vessels moving under some unbelievable conditions."
Finally, he said, "It's the wheelmen, of who I am the least among greats, who operate to me these wonderful, huge machines, from a tug with one barge or a dredge to these behemoths with 40-plus barges going down the Mississippi."
Burkhart said, "One of my greatest joys is the idea that I can take this much weight, and if I dance properly with Old Man Mississippi, we can come out looking lovely," but he added, "If I step on his toes, I'll pay for it."
Burkhart also thanked the U.S. Coast Guard, saying, "Distinguished service is all around us, and it is such a privilege once again to work among such giants."
Burkhart closed with a personal story to illustrate his point, recalling when his younger sister passed away suddenly just over 16 months ago. He told how every single person on his crew, one by one, came to his room, all expressing their condolences and even opening their wallets and telling him to take what money he needed, to make sure he had enough to get home, knowing he might be there for a while. That generosity continued with another captain pulling up at the landing in Tunica, Miss., embracing him and saying, "Man, I know what it's like to lose somebody you love," before handing him the keys to the rental car and, again, opening his wallet and asking if he needed money to get home.
Over the next few days, he said, he got calls from people, some of whom he knew personally, and others he has never met face-to-face but has only spoken with on the radio, all of them asking if there was anything they could do to make things easier on him and his family, some even offering to fill in for him if he needed a few more days at home with his mother.
"That right there drove home to me the fact there is no one distinguished service in this industry," Burkhart said. "In my opinion this is the greatest community on this planet, and there are challenges, and there will continue to be, but with folks like this, they are just another hurdle. We'll get right over it."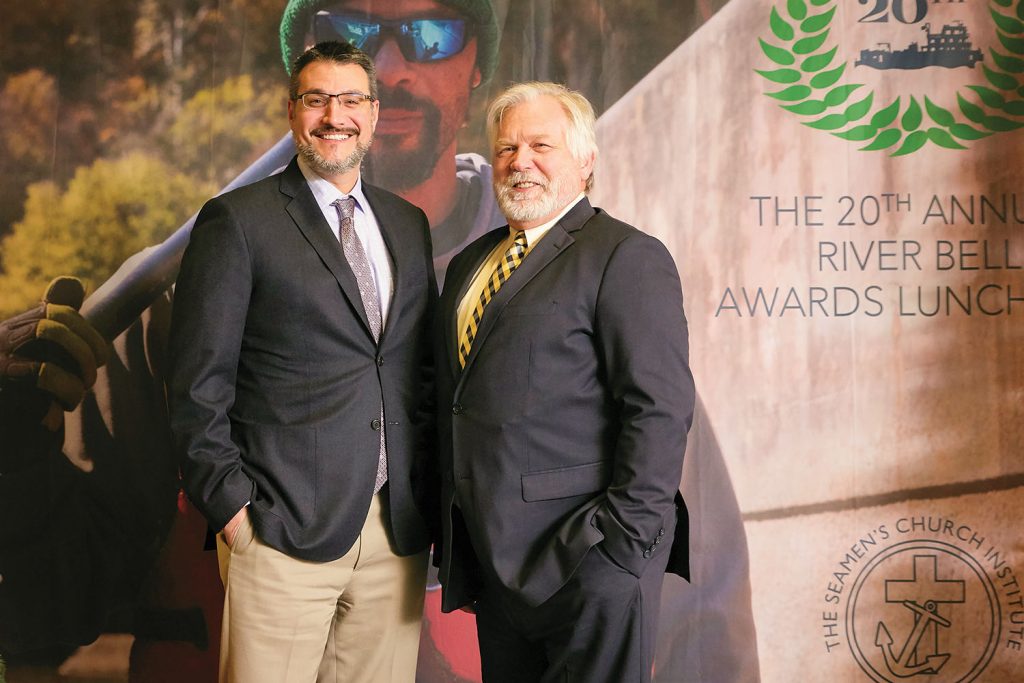 Capt. Gregory Smith
After a standing ovation and some in the room moved to tears, Smith began his speech by immediately lightening up the atmosphere, joking that he mistakenly thought at first it was the "jingle bell" awards, and that he and his wife had considered coming dressed as elves, drawing laughter.
"This has been a great career and livelihood," Smith said. "It is a great livelihood. This industry has achieved something that has been truly remarkable. They took a poor country boy from Arkansas and turned him into a very well-paid country boy from Arkansas."
In all seriousness, however, he said he was humbled and grateful to accept the award on behalf of the industry's mariners and took time to thank the Lord above, his family, those at SCI and all of those in the room for making the industry what he called remarkable.
Careful to state he did not mean to give offense, Smith said the industry in many ways is a good place for misfits, "a way for people who are square pegs to try to fit in round holes."
"This industry is much different from your average workplace, and there are a lot of us who just don't fit into your regular factory job or academia or any number of other callings that we just don't feel comfortable with," Smith said. "There are some of us who feel most comfortable having challenge and a sense of adventure, and this industry provides that to us, those of us who don't fit in well in those other cultures. We've found our place, where we can do well."
Smith said he wanted to keep his remarks short but ended with an aphorism, saying, "It has been said that a machine can do the work of 50 ordinary men, but no machine can do the work of one extraordinary man. This industry calls to those people who want to be extraordinary, to do something with their lives that not everybody can do, something that is above the ordinary."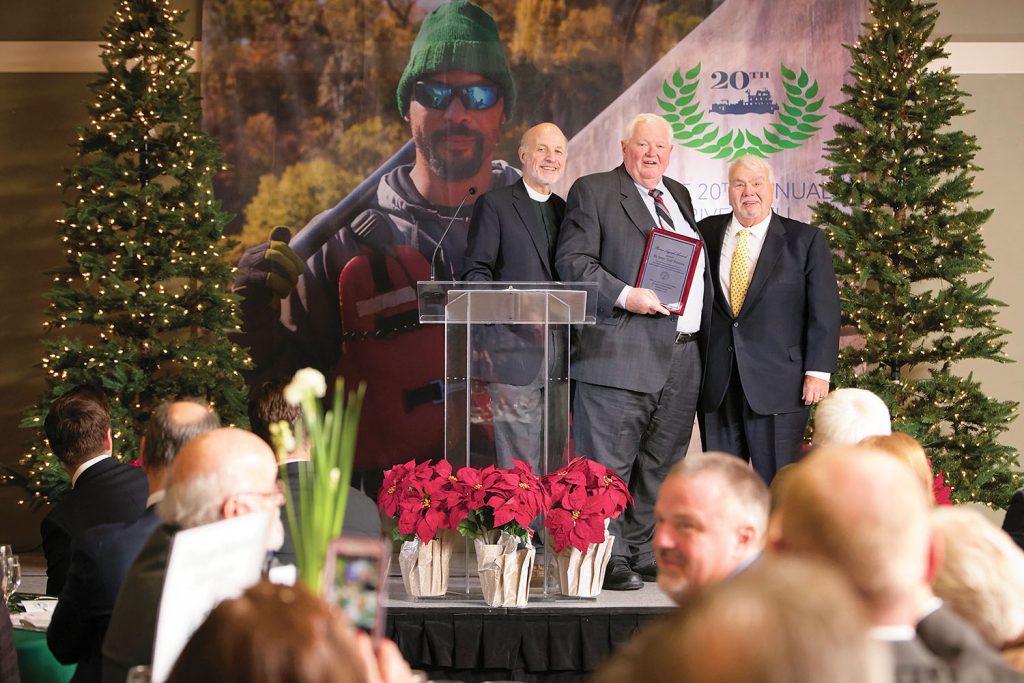 River Legend Award
The River Legend Award went to James "Goat" Patterson, principal of Osage Marine Services, St. Louis, Mo.
"The river legend is presented to an individual whose life and career extend above and beyond the definition of achievement," George Foster of JB Marine said in presenting the honor. "The individual is someone who has made a positive contribution to the inland maritime community, and to someone who is a bit of a character and who has a very colorful personality, and I think Goat covers all those bases."
(The WJ will feature Goat Patterson in an article in our December 30 issue.)
River Bell Award
Finally the ceremony's highest honor, the River Bell Award, went to Delbert Wilkins, vice president of northern operations and business development for Canal Barge Company and president of Illinois Marine Towing.
In introducing Wilkins, Merritt Lane of Canal Barge Company said he could think of no one more deserving of the award. He cited his professionalism, unshakeable integrity and passion for the industry, which he called awe-inspiring.
"Del's a tireless industry advocate, and not surprisingly, he's become the leading voice of the marine industry in Illinois," Lane said. "He's worked as an advisor to the former governor and has been the go-to industry leader for the issues surrounding Asian carp."
Wilkins has also been chosen for many other leadership roles, where, Lane said, "his common sense, knowledge, charisma and natural leadership always seem to carry the day, whether with his teammates, customers, regulators or elected officials."
Wilkins thanked many people, saying recognition from his peers is truly the most humbling of all. He also spoke about others' influence guiding him into leadership, including that of his grandfather, the first mariner in his family.
"We all stand upon the shoulders of those who influence us each and every day," he said.
He said he hoped during his career he had also influenced others along the way, and that he has always sought to leave the world a better place than when he found it.
Wilkins also spoke about the important role the marine industry and all those involved in transportation play to the nation and of how he has spent time in other countries, which look to replicate the United States' success.
What is important in the end, he said is, "It's not about profits and losses. It's how we influence a nation."
Wilkins closed with his grandfather's favorite quote, from Benjamin Franklin, saying, "Tell me and I may forget, teach me and I may remember, involve me and I learn."
Knoy noted how much the awards luncheon, which benefit's SCI's education and ministry programs, has grown over the years, and he said, "I'd like to recognize that many of us have faced a tough business climate the last few years, but support for this event has grown each year. This tells me two things: first, the work SCI is doing for our mariners is relevant and valued, and second, we work in the most generous industry there is. I'm humbled by this philanthropic spirit despite the record-breaking challenges we've faced recently, particularly over the last 12 months. To be able to raise this much money and show this level of support is a tremendous accomplishment and demonstrates that we prioritize the support of our mariners."
Darin Adrian, a member of the River Bell committee as well as executive vice president of Marquette Transportation Company's river division, said the event brought in $324,600, roughly $5,000 more than last year. Adrian said he believes such generosity speaks to the long-term commitment of the industry to SCI's missions and how, although composed of thousands of people, the marine industry remains tight-knit and committed to doing the best it can for the people who work every day on the nation's waterways.
Caption for top photo: Delbert Wilkins of Illinois Marine Towing with the Rev. David Rider and Merritt Lane of Canal Barge Company. (Photo courtesy of Seamen's Church Institute)