Tom Torretti remembers when CGB Enterprises senior vice president Scott Leininger and vice president Lance Rase called him unexpectedly into a meeting.
They said CGB was given the privilege of naming the two new 1,600 hp., twin-screw diesel fleet boats operated by Waterfront Services under charter to the CGB Waterfront Services joint venture. Leininger and Rase told Torretti they wanted to break protocol and not name the vessels after retiring or deceased company officials, but instead name them after some current employees. First, Leininger suggested one be named the mv. Rick Pemberton after the company's chief financial officer.
"Oh my God, that would be great," Torretti said.
Then Leininger asked if Torretti, general manager of sales and marketing, had a name for the second boat. Torretti said he didn't have a name off the top of his head, after which Leininger said, "Well, why don't we name it after you?"
Torretti said he immediately broke down crying. It took a moment to compose himself before he teasingly asked if he could have input into the color scheme. He is well known around the company for his love of pastel colors. "Hot pink and lime?" he asked. The answer was no, not even in the interior. (He tried that, too!) But, all joking aside, Torretti said having the boat named after him was a great honor.
"It's like the Heisman Trophy of the marine industry," he said.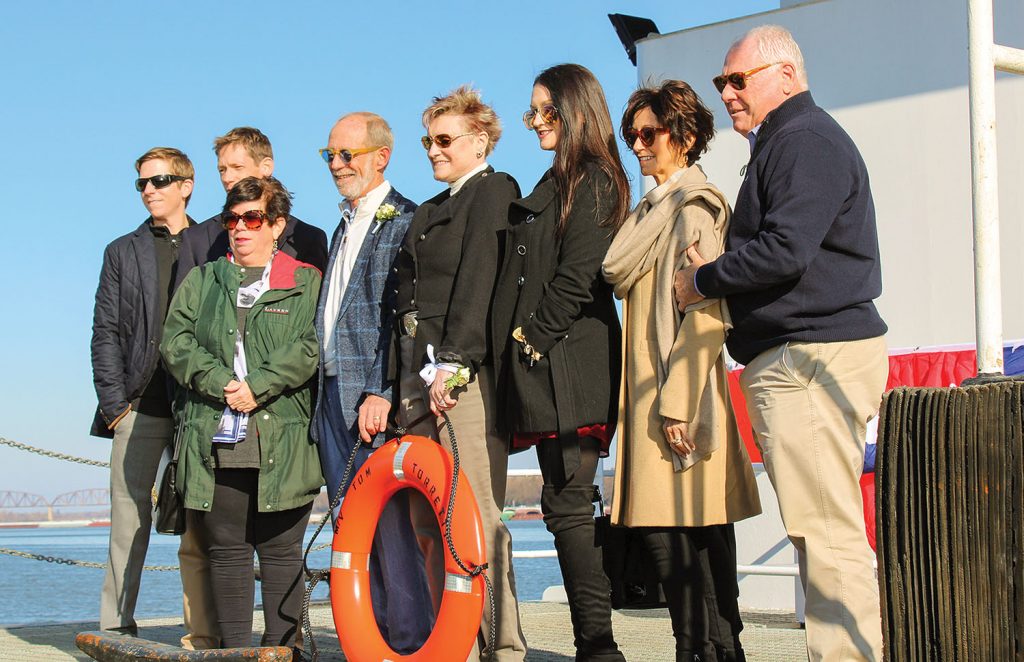 Both the mv. Tom Torretti and the mv. Rick Pemberton were dedicated in a ceremony November 19 at the Waterfront Services office in Cairo, Ill. Both vessels were manufactured by Master Marine Inc. in Bayou La Batre, Ala., with the Torretti launching in 2017 and the Pemberton launching in 2018. The ceremony marked their official welcome to Waterfront Services' fleet.
The boats are both 67 feet, 6 inches by 28 feet and powered by a pair of Mitsubishi S6R2-Y3MPTAW Tier 3 diesel marine engines supplied by Laborde Products Inc., producing 803 hp. each at 1,400 rpm. They are coupled to Twin Disc MG 5321 gears at 5:1 reduction, turning 70-by 48-inch, four-blade, stainless steel propellers from Sound Propeller Services Inc. They provide thrust through two J&S Machine Works 7-inch ABS Grade 2 propeller shafts with all Thordon Marine Industries bearings, Thorplas bushings and shaft seals. Gulf Coast Air & Hydraulics provided the steering system and a pair of Quincy F325 reciprocating air compressors.
Schuyler Maritime provided 11- by 18-inch rubber fendering around the entire perimeter of the vessels along with the push knees and fleet deck with Master Marine-installed weld caps between all fenders. R.S. Price & Son Inc. provided the Mitsubishi mini-split heat pump HVAC system on all interior spaces with Blakeley Marine providing all custom woodwork and interior finishes. Donovan Marine provided the large aluminum Diamond SeaGlaze windows, and Dale's Welding & Fabricators supplied the aluminum exterior doors.
Dickson Marine Supply provided a pair of Wintech 40-ton deck winches, and New World Inc. provided all of the electronics and communications for the vessels.
The boats have a maximum working draft of 7 feet, 9 inches.
The Namesakes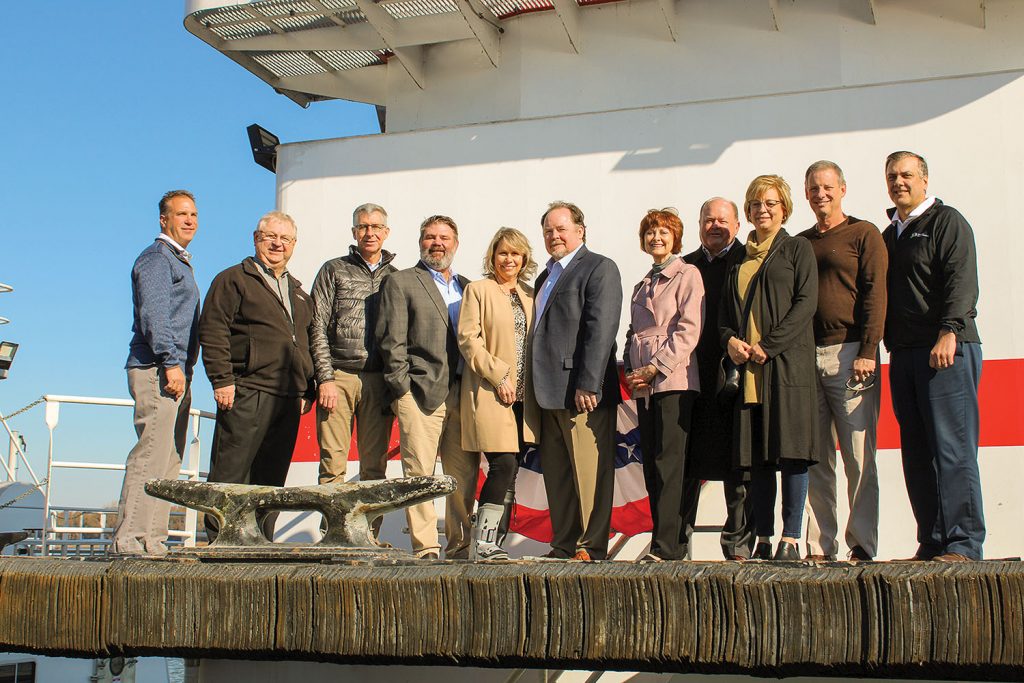 "It's a great honor," Pemberton said of having one of the boats named after him. "I've been with CGB my entire career. For me it's always been about the company, but it's great to have the individual honor."
Pemberton expressed appreciation to his coworkers and added, "Tom's one of my biggest friends, so to do it with him is truly my biggest honor."
Pemberton grew up in Pacific, Mo., a small town just southwest of St. Louis. After high school he attended the University of Missouri-Columbia and in 1981 received his degree in accounting. He started his career in public accounting with the St. Louis office of KPMG. One of his first audit clients was CGB, and it continued to be a primary client during his career at KPMG. In 1983, Pemberton received his CPA designation.
In September 1986, he accepted a job with CGB as the assistant corporate controller. In 1988, Pemberton was promoted to corporate controller, and in 1990 he was elected to be an officer for CGB. Since 1998, Pemberton has served as CGB's chief financial officer and as a member of CGB's board of directors. He currently lives in Mandeville, La., with his wife, Judy. They have a combined family of five children: Taylor, Brad, Christie, Dan and Julie, and nine grandchildren.
Torretti was born in St. Louis, grew up in the city and graduated from St. Mary's High School in 1970. In 1974, he graduated from St. Louis University with a bachelor of science in business administration.
He started his career in the barge business at 16, working summers at Federal Barge Lines while going to high school and college. Torretti worked at various times in accounting, dispatch and vessel stores procurement. He started his career at CGB on July 29, 1974, working in grain freight logistics. Eventually he moved into barge dispatching and then was tapped to be the assistant manager of bulk sales. He was promoted first to manager and then to vice president of bulk sales.
When CGB's barge assets were sold to Conagra/Peavey in 1990, Torretti transitioned to work with that company. Then, in 2000 as general manager and president of Peavey Barge Lines, he was heavily involved with the sale of Peavey Barge to ACBL. In the fall of 2000, he came back home to CGB. He is married to his wife, Gail, and has two sons, Michael and Andrew.
As part of the ceremony, Chaplain Kempton Baldridge, senior river chaplain for Seamen's Church Institute, presented Bibles to Capt. James McWilliams of the Torretti and Capt. Darren Cox of the Pemberton. He also presented the merchant marine flag to fly over both the vessels.
The mv. Tom Torretti's crew, along with McWilliams, is mate David Patrick and Anthony Davis. The mv. Rick Pemberton is crewed by mate Cody Suggs and Brandon Beasley.
Rase, in his comments, talked about the reinvestment into the Cairo facility, which began 28 years ago.
"The new time charters are saying we're going to be here another 30 years," he said.
Rase noted that he started his career in Cairo and added, to a few laughs, that when he first walked out there he asked how to tell if a barge was loaded or empty.
Rase also took time to express his pride in both Torretti and Pemberton.
"Their mentor style is very different, to say the least, but very effective," he said, then turned to the men as they sat in the front row. "We don't have words for what you've meant, but we're going to bestow this honor on you today and thank you for everything you've done."
Pemberton thanked the company for the honor and talked about his years with CGB. "It's really exciting because it's given me a front-row seat to see all of CGB's growth," he said.
Torretti agreed, saying, "I've had a blessed and rewarding career at CGB both professionally and personally."
Both men then broke champagne bottles over their namesake vessels to conclude the ceremony and begin the celebration with a lunch reception.
Caption for top photo: The Tom Torretti and the Rick Pemberton on the Cairo waterfront for the christening ceremony. (Photo by Shelley Byrne)