Once limited mainly to marketing campaigns, drones are now being increasingly used by the marine industry as a way of doing some jobs cheaper, faster and more safely.
The capabilities of drones—known officially as unmanned aerial systems (UAS)—impressed Johnson Marine Services of Prairieville, La., so much that the inland river/Gulf Coast marine surveying company launched its aerial surveying and imaging division January 1.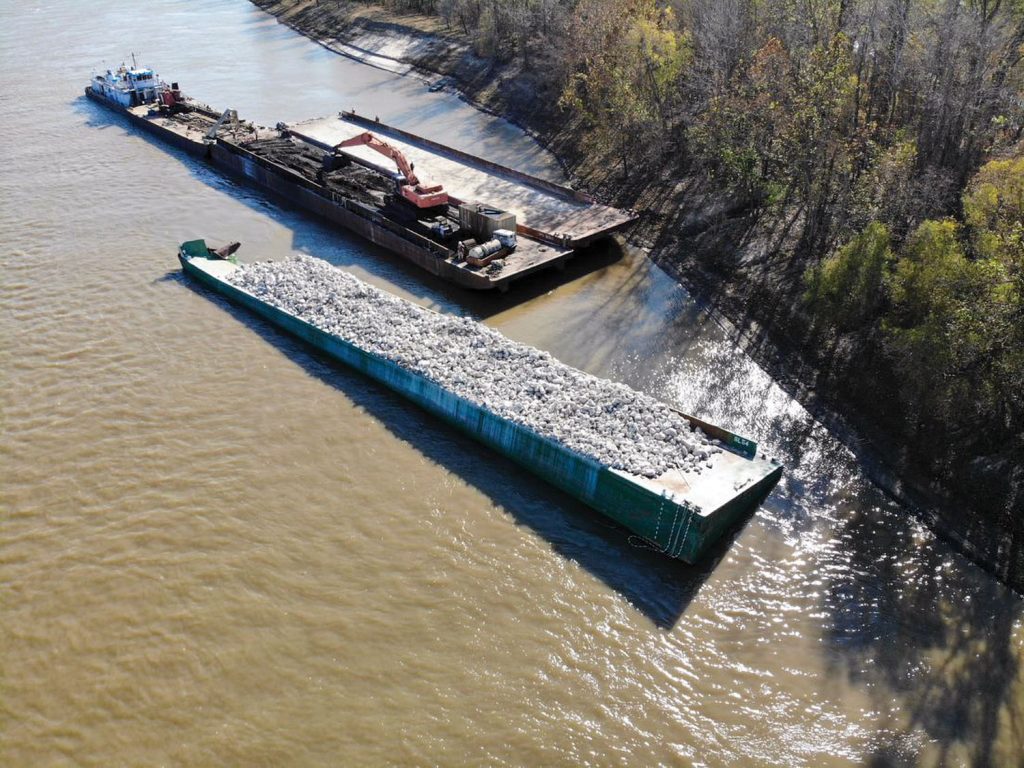 "We have found that conventional photography often falls short of conveying a complete representation of what we see during our inspections," said Jim Johnson, chief executive officer of Johnson Marine Services and a 40-plus year veteran in the barge and towing industry. "The relatively new drone-based photography that we offer provides our clients with an aerial perspective of their equipment, facilities and/or marine casualties that, in the past, was not practical or available at an affordable rate."
Johnson Marine Services is currently using drone technology to detail new construction progress for Verret Shipyard in Plaquemine, La. The images will be used along with narrative as part of the documentation process for vessels under construction.
The company owns two drones, including one with four times zoom capability, and has the capability of providing both still images and short videos for its customers, chief operating officer Jeff Johnson said.
Hunter Svetanics, the third generation of the Johnson family to be involved in the business, is the company's Federal Aviation Administration-certified commercial drone pilot. He said drones are particularly helpful in getting shots from the water side of any damage sites, such as when a dock is damaged.
"We've used the drone a couple of times to get a view from the water so we can see the damage itself, and we can see underneath the dock a lot of times, too," Jim Johnson said. "It's something we wouldn't ordinarily be able to see without a boat on site to take us around and get us in position."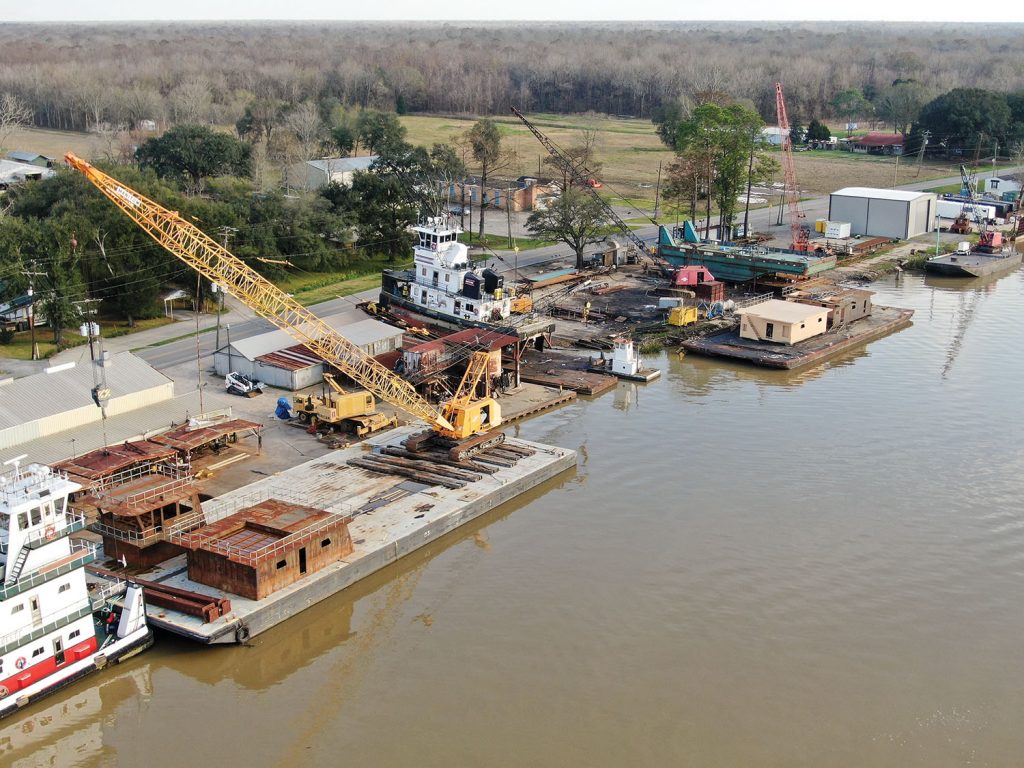 Jim Johnson says Svetanics' expertise in piloting a drone was helped by a hobby many older adults have been known to complain about.
"Believe it or not, the video games everybody complains about help in learning to fly that drone," he said.
The drones are also much cheaper than using a helicopter, Svetanics said. In addition to documenting new construction, he sees drones as being useful in salvage operations, improving customer communication and documenting repair completion as well as improving accessibility for surveyors.
"I think there are a lot of potential uses for it," he said, then named another one. "Just to document the condition of something on an ongoing basis, say, go out and get a picture of a fleet at 10-foot river stage in New Orleans just to see how the barges are laying in the fleet, how the current is affecting them at that river stage, and then go out and get one at 15 feet and see what the difference is."
He cautioned that drones cannot do everything a human can, however. Federal Aviation Administration restrictions mean drone pilots must obtain waivers to fly more than 30 minutes past sunset and have limited blocks of time during which the FAA approves them to fly in certain restricted areas, such as near an airport. They may also be limited in how closely they can approach crowded areas and may not fly over people, so they have limited use in more crowded situations. Service providers must also keep in mind the importance of maintaining customers' proprietary information, Jeff Johnson said.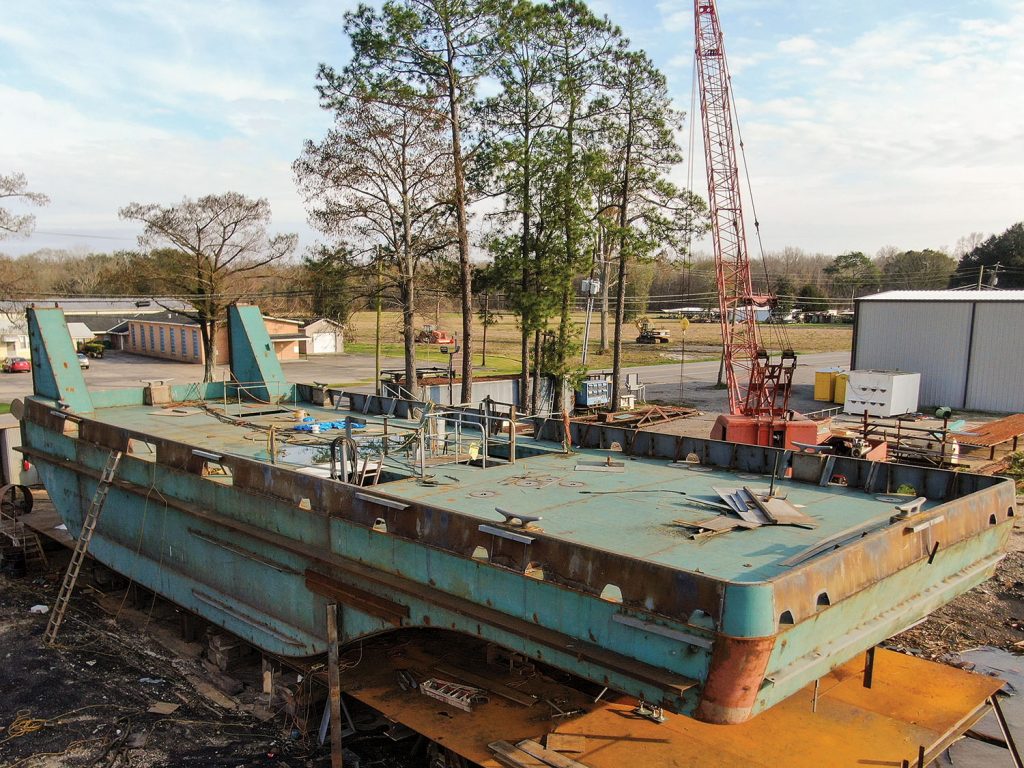 Johnson Marine decided to begin its drone business after attending a conference in Las Vegas, Nevada, with Cairo Marine Services of Jackson, Mo., a maritime crane and hoist inspection service accredited by the U.S. Department of Labor that also uses drones.
Other Uses
New Orleans-based CAVU Media Group, a client-focused media production company, also has found a use for them in the inland marine industry. Although CAVU began as a creative company specializing in film and photography, much of its business is now industrial in nature, and its clients have included the Port of New Orleans and St. Bernard Port Harbor & Terminal, along with multiple shipping companies, founder Ian Cotita said.
"Now that the tech has caught up, we have nine in our fleet," Cotita said. "We have thermal capabilities, so we can do thermal with our drones. We've got a weather-proof rig so we can go up in the rain. We have a 30-times zoom lens for inspections. You can get very valuable data safely."
Among the advances in drone technology now available to industry, Cotita said a "sniffer" drone is now available to check for oil and gas leaks.
"It's safer and greener than helicopters," he said. "You can get a lot closer to assets. The data turnaround is a lot faster and more accurate."
Additionally, he touted potential safety advantages.
"You don't want to send somebody climbing up something when you can do it from the ground," he said.
Cotita said he expects to see even more industry uses for drones as time passes.
"It's a slow process getting everybody on board, but once they see it, they start to realize there are going to be more and more applications," he said.
Caption for top photo: A drone captured this view of a Johnson Marine Services salvage job on mile 158 of the Lower Mississippi River. (Photo by Hunter Svetanics, Courtesy of Johnson Marine Services)