With a slack-water harbor, waterfront acreage available and the perfect location on the Lower Mississippi River near the mouth of the McClellan-Kerr Arkansas River Navigation System, the Port of Rosedale (Miss.) is positioned for growth.
"Waterfront property is getting pretty slim up and down the Lower Mississippi, but we still have a couple of spaces available," port director Robert Maxwell said.
Indeed, 49 acres of waterfront lots are still available at the port, along with another 300 acres of near-water access property, 250 of which are at the nearby industrial park. In all, the port features 14,950 linear feet of waterfront property, along with barge-to-truck loading, truck-to-barge loading and a 150-ton crawler crane for heavy lifts, such as steel rolls, wire coils, bundled steel and super sacks.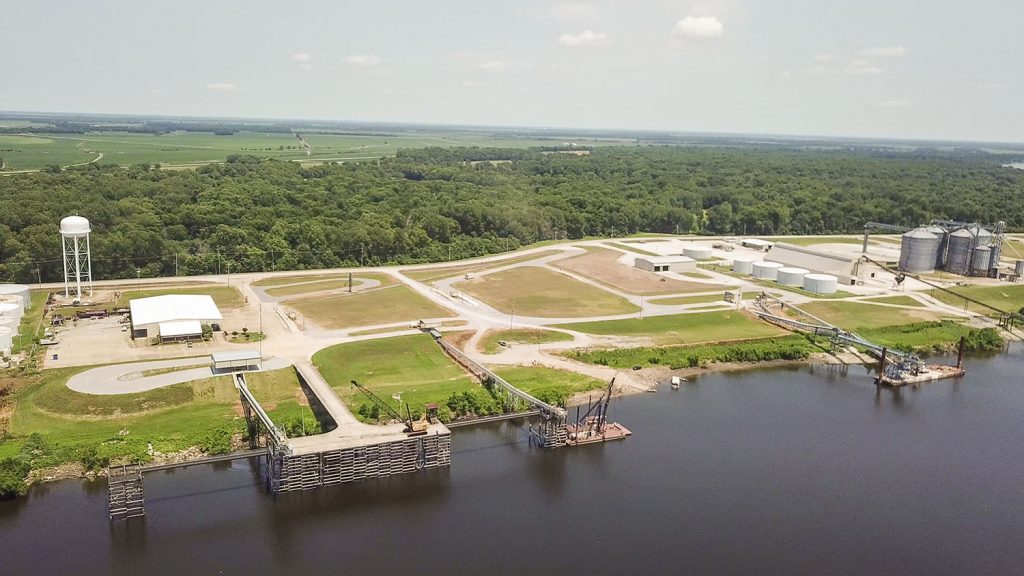 Storage is no problem either, with 20,000 square feet of humidity-controlled warehouse space and forklifts with capacities from 5 to 15 tons, Maxwell said.
Getting in and out is easy, too, with a 150-foot wide harbor channel 3.3 miles long and more than a mile of turning basin on the upper end. The channel is maintained by the U.S. Army Corps of Engineers to a minimum 9-foot draft and provides year-round service. The port also offers a T-shaped 211- by 51-foot general cargo dock, and dry-bulk unloading and loading docks. Two private docks are also located at the Port of Rosedale, which includes eight tenants, including JANTRAN, Inc., a major towing company on the McClellan-Kerr.
Customer Service
The port prides itself on its customer service.
Last year, when the Arkansas River closed for three months due to high water, "We were able to help out as many people in Arkansas and Oklahoma as we could," Maxwell said. "We probably unloaded 25 barges of steel here."
Instead of having to idle plants, Maxwell said, businesses relied on the Port of Rosedale to unload cargo, store it and load it onto trucks as needed, something Maxwell thinks could make it a strategic port for the Arkansas River system.
The Port of Rosedale's major commodities are related to agriculture, including rice, soybeans, corn, wheat, dry bulk fertilizer and liquid fertilizer, and its location means it is able to operate all 12 months of the year. The port lies about 100 miles from Memphis, Tenn., putting other major markets within a 500-mile radius, including Houston, Birmingham and Atlanta.
Also key is its highway location near interstates 55 and 20 and with good connecting roads in all directions, Maxwell said. Mississippi Highway 1 connects to the Helena, Ark., Mississippi River Bridge 50 miles north, and Highway 82 to Greenville, 40 miles south. Highway 8 runs east to the Alabama state line. The Great Mississippi River Bridge crossing is to be constructed just 15 miles away, and the port is also poised to provide a vital connection to the Interstate 69 extension, sometimes called the NAFTA Superhighway, linking the U.S. industrial heartland with the Texas-Mexican border, from Port Huron, Michigan, to Laredo, Texas.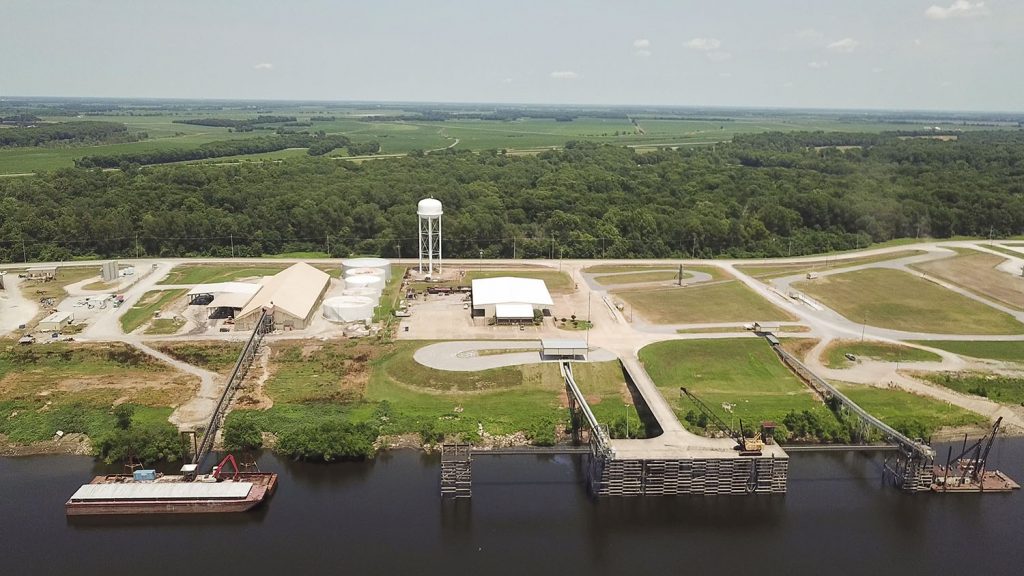 The port has maintained and upgraded its access road through a series of Multimodal Transportation Improvement Program grants through the state of Mississippi. Having previously received funding to widen the access road and add an additional lane for inbound trucks, the port is now replacing the most heavily traveled sections of access road, replacing a 6-inch concrete base with a new 10 inches of reinforced concrete. The construction is expected to be complete before the 2020 harvest season, Maxwell said.
The port also has plans for the future, including rehabilitating its 30-mile branch short-line railroad track that connects to the former Columbus & Greenville Railway line now owned by Genessee & Wyoming Inc.
Current port tenants are Axel Americas LLC, a major grease and lubricant manufacturer; Cives Steel Inc., a heavy steel fabricator; Bunge North America, a grain terminal; Louis Dreyfus Commodities, a grain terminal; Helena Agri-Enterprises LLC, a fertilizer terminal; and JANTRAN, Inc., an Arkansas River company specializing in towing, drydock and minor repair of boats and barges.
Terminal Expansion
David Cirilli, branch manager of South Delta Fertilizer for Helena Agri-Enterprises LLC, pointed to the Port of Rosedale's role in assisting with its expansion. Although the company had an unmanned liquid fertilizer terminal at the port since 2004, it expanded just over three years ago, adding its dry fertilizer house, a floating dock barge with a conveyor to unload barges into the warehouse and 18 permanent employees based at the port, including 10 truck drivers. The dry fertilizer portion of the business is now entering its fourth growing season.
"The Port of Rosedale is a godsend," Cirilli said. "To start with, it's a slack-water port, and that helps tremendously, being out of the current."
The port also allowed wharfage off its dock before Helena put its own dock in.
"They've been happy to help us in any way," Cirilli said, adding that the port even unloaded barges for them when the company had a conveyor break.
"We'd like to try to put as many tons through here as we can," Cirilli said. "This port is mainly agricultural in nature. The South Delta is the heart of agriculture in the Mississippi Valley."
In an average year, he said, Helena Agri-Enterprises moves close to 200,000 tons of cargo and 150 barges through the Port of Rosedale.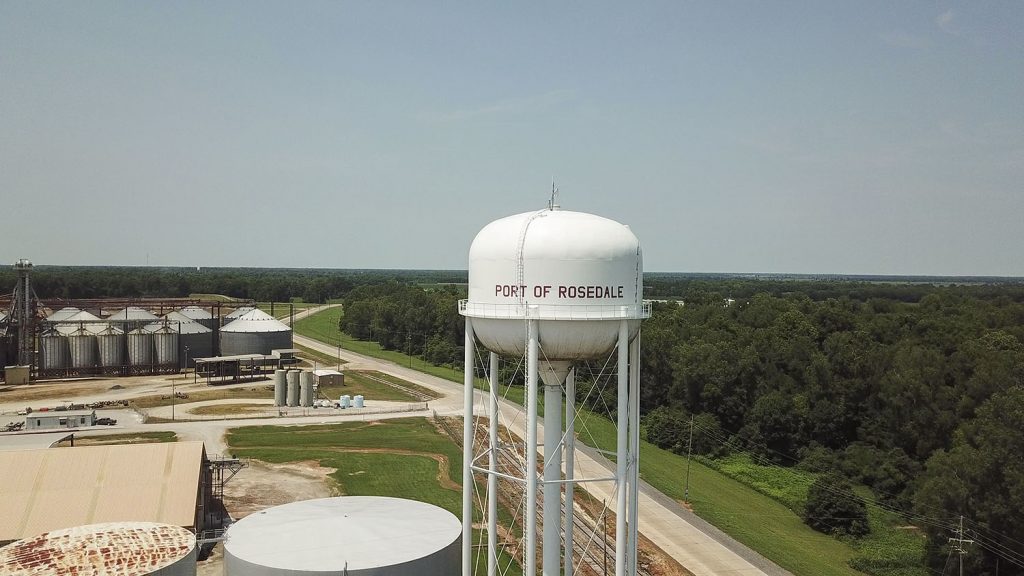 Louis Dreyfus Company was built in Rosedale in 2014.
"We are a grain elevator," said Ron Respess, commercial manager for the company at the Port of Rosedale. "Out of Rosedale, we primarily buy and sell corn and soybeans. Most of our grain is loaded on barges and sent down the Mississippi River to our export facility."
Respess said the port has been a good fit for the business and its needs because of its location in the Mississippi Delta, allowing the company to reach the audience it needs to originate the grain to satisfy its export needs.
"Being able to load barges without having to battle the currents in the Mississippi River is a great advantage," he said. "While barge loading is still dangerous, being able to load without worrying about issues that impact river elevators helps us load in a safer and more efficient way."
Respess also took a moment to praise Maxwell and the service the port gives to its tenants.
"Robert does a good job of communicating with us about the things that can impact our operations, such as road work or dredging," he said. "It is important to our customers that they have quality roads to travel on, and the Port of Rosedale does an excellent job of upkeep."
Caption for top photo: This photo shows several of the existing businesses inside the levee at the Port of Rosedale. From bottom-left to top-right are: Cives Stee, Bunge, Sanders; the port commission office, Helena Chemical, Farmer's Grain Terminal and JANTRAN.