The Kentucky Transportation Cabinet reported that rising river levels have affected navigational bridge lighting on the Tennessee River, as well as the operation of ferries crossing the Mississippi and Ohio rivers.
Keith Todd, spokesman for the Kentucky Transportation Cabinet's District 1, based in Paducah, said both the navigational lighting and roadway lights have been turned off on the U.S. 6 Tennessee River bridge immediately below Kentucky Dam.
The bridge lighting system had to be turned off because of floodwaters along the power lines providing electrical service to the bridge, Todd said. The duration of the outage was not immediately known.
The 3,117-foot-long plate girder bridge has a 505-foot main navigation span and opened to traffic in November 2009 when highway traffic was moved off the top of Kentucky Dam to facilitate construction of a new lock. It runs parallel to the P&L Railroad Bridge constructed at the same time. The bridge carries both U.S. 62 and U.S. 641 across the river and is also known as the George A. "Tony" Ellis Memorial Bridge. Roughly 5,000 vehicles cross the bridge daily.
In addition, Todd reported an extension to the closure of the Dorena-Hickman Ferry crossing the Mississippi River and the additional closure of the Cave-in-Rock Ferry crossing the Ohio River, both due to flooding.
The Dorena-Hickman Ferry closed February 11. It connects K. 1354 at Hickman, Ky., with Missouri Route A and Route 77 near Dorena, Mo. The ferry closed when floodwaters covered the Kentucky landing. Given the current forecast, Todd said the ferry is estimated to open as soon as February 28, although additional rainfall could push back the reopening.
Missouri and Kentucky have the geographic distinction of being the only border states not directly connected by either a road or a bridge. The only direct route between the two states is the Dorena-Hickman Ferry. When the ferry is closed, the nearest crossing is in Cairo, Illinois, requiring an 80-mile detour. The ferry operates at Mississippi River Mile 922.0.
The Cave-in-Rock Ferry closed at 6 p.m. February 15, a day earlier than expected, due to floodwaters crossing Ky. 91 near the Kentucky landing. Ferry operator Lonnie Lewis said backwater covered the road, forcing the ferry to close earlier than what the normal river forecast would indicate. With water backing up, he said it also made it difficult to predict when the ferry might be able to reopen. The Kentucky Transportation Cabinet estimated a reopening date of February 24 at the soonest. The ferry service planned to indicate on Facebook when it would reopen. The page is online at www.facebook.com/CIRFerry.
The Cave-in-Rock Ferry connects Ky. 91 with Illinois Route 1 between Crittenden County, Ky., and Hardin County, Ill. It is located at Ohio River Mile 881.0.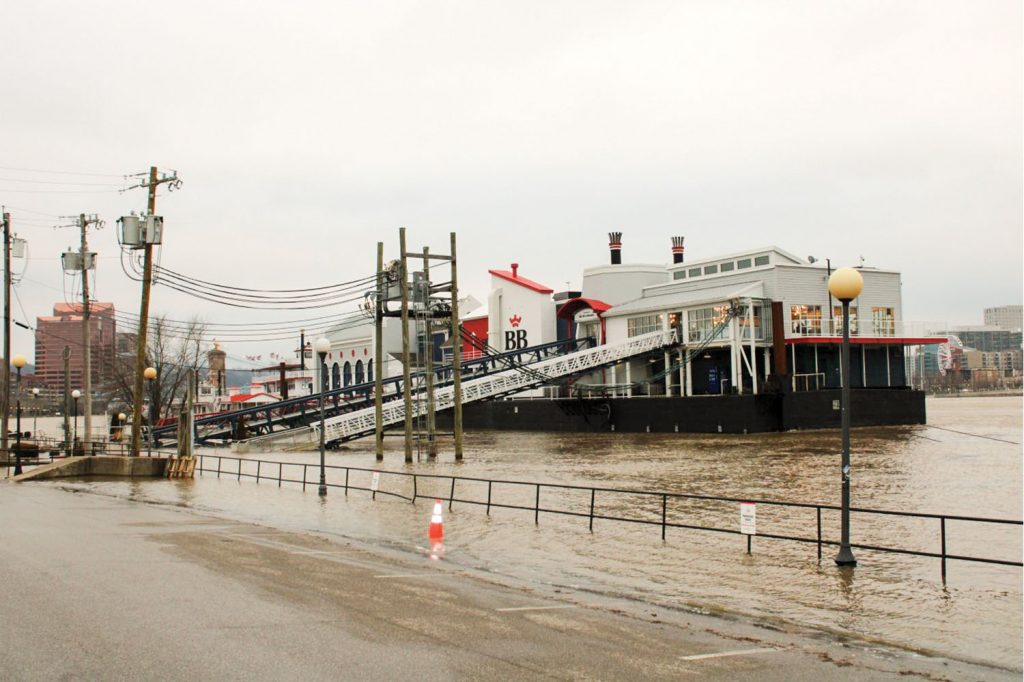 Caption for top photo: The back of a park bench protrudes from the Ohio River at Paducah, Ky. (Photo by Shelley Byrne)