Big River Propeller of LaCenter, Ky., has partnered with Ingram Barge Company to help breast cancer victims eliminate barriers to treatment.
The companies came together recently to donate $7,500 to the First Light Endowment established by Anne Gill as part of the Baptist Health Foundation. The endowment provides assistance with copays, medications and services to improve breast cancer patients' access to affordable care, said Jason Straub, the foundation's director of philanthropy.
It is the first corporate donation to the endowment, Straub said. Each year, Baptist Health Paducah provides treatment to hundreds of breast cancer patients each year, said Mindy Cartwright, breast navigator. Many times, little costs add up, which can lead to patients making difficult choices about what services are essential, said Sandra Zaranti, director of imaging.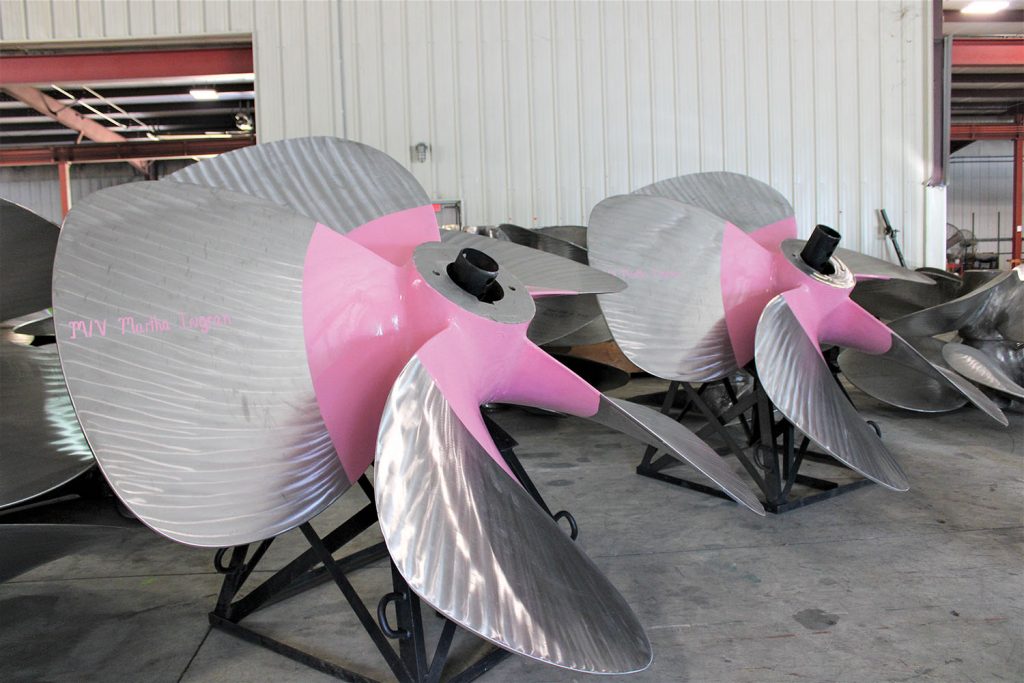 As part of the partnership, Big River Propeller painted the hubs of the 114-inch propellers of the 10,500 hp. triple-screw mv. Martha Ingram pink for breast cancer awareness, also including the vessel's name in pink.
The propellers are a spare set to go on the Martha Ingram in due course, said Glen Ellis, port engineer.
Representatives of Big River Propeller, Ingram and the foundation all celebrated the donation with a gathering and check presentation in front of the freshly painted propellers October 6 in LaCenter. Many of them wore specially made pink shirts and hats for the occasion.
"When my father and I started Big River Propeller we thought of the idea of pink hub propellers for breast cancer awareness and some day being able to make a contribution like this," said Tyler Davis, chief operating officer/customer relations. "Since then, this thought became an even bigger deal to us when we lost my father's mother and father—my grandparents—to cancer. With all of the hardships at this time we felt this was the year."
Davis and his father, CEO Sam Davis, founded Big River in 2014, bringing on board Marty Hendershott as their director of operations and an integral part of building out the facility. The company and its propeller technicians have 145 years of combined experience in the industry.
Ingram was one of the family-owned business' first customers.
"Without our loyal customers, we would not be where we are today," Davis said. "Ingram is one of our amazing customers and was an incredible fit for this joint project. We are truly honored to stand with Ingram Barge and be a part of this great cause."
Big River reached out to the Baptist Health Foundation to help as many local families as possible. Upon hearing about the Anne Gill First Light Endowment's goal, it was an easy choice, Davis said.
"We knew without any doubt this would be the endowment for our donation," he said.
Caption for top photo: Tyler Davis of Big River Propeller, Allen Willhelm and Glen Ellis of Ingram Barge Company and Sam Davis of Big River Propeller stand together in front of the pink-painted propellers for the mv. Martha Ingram. As part of its breast cancer awareness campaign, Big River Propeller painted the 114-inch propellers of Ingram's mv. Martha Ingram pink. The companies partnered to donate $7,500 to an endowment helping breast cancer patients.