It may be two years or more before ground is broken, but Paducah, Ky., leaders are reviewing concept art for a new riverboat landing.
The city received a $10.4 million Better Utilizing Investments to Leverage Development (BUILD) grant in November 2019. The approved application includes building a riverboat excursion pier and a riverfront plaza.
City Engineer Rick Murphy reviewed concept art from Bacon Farmer Workman Engineering & Testing of Paducah with city commissioners and Mayor Brandi Harless in a virtual Paducah City Commission meeting on the YouTube platform October 13.
The design involves an elevated concrete walkway extending from shallow water into deeper water. It includes a vertical wall, separating pedestrians from the river even though they can still see it from the walkway. Riverboats, such as the American Queen, can come abreast of the wall to tie up closer to shore or farther out, making it accessible no matter the river level.
"We have our challenges with the river that comes up and down as much as 35 feet," Murphy said.
The landing would take the place of small concrete abutments installed years ago. The plan had been that gangways from visiting riverboats could be tied to them, but high water and low water have often made that impossible.
"These go under water when the river is up to about 40 feet, and we have river boats that land when we have rivers higher than 40 feet, and these would not be accessible at that time, so we looked for a makeover that would look something like this where, no matter what the river's doing, the boat can land," Murphy said.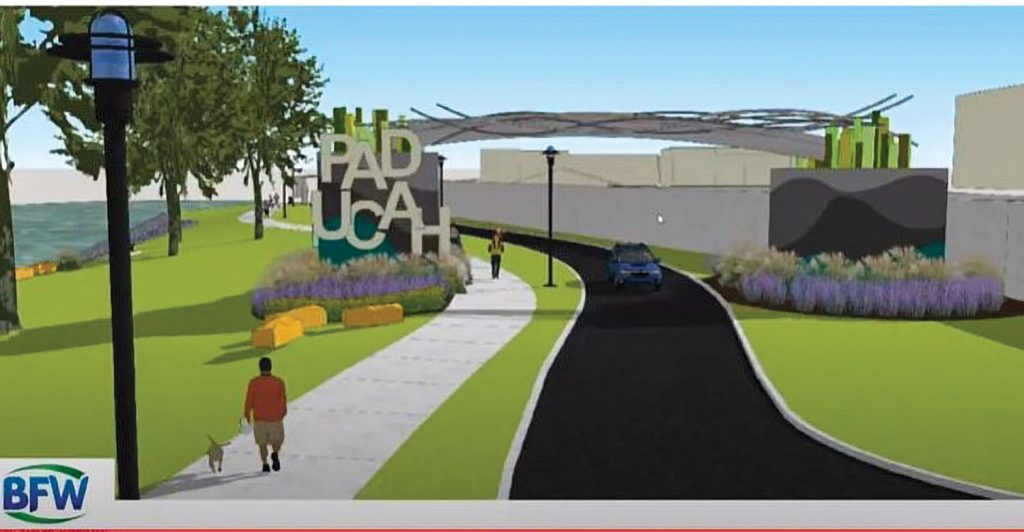 He added that the design also allows for easy operation and maintenance, something the city learned the importance of when installing a transient boat dock for visitors a few years ago.
"The operation and maintenance on this is generally to go down and hose it off," he said of the proposed landing. "You're not having to deal with the utilities, whether that's to go down and disconnect them or reconnect them. There are no moving parts here. There are no floats, no gangways. It's all fixed construction."
City Commissioner Sandra Wilson said she was excited by the concept.
"I think it looks great, Rick," she said. "Let's get it done."
Harless agreed, saying, "I really like the low-maintenance concept," she said. "It never even occurred to me that was an option."
Harless asked if it would also be possible to include a place in the riverfront design to put in and take out canoes since the city has joined the Tennessee RiverLine initiative, which supports paddlesports and other boating recreation on the Tennessee River. Paducah sits at the confluence of the Ohio and Tennessee Rivers.
Murphy said kayak ramps can be easily and inexpensively added, and he pointed to a design used in Chattanooga, Tenn., where such ramps are included down the center of stairs leading to the river.
Murphy also showed how large concrete foundations that once supported a conveyor for a concrete plant at the riverfront could be used instead to create a sign welcoming people to Paducah when they arrive from a boat. He noted that the city has recently completed Phase 5 of its greenway trail for hikers and bikers. The phase included rehabilitation of the riverfront park that contains the transient dock for recreational boaters. The greenway trail connects the riverfront with other city and county parks and trails, mostly traveling along the top of the earthen floodwall that surrounds the city.
Caption for top photo: Concept art shows a potential design for a new riverboat landing in Paducah, Ky. (Photo courtesy of the City of Paducah)