After years of planning and months of work totaling millions of dollars, the Illinois Waterway is back open.
Major rehabilitation and maintenance projects requiring full closures at four locks and a partial closure at a fifth began in July. Peoria Lock and Dam reopened September 30. LaGrange Lock and Dam, where the most extensive of the projects is taking place, reopened October 13. Starved Rock Lock and Dam and Marseilles Lock and Dam  reopened October 29, the date that also marked the end of 12-hour daily closures at Dresden Island Lock and Dam.
Although work remains at the locks, no further lengthy closures are expected, according to the Corps of Engineers. The Rock Island Engineer District noted that two 12-hour closures at Lockport Lock are anticipated the week of November 30, however. Those will most likely come November 30 and December 1, according to the district's website. Additionally, the district said 10- to 12-hour closures at Lockport are anticipated for late December or early January and will be announced via the Corps' Notices to Navigation Interests webpage (https://corpslocks.usace.army.mil/) once the dates are set.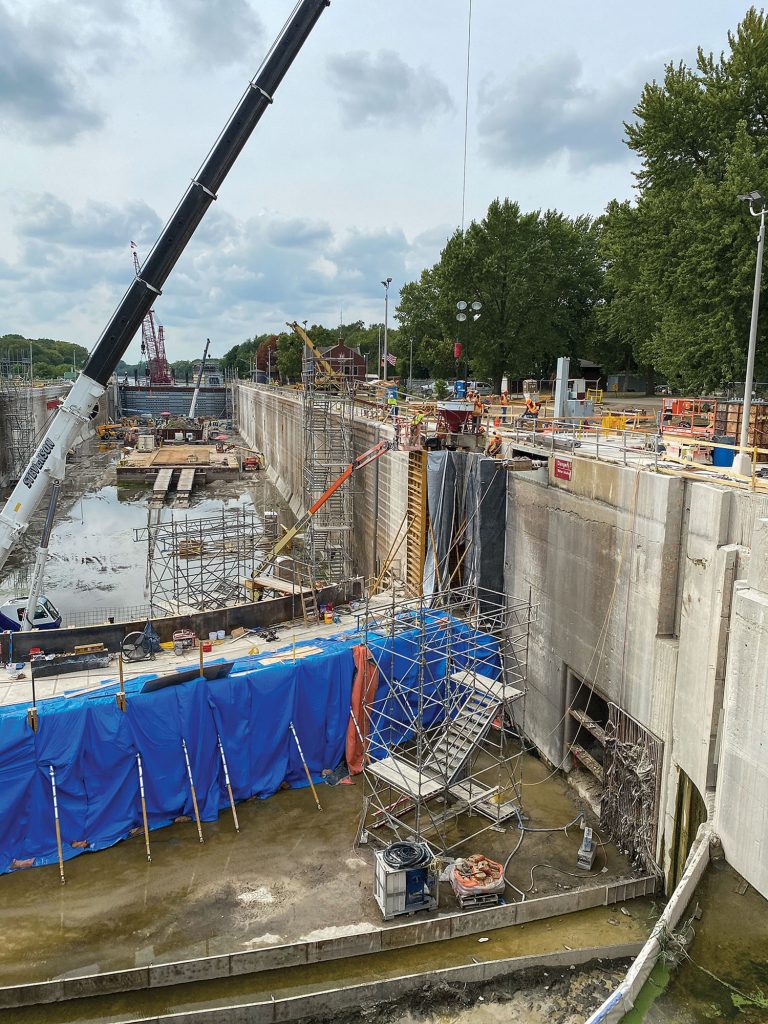 The rehab work was necessary at the locks to extend their lifespan. Construction began on the youngest, Peoria, in 1936 and on the oldest, Marseilles, in 1920. As a single lock chamber exists at each dam, the waterway—which provides a navigable connection between the Mississippi River and Lake Michigan—had to be closed to commercial traffic. The Corps worked closely with industry to consolidate the closures to lessen the impact to the navigation industry as well as to schedule the work to avoid the worst of potential spring high water and heavy fall harvest traffic.
Work at the sites included dewatering LaGrange Lock to replace severely worn lock gate machinery and make significant repairs to crumbling concrete and steel; dewatering Peoria Lock to perform inspections and maintenance of areas usually submerged; dewatering Starved Rock and Marseilles locks to reconstruct miter gate sills and replace anchorages in preparation for new miter gate installation; and installing bulkhead recesses at Dresden Island Lock to allow for future maintenance and dewaterings.
The next major work on the locks is not expected until at least 2023. It is expected to include installation of miter gates at Dresden Island, electrical rehab at Marseilles and upper bulkhead recess installation and upper miter gate installation at Brandon Road Lock and Dam. The three-year delay is designed to allow the industry to recover from the 2020 closures.
Primary contractors for the projects are Shimmick Construction Company Inc. at LaGrange, Alberici Constructors at Starved Rock and Marseilles, and J.F. Brennan Company at Dresden Island. Most of the work at Peoria was done in-house by the operations team, said Allen Marshall, chief of corporate communications for the Rock Island Engineer District. Bosch-Rexroth rehabbed the Peoria miter gate hydraulic cylinders, however.
"There may still be some needs for brief, intermittent closures because they still have some minor pieces of work between now and when they commission it next summer or spring, but those closures should be minimal," Marshall said of LaGrange Lock, which was the most extensive of the projects.
Marshall praised the contractors and crews for working well with the Corps to complete the work in a timely manner, mitigating the effects of the closure and preventing unplanned future closures due to the degradation of the locks. The work completed is impressive, he said, calling the project completions a success. "I think they are pretty proud to have accomplished this," he said of the various partners involved.
Marshall talked about the complexity of the work, the short period to complete it and the difficulty of rehabbing locks that are 80 to 100 years old.
"All the infrastructure on the Illinois Waterways is decades, almost a century, old, and all of it is in various degrees of decay," he said. "As much as we knew this was going to be a burden to the industry, we also knew this had to be done in order to keep the lock infrastructure effective."
Up until a week before the closures began, high water threatened to delay the projects' start.
"We weren't sure what the water was going to do," Marshall said. "I think it was fortuitous that it remained a little bit lower than a lot of predictions were laying out."
Crews also had to adhere to strict protocols to ensure employee safety during the COVID-19 pandemic, along with rapidly changing guidance from the U.S. Centers For Disease Control and Prevention.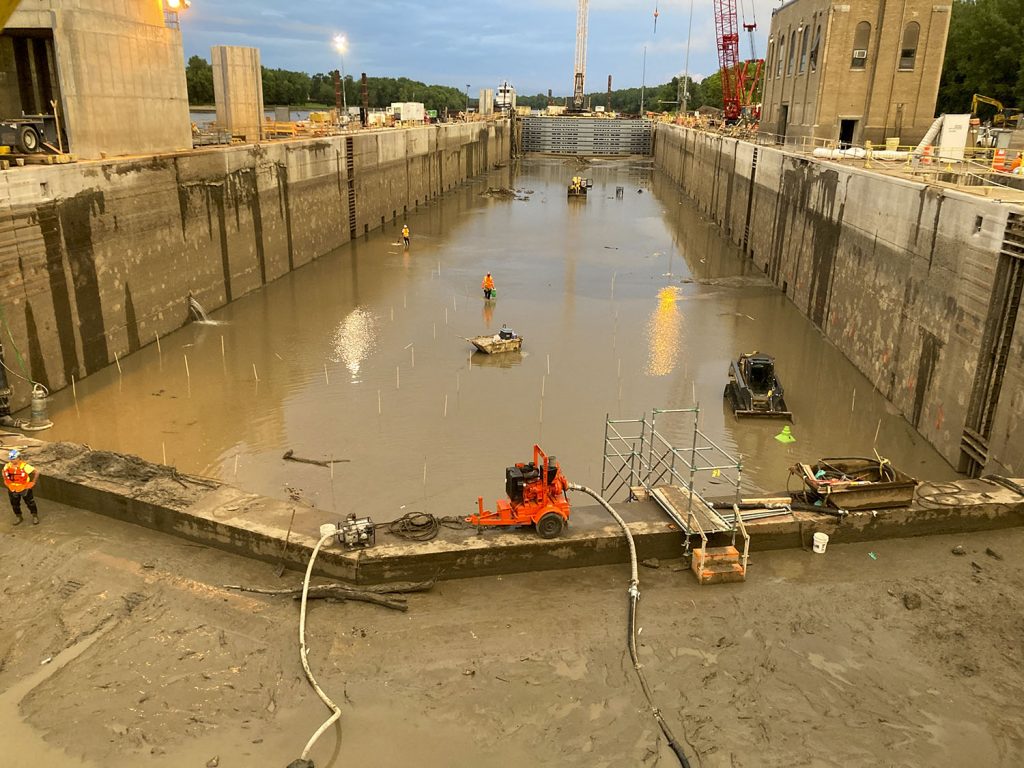 LaGrange Lock And Dam
The $117 million LaGrange Lock and Dam rehabilitation project was originally scheduled for a lock closure beginning July 1 with completion on September 30 in order to rebuild the 80-year-old structure. Unfortunately, spring high water, which continued through June, delayed the six weeks of scheduled preclosure tasks. That meant Shimmick Construction Company Inc., the lead contractor, needed to complete work that had been scheduled to take place before the closure as it was ongoing.
"We had to stack that work on top of everything else we had to do during the closure period," Shimmick Project Manager Robert Wheeler said.
The work necessitated extending the lock closure until October 13.
"The LaGrange Major Rehab/Major Maintenance is the single largest construction contract ever executed by the Rock Island District," said Col. Steven Sattinger, commander of the Rock Island district. "In the last 20 years, only one other Rock Island project exceeded the magnitude of the LaGrange project, but that project was split into multiple contracts and took nearly 10 years to execute, unlike LaGrange, which was substantially completed in a single construction season."
Wheeler also spoke to the uniqueness of the situation.
"In my career I've never seen anything like this where we needed to perform the same, complex lock work in half the closure time," he said. "Typically, we would have two separate closures with work split into two different segments. But with this lock, we needed to work around the edges, for the first season, while keeping the lock in service."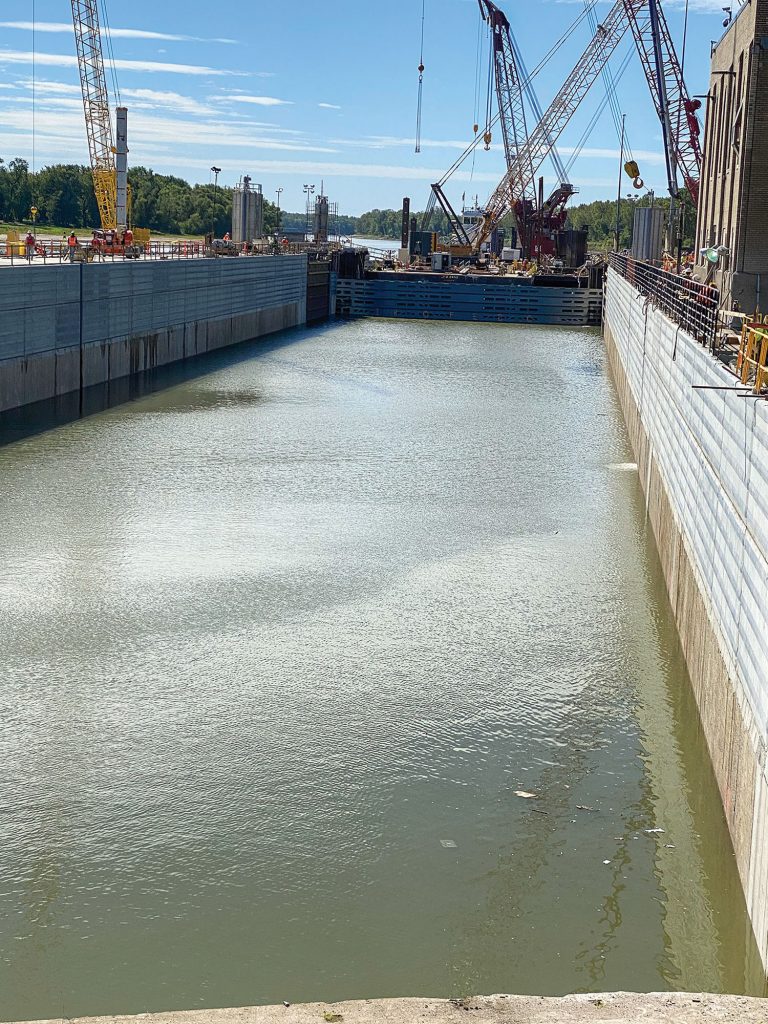 In 15 weeks, the construction team dewatered the lock, removed the lock face, installed new precast panels and rebuilt the lock face with embedded armor plates for better durability.
"Among many other activities, we installed new miter gate anchorage points with new operating machinery as well as new programmable control systems for opening and closing the miter gates with the brand-new technology that has not been used in the United States for locks before," Wheeler said. "These are rotary actuators rather than hydraulic cylinders, so that's going to be an exciting change."
With the new lock face and complex control system, Shimmick also constructed an elevated concrete HPU building on the intermediate wall so the hydraulic systems could be split and operated separately rather than run under the lock.
At peak, 286 people worked six 10-hour double shifts in a lock chamber 600 feet long and 110 feet wide. Crews had roughly 25 feet on either side of that to do the lock wall work. Heavy equipment within the tight footprint included a 300-ton crane on the land side, a 300-ton crane upstream and a 300-ton crane downstream of the bulkheads and the lock. A 150-ton crane was on a barge outside of the riverside wall, and two 60-ton cranes were down in the chamber. On the land wall there were two 130-ton cranes and another 60-ton crane.
"That is an incredible number of massive booms in a very tight area and takes a high level of planning to account for swing radiuses to ensure we are operating safely without incidents or flying big loads over people," Wheeler said.
The coronavirus pandemic also created challenges. Although the project was deemed essential, meaning it could continue, getting appropriate manpower was sometimes difficult. Crews worked side by side, sometimes in trenches, so it wasn't always possible to social distance, Wheeler said. The heat quickly soaked face masks, so crews used face shields instead. Crews sanitized the site three times every shift as well as between shifts, and each morning, crew members completed health questionnaires and had their temperature scanned.
"The good news is we only had one case of coronavirus on the site for that entire period of time, and it was a person who tested positive two days after he hired in, so he didn't get it here," Wheeler said.
Additionally, he said, crews found what Wheeler facetiously called "hidden treasures" while working on the lock. They included capped off fuel lines that still had fuel in them and were embedded in concrete, electrical lines run in places not indicated on schematics and hidden beams once embedded for future construction but long since abandoned.
Wheeler attributed the project's success to a productivity system that included daily collaboration among Shimmick craft personnel, subcontractor J.F. Brennan and the Rock Island District. That system allowed the team to plan work very specifically and measure progress in real time, Wheeler said.
"We had a war room set up where we had a 360-degree camera so anybody could dial into our daily review meetings and everybody could see the entire room," Wheeler said, describing the process as very open and collaborative. "That really helped us to be very flexible and get a lot of input from a lot of sources, from the client to the craft out in the field. That helped us in real time."
That system also allowed the crew to adjust immediately for any setbacks and to continue to work ahead where possible.
"On paper, if you look at the activities that had to happen in the six weeks prior to the lock closure, it didn't seem achievable," Wheeler said. "All of those activities had to be stacked into that same timeframe and on top of each other. Instead of having a long linear process, you have a short, highly stacked process with 100 extra people in the same space. To do anything except have mass chaos and lots of safety incidents, it takes an incredibly high level of planning and execution."
Wheeler also took time to praise the people working on the project, calling them high-quality professionals and saying this project reaffirmed to him the importance of having the right people in place to do the job.
"People matter," he said. "Your team is incredibly important to the success of a project and the company."
Although LaGrange Lock is back open, the project is not due to be complete until September 2021. Wheeler said the work will be substantially complete by the end of the year but that next year the access road into it must be torn out and rebuilt.
Starved Rock And Marseilles
Alberici Constructors is the primary contractor for the projects at both Starved Rock and Marseilles locks. The projects both involved replacing miter gates, with all four gates replaced at Starved Rock and the upstream two gates at Marseille, said Jamie Eddleman, project superintendent.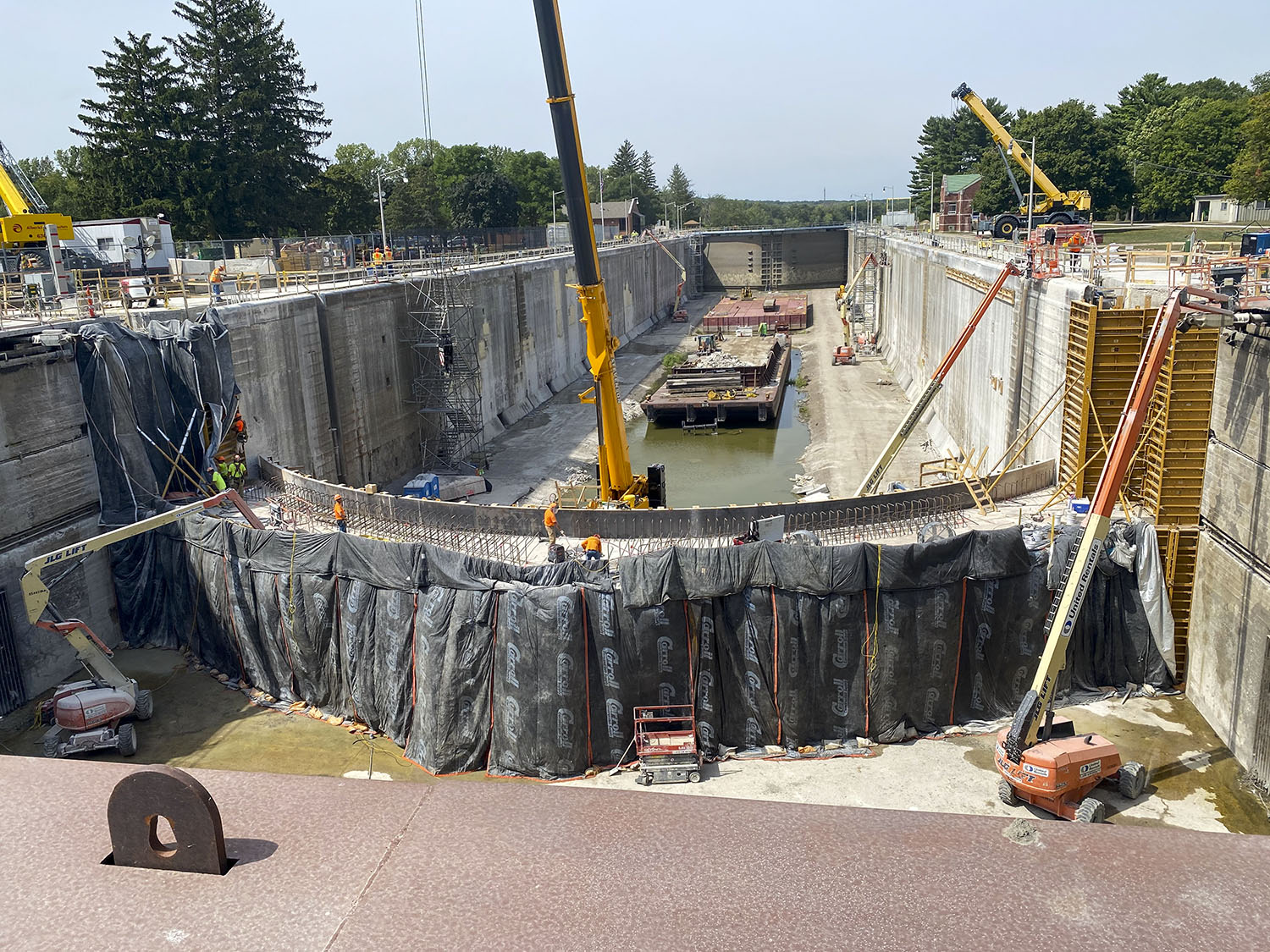 Alberici worked simultaneously over the four months to refurbish the lock chambers. Both Starved Rock and Marseilles were originally built in 1933 and have similarly sized chambers, measuring 600 feet long by 110 feet wide upstream and with miter gates weighing between 140 and 240 tons each. Alberici's scope of work included removal and replacement of embedded quoin; replacement of miter gate anchorages, pintles and embedded frames; demolition and reconstruction of the gate control buildings and access staircases; modification of existing sills; and relocation of miter gate controls and electrical components to protect against 100-year flood events. Most of the work was performed from elevated lifts with limited workspace.
"The project involved careful coordination of multiple trades and extremely high tolerances, within one-sixteenth of an inch," Eddleman said, along with a congested work area and an accelerated schedule that eventually required crews to work around-the-clock, seven days a week.
Weather also proved difficult, with a high-water event in the spring making the work area inaccessible for two weeks.
Rob Hartwell, project director, noted that the total contract went up more than 20 percent since bidding the job. With locks so aged, crews had to ensure they were attaching the new construction to existing concrete that was sound.
Additionally, "Our electrical scope quadrupled from where we started," Hartwell said.
Tri-City Electric was the electrical subcontractor on the job, and Hartwell called it "pretty much a gut of the electronics."
On October 29, Rock Island District operations staff locked through the first tow, officially reopening Starved Rock Lock for commercial navigation.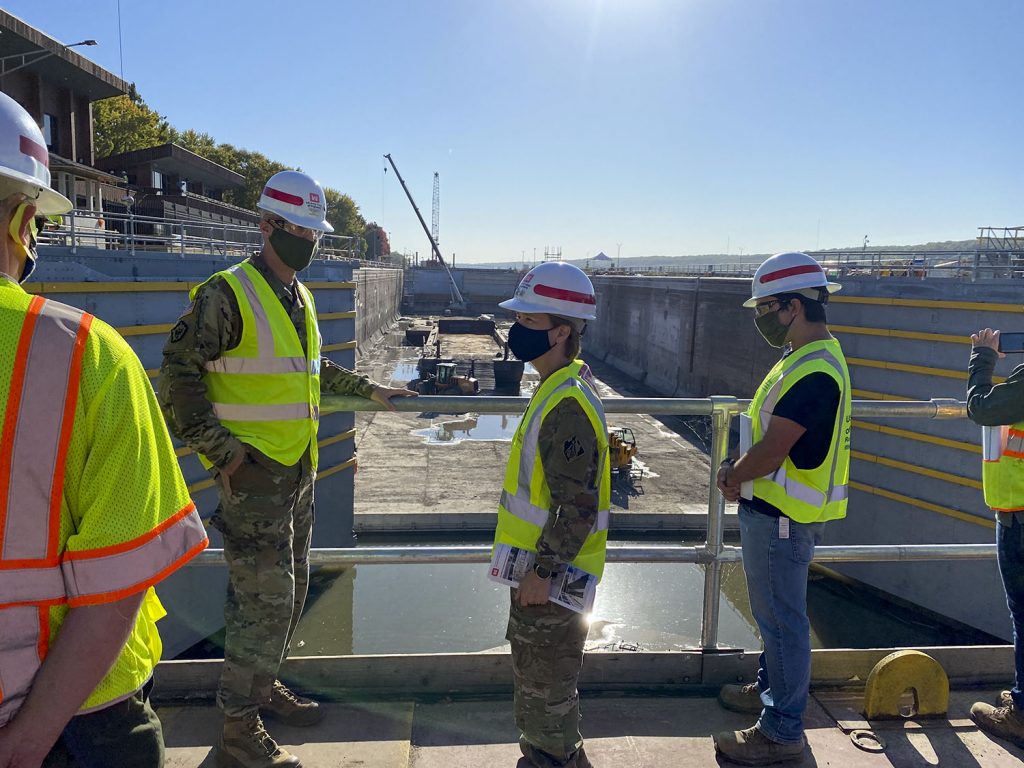 "Alberici is proud to have had the opportunity to support the Corps' mission during the 2020 Illinois Waterway closure," said Fred Biermann, Alberici market leader for its heavy industrial/civil division. "The team's ability to overcome several challenges and execute such a complex project in a small window of time speaks volumes of their skill and commitment."
Project team members from Alberici and the Corps talked about the importance of formal partnering sessions as a key to the collaboration that allowed the lock projects to succeed. Designed to help align priorities and minimize conflict, the team participated in a series of sessions that spanned the full duration of the project and included senior leadership from both Alberici and the Corps. The sessions were designed to improve the projects' quality, safety, timeliness and cost-effectiveness.
Marseilles and Starved Rock Locks are the latest in a series of marine construction projects Alberici has completed on U.S. inland waterways. An Alberici joint venture recently completed construction of the new Olmsted Dam on the Ohio River. At $1.9 billion, Olmsted Dam is one of the largest civil works projects in Corps history. An Alberici joint venture is also preparing to mobilize for Phase 2 of the new Soo Lock project in Sault Ste. Marie, Mich., and Alberici is currently performing a wide range of projects for public and private sector clients on the Mississippi, Missouri and Illinois rivers.
"The depth of Alberici's experience working on, above and below water allows us provide our clients with innovative solutions to some of their toughest challenges," Biermann said. "Our ability to marshal resources and work collaboratively toward a common goal was on full display during the recent closures at Marseilles and Starved Rock, and we're looking forward to working on the next one to make sure it's just as seamless."
Dresden Island
J.F. Brennan Company is the primary contractor the Dresden Island Lock project.
"We have planned for the project since the bidding process, continuing through contract award December 2019," said David Laack, underwater services project manager. "Brennan's scope is to install bulkhead recesses above the upstream miter gates. This involved extensive concrete demolition, formwork installation and removal, a lot of concrete placements, structural steel installation, precast concrete panel installation, drilling into bedrock and dowel installation and weep hole drilling. Almost all of this was work done underwater by divers."
As with the other lock projects, the company said collaboration with the Corps was key to successfully completing the work. Laack said it was important to work with lock personnel on site to coordinate Brennan's barge movements in and out each day.
Although there were few unexpected conditions, there were plenty of challenges to complete the project, Laack said.
The main change to the initial plan had to do with bedrock conditions.
"The fractured bedrock did not allow us to brace a one-sided form to it to support 9.5 feet of concrete infill behind it for the new sill without installing drastic measures," he said.
Additionally, he said, employing techniques topside to make it easier on the divers and their visibility, allowing the company to verify installation, became an issue.
"Another large obstacle, which we experience a lot in our work, is trying to best fit the new construction to the old surrounding environment of the lock that is not always plumb or square anywhere," Laack said.
Despite those challenges, J.F. Brennan completed the work, which was finalized through a Corps dive inspection, and Dresden Island lock reopened the afternoon of October 28.
An Industry Perspective
As the Corps and contractors worked to complete the projects at the locks, the navigation industry monitored the closures and reopenings carefully.
Companies spent years preparing for the lock closures, staging vessels and barges in various pools, planning work for their employees to complete during what became a downtime for some and monitoring and shifting supply chains as necessary.
BL Duke River Terminal has been preparing for the closures since it was established two years ago at the junction of the Des Plaines and Illinois rivers in Joliet, Ill. The terminal's primary operations consist of barge and rail loading and offloading, warehousing and final-mile delivery services to Chicago and the surrounding areas. BL Duke River Terminal and parent company BL Duke, one of the Chicago area's largest scrap metal recyclers, share assets. The companies consist of 150 employees, two berths, Class 1 rail service, 30 acres of outdoor storage, and a 250,000-square-foot, climate-controlled warehouse.
BL Duke River Terminal President Lou Plucinski said the closures were necessary, although they represented a hardship for some businesses. BL Duke had a significant amount of inventory it was unable to ship during the closures, Plucinski said.
"You could plan to get more trucks, but everybody needed more trucks," he said, saying it wasn't worth getting them for the short-term nature of the closure.
Briana Binnie, vice president of business development, said the terminal promoted its Class 1 rail service and kept in close communication with clients and barge carriers in advance of the closures and as they progressed.
"We had a lot of clients that were either stocking up on inventory or they were diverting shipments elsewhere," she said.
Some barge shipments shifted over to rail or truck temporarily.
"Our clients stated their freight costs increased significantly," Binnie said.
Both Plucinski and Binnie were glad the Corps worked with contractors to consolidate and expedite the work, which mitigated the impact. Although the locks have reopened, it will take time for companies to recover, however, Binnie said. As an example, she said, she did not expect any materials to arrive at or leave from the port's terminal until the first or second week of November.
BL Duke River Terminal is starting to see more inquiries for spring 2021, however.
"Supply chains are starting to move things back to the area," Binnie said. "I think it's going to take up to the second half of 2021 to catch up because diverting all those supply chains takes a lot of time and effort. It's not like flipping a switch and everything goes back to normal. It's going to take some time to catch up."
Caption for top photo: All four miter gates were replaced at Starved Rock Lock as part of the project. Both Starved Rock and Marseilles locks reopened October 29, meaning all five Illinois Waterway locks where extended closures took place since July are now back open. (Photo courtesy of Alberici Constructors)