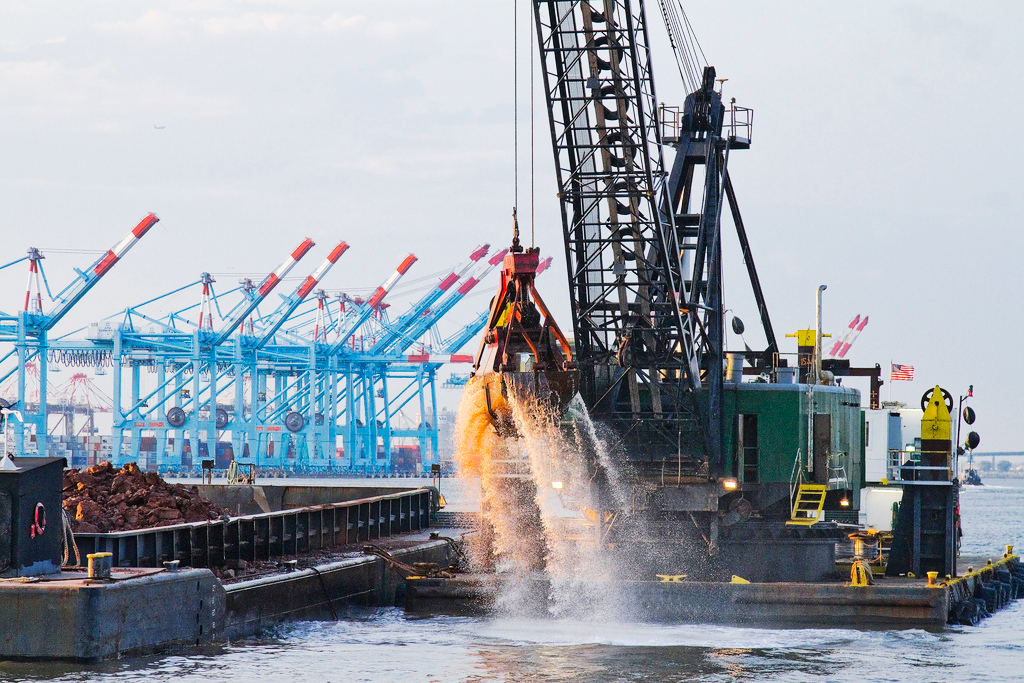 FOR SALE
DUTY CYCLE CLAMSHELL BUCKET DREDGE WITH DUMPSCOW – PACKAGE DEAL
Located in Staten Island, NY
DREDGE:
160 x 52 x 8.5' ABS Loadline Barge. Built in 1999. International Loadline Certificate Valid through September 2026.
(2) 36" x 90' Spuds Port and Starboard and (1) 24" x 90' Walking Spud.
And (2) 36" x 40' Spuds Port and Starboard and (1) 24" x 40' Walking Spud Operated by Frame 9 Winch.
(2) Magna Plus 433PSL6216 Generators powered by (2) John Deere 6090HF485 Engines.
(2) Quincy QR370 Air Compressors.
Fuel Capacities: Fuel 18,000 Gallons, Day Tanks 5,000 Gallons, Lube Tank 300 Gallons, Waste Oil 300 Gallons and Fresh Water 1000 Gallons.
Last Drydocking September 2021. New Anodes – blasted and painted. All voids and fuel tanks were cleaned and inspected by ABS.
Dredge is Complete with Captains Facility, Mates Shack, Galley and Changing Rooms. MSD System.
DUTY CYCLE CRANE:
Clyde 28-DE-65 with Frame 16 Winch with 90' Boom.
Powered by a CAT 3512
Capacity 125,000 lbs with 47mm Cable
Sold with 7CY, 9CY and 13CY Buckets.
Upgrades 2021
Converted Swing from DC to AC powered by (2) 100HP Electric Motors
New Swing Pinions and Bushings
Frame 16 Winch rebuilt
Rebuilt 3rd Drum Tagline
Upgrades December 2022
New crane tub and rail installed
All wiring in crane updated for AC Service
New Lighting in Crane and on Boom
Rebuilt Torque Convertor
Painted Crane
Cab Air Controls and Brake Pedals Updated
Spares:
New Crane Boom
House Rollers
Torque Convertor
Frictions and Brakes for Clyde 16 Winch
Frictions and Brakes for Clyde 9 Winch
Hydraulic Boom Hoist Winch
DUMPSCOW:
240 x 54 x 22' – 4000 Cubic Yard ABS Dumpscow
Class and International Loadline Certificate valid through September 2025.
Last Drydocked September 2020
SALE OUTSIDE OF THE U.S. ONLY
(May consider a West Coast or Great Lakes sale under certain conditions)
CAN ALSO DEVELOP UNDER SEPARATE AGREEMENT FOR SALE:
2200HP Model Bow Tug
68' x 24' x 7'
98 Gross Tons
USCG Certificate of Inspection valid through July 2025
Built 1980 – Gibson, LA
2 CAT 3508 – (2200 HP)
Twin DiscMG 540 reverse reduction gear
(2) John Deere 4045TFM75 – 65KW Generators
Towing Winch – Smatco Winch – DPS44 – Cable size: 1 1/8"
36,700gal fuel capacity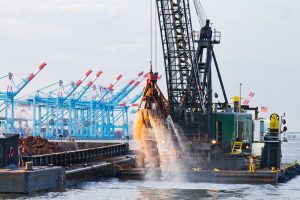 Contact
Mark Quinn
617-984-0022
mark@SterlingEquipment.com