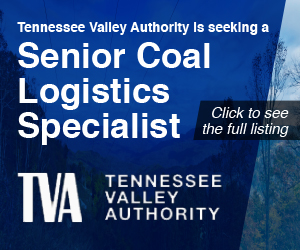 TVA is seeking a Senior Coal Logistics Specialist with at least 5 years of direct experience in rail and/or barge. Applicable experience in trucking will also be considered. This individual will support the planning, scheduling, and monitoring of all coal shipments from mine to plant or terminal. Managing plant and terminal inventory is a principle accountability that requires building and analyzing scenarios to look several months ahead in time. Knowledge of the coal industry, wholesale electric utility, robust communication skills in logistics functions, ability to assess future impacts and adapt quickly and a passion for continuous improvement are all highly valued characteristics. This position is not a shift position but does require being available 24×7 to support emergent coal supply or delivery issues.
This position can have a flexible work location within the Tennessee Valley. Ideal location is in Chattanooga or nearby.
Please forward this email to anyone who may be interested. TVA is highly interested in seeking a diverse workforce and utilizes a diverse candidate selection process.