For the first time in what is most likely a very long time, thousands of gallons of barreled whiskey is heading down the Mississippi River to New Orleans. Approximately 150 barrels of Tennessee whiskey were loaded onto a covered hopper barge at the Owensboro (Ky.) Riverport on January 27.
Bill Wright, president and CEO of Owensboro Riverport Authority, said the barrels were loaded into a barge using its new LHM 280 mobile harbor crane. "The loading process was fairly straightforward, which was similar to how other cargo is loaded," said Wright. "The whiskey was delivered as four barrels per pallet, so we placed four pallets on our 35-ton crane. Once in the barge, we used a standard fork truck to remove and place the barrels into the barge."
Wright said this was the first time the riverport has loaded whiskey or any other spirit onto a barge.
Jonny Ver Planck, head distiller at Cane Land Distilling Company, Baton Rouge, La., said the company chose Owensboro Riverport to ship its whiskey since the barrels were being stored nearby at O.Z. Tyler Distillery. Proximity to the stored barrels wasn't the only reason Owensboro Riverport was chosen, though.
Sign up for Waterway Journal's weekly newsletter.
Our weekly newsletter delivers the latest inland marine news straight to your inbox including breaking news, our exclusive columns and much more.
"Whiskey was shipped down the river on barges for years long ago," said Ver Planck. "It seems to be a forgotten tradition."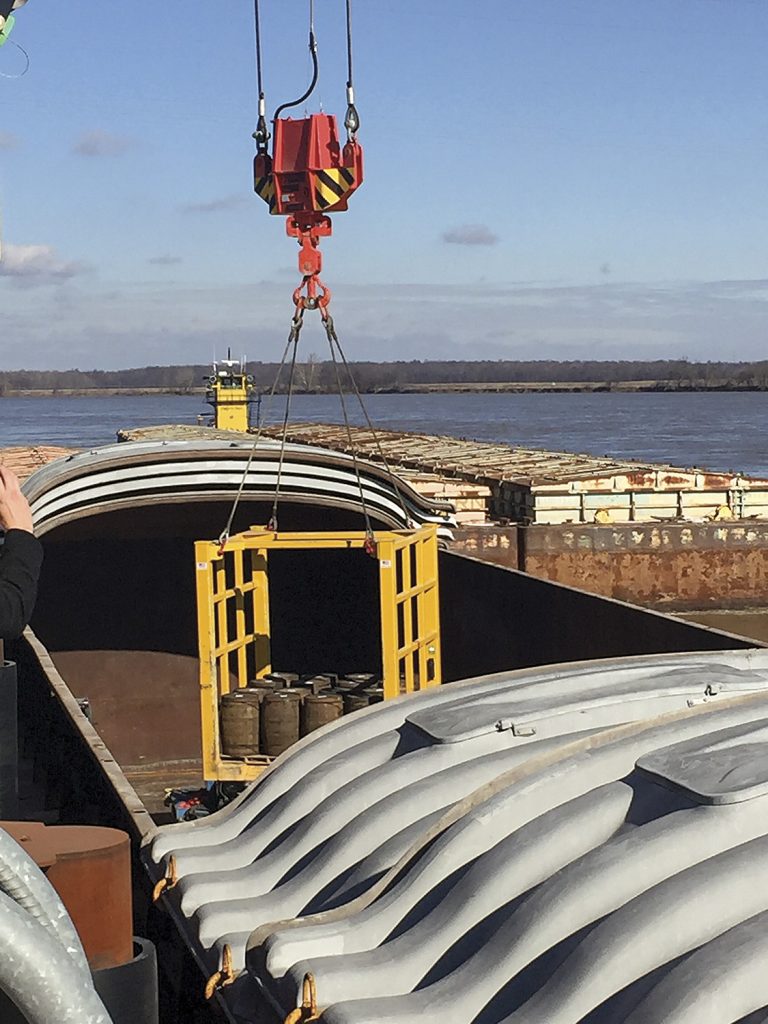 Ver Planck said the distillery could have opted to put the barrels on a truck and receive them in nine hours; however, the nearly two-week barge journey will tell a better story for those who sample their whiskey.
"We want to revive and relive an old tradition," said Ver Planck. "We would like to try to ship more whiskey down the river in a year or so. Also, our distillery minimizes its use of toxic chemicals as much as possible. Barges are a greener way of shipping product, and we are really embracing the river."
Cane Land Distilling Company is located approximately one block away from the levee in downtown Baton Rouge. Ver Planck said the barrels are being shipped to New Orleans instead of Baton Rouge out of tradition, as well. "New Orleans was, and still is, a shipping hub," said Ver Planck. "Whiskey would be sent down the Mississippi River on barge and offloaded in New Orleans. Once our barrels reach New Orleans, I'll be there to oversee the offloading process and we will truck the barrels to our distillery in Baton Rouge."
To emphasize its dedication in keeping with customary whiskey shipping methods, Ver Planck said Cane Land has incorporated the river into its whiskey logo. The logo will read: "OMFW," which stands for Original Mississippi Floated Whiskey. "We want people to know what we're doing and how we're doing it," he said. "We're embracing technology, while bringing back tradition."
As of late last week, the ARTCO barge carrying the barrels was in a fleet near Cairo, Ill., awaiting assignment to a southbound Lower Mississippi tow.
Once the 5-year-old whiskey arrives to Cane Land, it will be finished in the distillery's 100-year-old French cognac vats and blended before being bottled and sold. The distillery traditionally manufactures rum, which uses sugar from its own sugar plantation.
Loading whiskey barrels into a barge isn't the only new thing going on at Owensboro Riverport. Wright said the port continues to develop its property to support future industries in the long term. "In doing this, we will be opening our new inbound and outbound scale house in April," he said. "This property development has been a priority of ours for a number of years. We want to streamline our truck traffic in and out of the port and improve continuous turn efficiencies for our end users."