Category:
Miscellaneous for Sale
MIDWEST BARGE TERMINAL LLC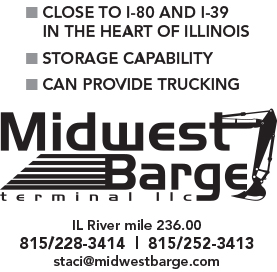 MIDWEST BARGE TERMINAL LLC
On the IL River Mile 236.00 is close to I-80 and I-39 in the heart of Illinois.  Midwest Barge Terminal can provide trucking and has storage capability.
Contact
Staci@midwestbarge.com
Phone 815-228-3414
Get the latest classified listings in your inbox.
Powered by the Waterways Journal, our weekly Inland Marine Marketplace email covers the latest jobs, equipment, property and services offered.