Farhat Honored With Bronze DeFleury Medal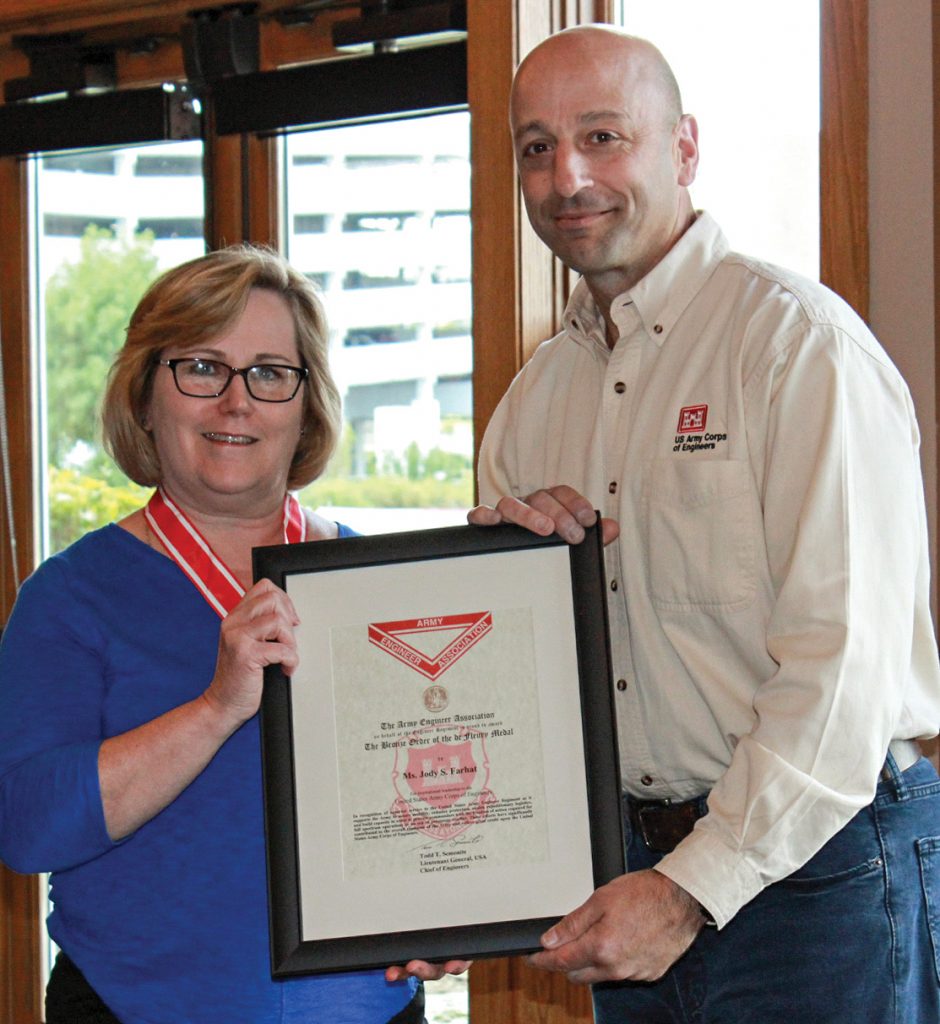 Jody Farhat, former chief of the Corps of Engineers' Missouri River Basin Water Management Division, was recently honored with the Bronze DeFleury Medal in an informal ceremony in August. She retired from the Corps on September 1.
On receiving the medal, Farhat said, "It has been my honor to serve the nation, the Corps of Engineers, and the stakeholders of the Missouri River basin for my entire professional career."
Farhat served as chief of Missouri Water Management Division since February 2009. She joined the division in 1989 after six years as a hydrologic engineer with the Omaha District. From 1989 to 2009, she served as a member of the reservoir regulation team, the Master Manual team, and as the power production team leader from 2002 to 2009.
Through her tenure with the division, the Missouri River basin has endured historic drought from 2000 to 2007 and record flooding in 2011.
Sign up for Waterway Journal's weekly newsletter.
Our weekly newsletter delivers the latest inland marine news straight to your inbox including breaking news, our exclusive columns and much more.
The Missouri River Water Management Division is responsible for planning, coordinating and regulating the Missouri River mainstem reservoir system by directing water releases and power generation at the six dams as well as ensuring that all eight congressionally authorized purposes for the basin are served.
"Regulating this system is of profoundly keen interest to a number of tribes, states, municipalities, other federal agencies and private interest groups," said Daniel Saniuk, chief of military programs for the Northwestern Engineer Division, who leads the office in Omaha. "Jody has masterfully and impartially served each group. In her role as chief, Jody has provided professional technical oversight and support to water management offices in the Corps' Omaha and Kansas City districts, as well as her staff of 12 employees. In the toughest of times and under the greatest scrutiny, Jody has demonstrated professionalism, integrity and passion that is paramount to the success of water management activities in the Missouri River basin, which has the largest system of reservoirs in the United States."
Northwestern Division Commander, Maj. Gen. Scott A. Spellmon, said, "The DeFleury medal has a Latin inscription that means 'a memorial and reward for courage and boldness.' Jody exemplifies these words. Her decisions in 2011 ultimately impacted hundreds of communities in the Missouri Basin. Her selfless service during the flood included directing the day-to-day regulation of the system through the unprecedented event, working long hours, making tough decisions, and enduring extreme scrutiny. She duly earned the moniker, 'the Iron Lady of the Missouri River.'
"Jody is sincere, well respected, and trusted," Spellmon added. "She attempts to strike the best possible balance between the needs of numerous tribes, local municipalities, state agencies and private entities in operating the river system.
She tirelessly promotes the skills and professionalism of the Corps while actively listening to the concerns and needs of others."
Farhat expressed her gratitude for the honor by thanking her team. "Through the longest of days and nights during the floods, we leaned on each other and met the greatest challenge of our careers," she said. "We were blessed to be supported by Corps employees from across the nation who fought the flood, inspected infrastructure and kept the public informed, and by great leadership at all levels of the organization. We are a team of dedicated professionals, and this honor is a credit to the entire team."