The Coastal and Marine Operators group (CAMO) held its annual marine pipeline safety, prevention and emergency response workshop October 11 in Luling, La.
More than 200 people registered for the event, which brought together representatives from the U.S. Coast Guard, the oil and gas industry, the state of Louisiana and other federal agencies to discuss the importance of pipeline awareness and safety.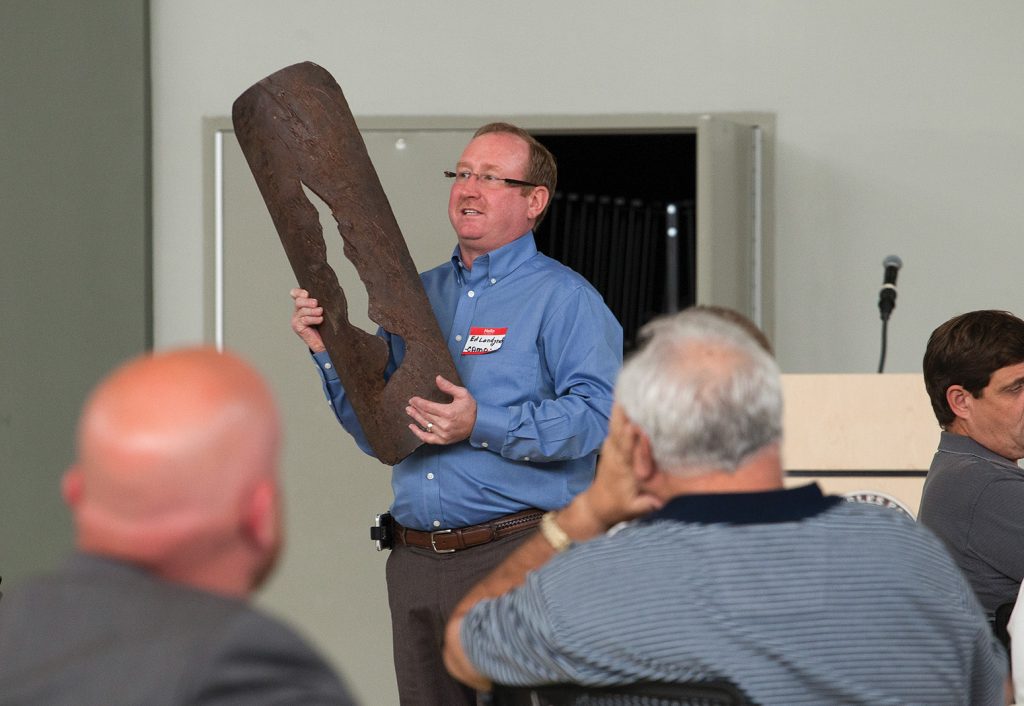 Ed Landgraf, chairman of the CAMO, said vessel and car operators alike must be cognizant of pipelines, especially since they're usually out of sight. While refineries, storage tanks and the like are plainly visible—and therefore easy to avoid—pipelines and flow lines are either submerged or buried underground.
"That's a unique thing about the Gulf Coast, the amount of pipeline network that's out there that you may not realize," Landgraf said. "It's incumbent upon us as pipeline operators to get that message out."
Sign up for Waterway Journal's weekly newsletter.
Our weekly newsletter delivers the latest inland marine news straight to your inbox including breaking news, our exclusive columns and much more.
In Louisiana alone, there are some 87,000 miles of pipelines to watch out for. Landgraf pointed out that more than 40 percent of the energy consumed in the United States is produced in the Gulf Coast region.
"Texas, Louisiana and Mississippi have a combined refining capacity of 7.5 million barrels per day, which is 43 percent of the total U.S. market share," Landgraf said.
The region is home to some of the underground storage facilities that make up the Strategic Oil Reserve, and Louisiana is home to both the Louisiana Offshore Oil Port and the Henry Hub, a natural gas pipeline distribution hub in Erath, La.
Outer continental shelf oil and gas production in the Gulf, much of which eventually travels through pipelines in the Gulf states, accounts for $6 billion in federal revenue each year. That revenue generated is second only to money collected by the Internal Revenue Service, Landgraf said.
"I just want to paint a picture of the importance we have in this region," he said.
Capt. Wayne Arguin, captain of the Port of New Orleans for Coast Guard Sector New Orleans, then outlined several challenges posed by the interaction of mariners and pipelines.
"My No. 1 issue right now is the aging infrastructure," Arguin said, later adding, "Probably 90 percent of our spills are coming from a pipeline that either failed or some system in that pipeline has failed. It's very rare, the incident where someone runs over a pipeline."
Arguin also said that coastal erosion, the remoteness of many pipelines and the extremely sensitive environment through which pipelines are laid all pose challenges to safety. In many cases, a pipeline that was originally shielded by land or marsh may now be completely exposed just below the water level.
"How do you make sure that recreational and commercial traffic are aware there's a hazard to navigation in a place where there historically had not been one?" Arguin said.
Landgraf looked at a study that examined interactions between marine vessels and pipelines over the past 20 years. In that time period, there had been 118 vessel strikes reported, 25 fatalities, 17 personnel injuries, and a total of about 100,000 barrels spilled. Vessels involved could be anything from a barge to a recreational vessel to a dredge.
One incident mentioned several times during the workshop came just over a year ago, when a swamp buggy working in Bay Long, La., on a restoration project paid for by funds stemming from the Deepwater Horizon Oil Spill struck a submerged pipeline and caused a spill.
"Somehow the contractor doing the restoration from the oil spill hit a pipeline and caused another oil spill," Landgraf said. "There's a little bit of irony there."
The incident highlighted the risk present primarily due to increased restoration work throughout coastal Louisiana.
The CAMO workshop featured Russ Joffrion, project manager with the Louisiana Coastal Protection and Restoration Authority, who stressed the importance of industries and operators working together for mutual safety. Louisiana has lost about 1,880 square miles of coastline and marsh in the past 80 years, and an additional 2,250 miles is at risk over the next 50 years. The state is mounting a monumental restoration and preservation effort, which will inevitably affect navigation and intersect pipelines in the process.
Another case examined was an oil battery in Bayou Pirogue that was moved by the owner from open water to inside a more protected bayou or canal. A towing vessel pushing a tank barge had a hard time accessing the new location and inadvertently struck a submerged, unprotected pipeline.
A simple way to determine the whereabouts of pipelines is to dial 811 and contact Louisiana One Call, a one-stop shop for detecting environmental hazards like pipelines. Presenters also stressed how important it is for companies (like the owner of the oil battery) to have proper surveying and excavating done to ensure safe access to facilities. Besides Louisiana One Call, attendees were also introduced to Sea Grant and the National Estuary Program, which serve as community advocates in coastal communities.
The meeting closed with presentations from the Federal Bureau of Investigation and the Department of Homeland Security, highlighting the security aspect of the oil and gas pipeline network throughout the country.
For more information about CAMO, go online to www.camogroup.org. To contact Louisiana One Call, go to www.laonecall.com. Learn more about Sea Grant at www.laseagrant.org.