Point Pleasant Museum Honors Charles Jones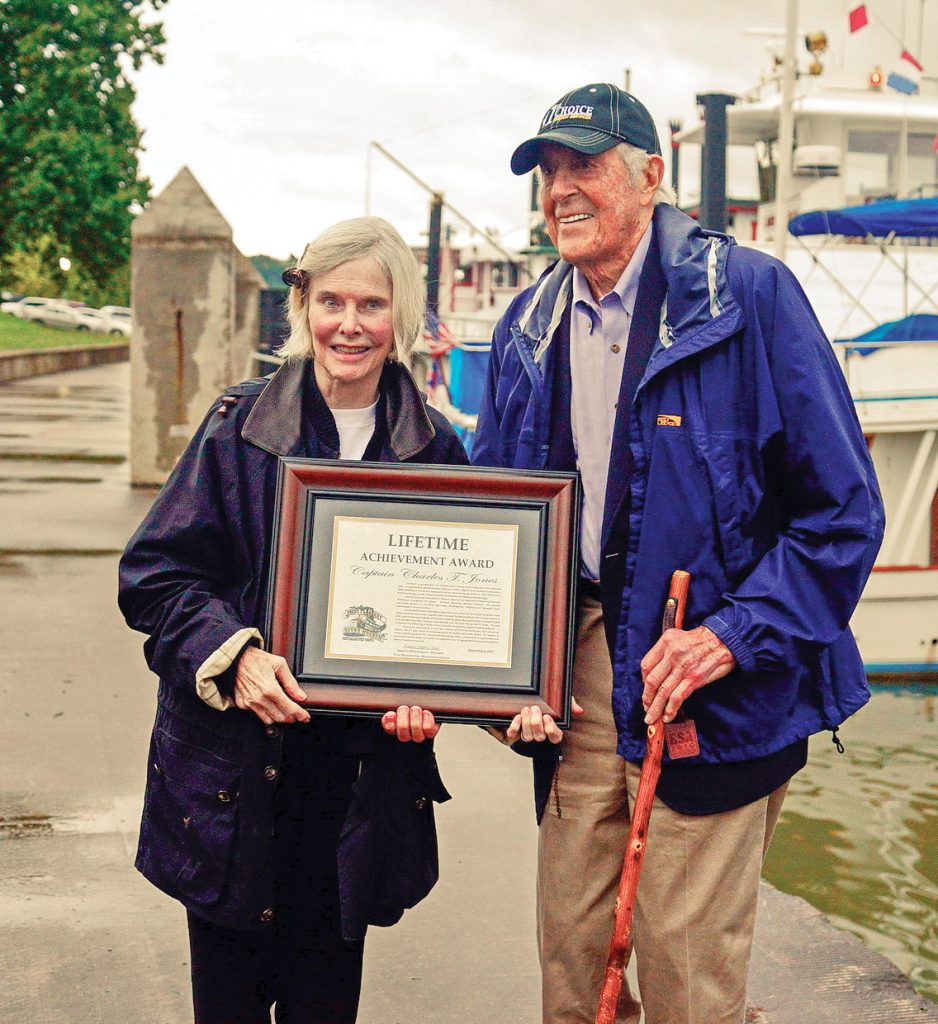 In his 100th year, Charles T. Jones keeps accumulating honors for his long record of service to the inland marine industry. On September 2, he received the Lifetime Achievement  Award from the Point Pleasant River Museum and Learning Center in Point Pleasant, W.Va.
"It was easy to pick him," said Jack Fowler, executive director of the river museum. "We wanted to several years ago, but Charlie didn't want to come down here. He didn't want the fuss."
So this year, Fowler asked several people at Amherst Madison if Jones would accept the award.
"Reluctantly, he did agree, and we're so happy he did."
Sign up for Waterway Journal's weekly newsletter.
Our weekly newsletter delivers the latest inland marine news straight to your inbox including breaking news, our exclusive columns and much more.
Jones is chairman of Port Amherst Ltd., the parent company of Amherst Madison and Madison Coal & Supply. The company operates towboats on the Ohio, Kanawha, Mississippi, Allegheny and Monongahela rivers. It also has a construction division, and it repairs rail cars.
Jones' grandfather started Amherst Madison in 1893. Jones joined the company in 1946 following his service in the U.S. Navy during World War II.
"I don't know of anybody who's more humble and gracious and has been in the industry so long and has so much knowledge and is willing to share it," Fowler said.
Industry Supporter
Throughout his career, Jones has been active in industry organizations dedicated to improving American waterways. Among his many awards have been the National Rivers Hall of Fame Achievement Award in 2001 and his induction into the Coal Mining Hall of Fame. In the Kanawha Valley, he received the YMCA "Spirit of the Valley" award for his longtime support of youth programs.
This past summer, Jones brought the old towboat mv. J.S. Lewis to Point Pleasant for a dinner cruise to show appreciation for people who support the museum.
The museum honored Jones with a plaque during its Tribute to the River celebration over the Labor Day weekend. As other recipients have, Jones placed a wreath on the Ohio River in memory of the river people who had passed away the previous year. As that happens, those people's names are read.
"It's surprising how many family members come just to hear that name read," Fowler said.