Cenac Marine Services CEO Benny Cenac has presented a fully refurbished tank barge to South Louisiana Community College (SLCC) to be used in the school's workforce development training program. Cenac, company team members and SLCC administration and staff gathered at Cenac Marine Services headquarters in Houma, La., November 14 for a dedication ceremony and barge christening.
The barge, which measures 158 feet by 40 feet, is comparable to a standard Cenac Marine Services tank barge. SLCC and South Central Louisiana Technical College, an SLCC partner school, will keep the barge in Munson Slip, just off the Houma Navigation Canal, where students in the school's tankerman training program will gain the skills necessary for success in the industry.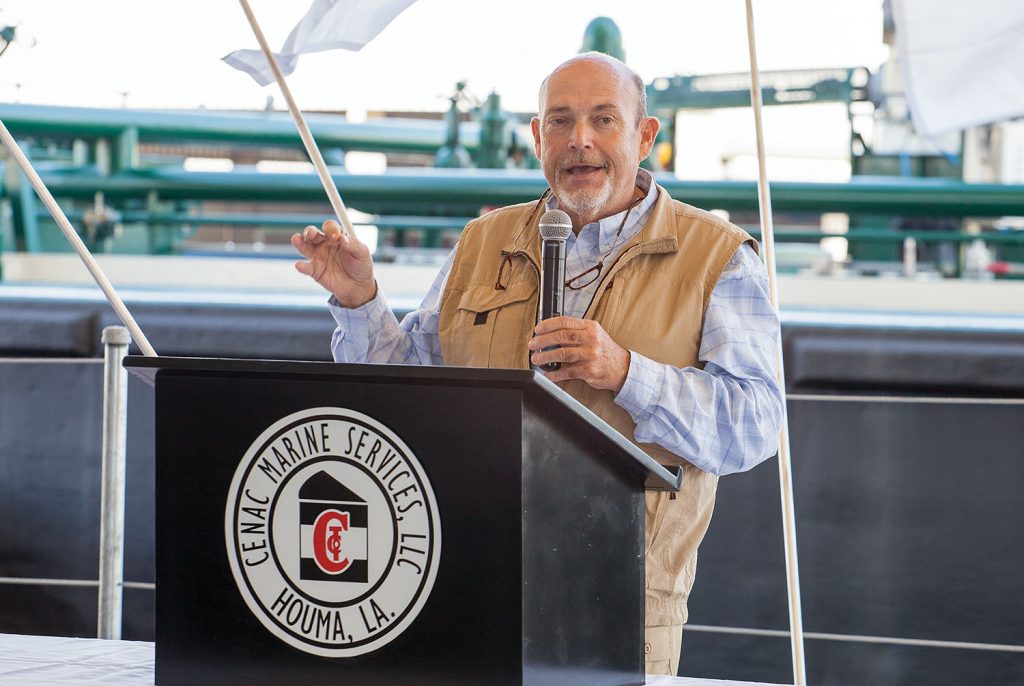 Cenac Marine actually donated the barge to the state years ago for use in workforce development. Stevie Smith, who serves on the board of supervisors of the Louisiana Community & Technical College System and a longtime friend of Cenac, approached the towing company CEO to ask if Cenac Marine would partner with the area schools to modernize the training barge. Cenac jumped at the chance.
"The fact that we have a partner that will help us upgrade our equipment so we can continue to train our workforce is truly a gift to this school locally and to our community in general," Smith said.
Sign up for Waterway Journal's weekly newsletter.
Our weekly newsletter delivers the latest inland marine news straight to your inbox including breaking news, our exclusive columns and much more.
Smith noted the huge role the maritime industry plays in South Louisiana. Training the next generation of mariners is key to the community's future, Smith said.
"We don't need to recite statistics to know how important the maritime industry is to our part of the world," Smith said. "In the community college system, it's important in South Louisiana that the maritime industry be healthy and have a good, safe, efficient, trained workforce."
Cenac, who has distinguished himself as both a successful business leader and a dedicated philanthropist in South Louisiana, expressed his commitment both to Terrebonne Parish and to the next generation of mariners.
"Terrebonne Parish is and always will be near and dear to our hearts here at Cenac as our birthplace," Cenac said. "This company will always invest in continuing to produce the best marine personnel in the business. This also assists in making training more readily available to the area. We are all for supporting maritime education, especially so close to home."
Cenac noted that, often, students training to enter the maritime industry and existing mariners in the Terrebonne area would have to travel as far as Slidell, La., east of New Orleans for certain classes.
"Now our employees will be able to have a place right in their backyard to do this," Cenac said.
Cenac said the fully refurbished barge has everything a current Cenac employee would work with on a daily basis.
"It is the most state-of-the-art training barge for sure in the state of Louisiana and most probably in the Gulf Coast," he said. "It has every working function of a real 30,000-barrel barge."
Natalie Harder, SLCC chancellor, spoke to the crowd gathered for the dedication and recognized the maritime workforce training instructors in the audience. Harder said the school has trained close to a thousand students for the maritime industry thus far, in partnership with supporting companies like Cenac Marine.
"I think we're so fortunate to have folks who understand the importance of this industry and the importance of having state-of-the-art equipment so these [students] can leave us and right away bring value to you and be relevant to the industry," Harder said.
Willie Smith, interim director of South Central Louisiana Technical College and a former SLCC vice president, echoed that word of thanks to Cenac.
"When you look at higher education where we've had so many budget cuts, and a man steps up and offers equipment or a simulator in support of our community technical college, it speaks to his love for his community and his state," Willie Smith said. "We appreciate you, Mr. Cenac, and all that you've done for us in support of the community and technical college."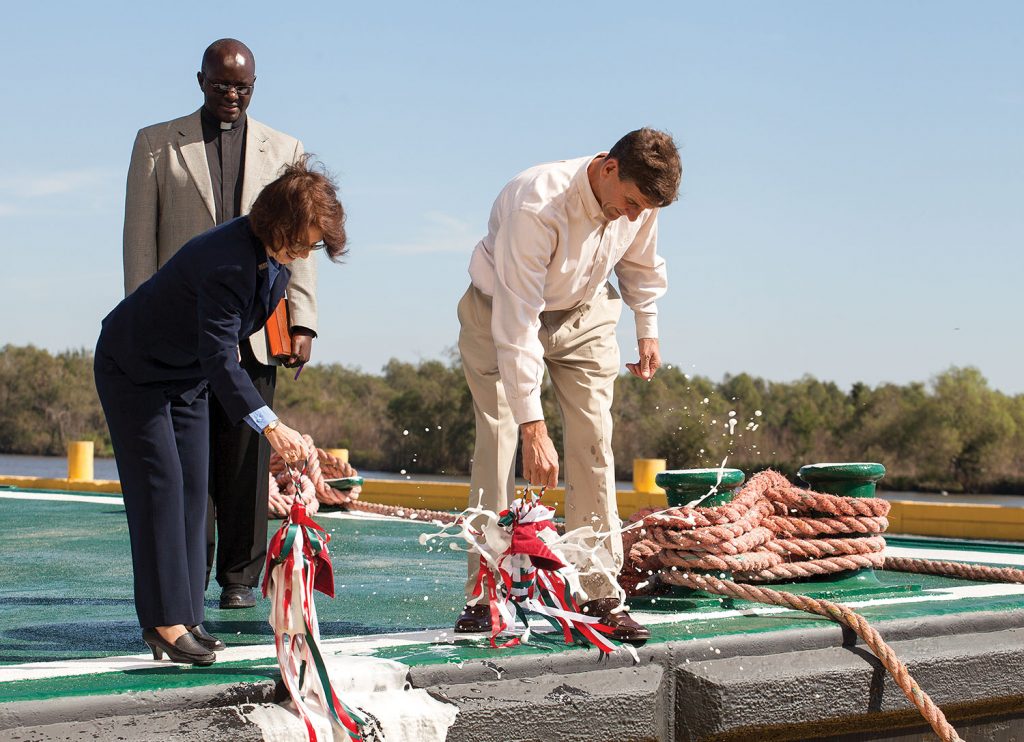 Matthew Rookard, CEO of the Terrebonne Economic Development Authority, said he regularly speaks with companies considering starting new ventures in South Louisiana. Workforce development is always at the top of those companies' list of priorities, he said.
"The No. 1 thing that comes up in every one of these meetings, before costs and before tax structure, is workforce development," Rookard said. "The reason is simple: You can have the lowest cost in the world, but if you can't get the people to do the job, it does not matter."
Community partnerships like the one between SLCC and Cenac Marine are crucial for establishing that workforce development system new businesses and industries are looking for.
"It's partnerships like this that really move the needle," he said.
The barge dedication ceremony featured a benediction from Father Mark Toups from the Diocese of Houma-Thibodaux and a prayer from the Rev. Simon Peter Engurait, vicar general of the diocese and pastor of St. Bridget Church in Schriever, La. To conclude the ceremony, representatives from SLCC and the Cenac family shattered bottles of champagne over the bow of the tank barge.