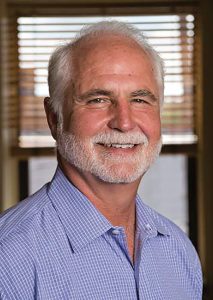 David Grapes, who has led Patterson Company out of Pittsburgh, Pa., for 36 years, is retiring. His service to the company extends beyond those 36 years, though, and will continue through his son, Taylor Grapes, who has been named the company's new president.
Grapes started at Patterson when he was only 16 years old, doing summer work under the leadership of his father, Eugene Grapes, who began working for the company in 1954 as an engineer. His father eventually became vice president, general manager and co-owner of the firm, which originally started in the late 1800s as a blacksmith shop serving the horse and buggy industry and local steamboats under the name W.W. Patterson Company.
In the 1960s, Grapes said his father designed the original tie-downs for the container ship industry and also designed the first angle shank, which revolutionized the barge industry. "It was lighter, stronger, faster and more portable than welded-link ratchets used before," said Grapes. "The angle shank ratchet is the standard ratchet used today."
Grapes left Patterson to serve in Vietnam with the U.S. Navy before earning a mechanical engineering degree from Penn State University. After college, Grapes returned to Patterson, which he eventually purchased in 1988. "At the time, I knew little about running a business," he said. "I had five children to feed and a mortgage to pay, though, and I didn't feel like looking for a new job. I decided to give it a shot."
Sign up for Waterway Journal's weekly newsletter.
Our weekly newsletter delivers the latest inland marine news straight to your inbox including breaking news, our exclusive columns and much more.
One day after buying Patterson, Grapes said he was driving across the West End Bridge over the Ohio River. "I was asking myself how I was going to salvage this struggling business that I had just purchased," recounted Grapes. "My answer was to not rock the boat, learn the business and then try to grow and expand from there."
Growing Patterson
Unfortunately for Grapes, the river industry was in a bit of slump as he took over Patterson. A 10 percent pay cut had been instituted for nearly two years, and while the company had not lost any employees due to the pay cuts, morale was low. Grapes decided to fix this after he purchased the company.
"I immediately canceled the pay cuts and gave across-the-board raises," he recalled. "Morale was lifted, and I told Patterson employees that if we as a team could salvage the Patterson Company and make it more profitable and successful, that I would reward them financially for that success." Grapes followed through with continual raises and annual bonuses proportional to the company's financial success every year.
Grapes added that in addition to raising business morale, establishing five core values for the company to follow have contributed to its successes. He claimed the first core value, which is to communicate openly and honestly, has been the basis of the company's 700 percent growth during his tenure at Patterson. "It can be difficult at times," he said about communication between individuals at the firm. "It doesn't mean that you have to tell all to everyone, but it has been an excellent way of operating for me."
As he retires, Grapes said there remain six employees who have worked at Patterson for more than 30 years and a few who have over four decades under their belts. "Our success has been based on working well with people and understanding their needs," he added.
The YoYo Winch
To date, the company has sold more than 14,000 YoYo winches, launched in 2008, to the river industry.
Patterson announced at the International Workboat Show in New Orleans, La., this year that the YoYo winch now comes with a patent-pending Gravity Handle, which eliminates user error by ensuring that the ratchet handle returns to the safe, stored position.
Patterson said the new Gravity Handle is fully retrofittable to all YoYo winches. There are no springs, no wear parts and the operation of the winch stays the same, so no retraining is required.
Due in part to the success of the YoYo winch, Grapes said Patterson became a worldwide leader in river winches. It extended its manufacturing in Pittsburgh and developed manufacturing in China for the last eight years. Grapes said global sales have expanded to Russia, Argentina, Paraguay, Brazil and Columbia. The company's winches began to sell in Siberia this year.
Patterson Sold
In January, Swedish firm Lidan Sepson bought Patterson Company, but retained its staff. Lidan Sepson is a military winch manufacturer and a builder of offshore winches for the oil and gas industries, according to Grapes. Around the same time, Grapes announced his pending retirement and named his son, Taylor, the company's president.
In addition to managing the day-to-day operations of Patterson going forward, Taylor Grapes will be responsible for the strategic vision and growth plans for the company. Lidan Sepson will be working with Patterson to introduce its line of Sepson winches, which are used in commercial overland towing and military applications, to the U.S. market.
"The goal is that as [Lidan Sepson] grows its sales volumes in the United States, we will manufacture and assemble parts and complete winches for this line at our facility in Pittsburgh, which will allow us to grow and support Sepson's growth," said the younger Grapes, who started with Patterson in 2009.
As many will recall, 2009 was a tough year for the American economy. "During the wake of the financial crisis, I worked primarily in purchasing and production scheduling assistance," said Grapes. "It was a great experience having my initial work at Patterson be directly within the manufacturing process, the challenges of building these products, and the criticality of meeting customers' needs in short lead times."
As Patterson's overseas manufacturing operation grew for its barge connection winch lines, Grapes took on the full-time role of managing international purchasing, quality control and logistics in 2012. "This allowed me to grow my sourcing experience in dealing with international vendors and managing the logistics of shipping thousands of winches per year from multiple sources in China to dozens of locations in both North and South America," he said.
As Grapes' role continued to expand at the company, he eventually took on the role of head of product development. "In the years since 2014, our engineering team has launched our patented Self-Aligning Roller Chock line, our Thru-Deck and Right-Angle Capstan lines, and just this year, debuted our Gravity Handle for our YoYo winch line," he said.
Despite having only nine years at Patterson, Grapes said he feels like it has been a part of his life since childhood. "When I was young, my brother and I would come to work with my dad and operate machines with shop guys, play with the copy machine and explore the buildings that are over 100 years old and still hide secrets," he said. "One of my first road trips that I ever took was with my father when I was 8 or 9 years old to go demo a winch at the then Ohio River Company office in Cincinnati."
Grapes said he has learned a lot from his father over the years. "My father was an engineer first and foremost," said Grapes. "This could lead us to clash at times, as he was very conservative in business. It also led to great product designs and extremely high quality products for our customers, though."
Grapes said that Patterson's mission statement was important to his father, and in return, important to him. The statement—To envision, design and manufacture innovative products that make the job safer, easier and faster for the working man—has been a guiding principle behind all of Patterson's designs, said Grapes. "I think I learned from this statement that if your customers consistently feel that you are trying to do what is in their best interest, that sales and relationships will come naturally, because they aren't built on gimmicks or advertising slogans," he said. "They're built on trust."
Patterson's Future
Grapes said he wanted to stress that Patterson is still the same company the river industry has come to know and trust over the years. He said Patterson plans on building on the storied history it has had going forward. "Our customers are now and have always been our top priority," he added. "This will continue as long as I am here."
A part of that continued growth includes the integration of the Sepson line into Patterson's line of products, which will expand beyond the marine sector to limit the firm's exposure to difficult times, such as the industry is currently facing. "We have had strong success in sales to OEMs in a variety of industries, including construction, mining and others," said Grapes. "As part of our strategic planning process, we have identified other industries and product lines that we are confident we can develop and sell effectively."
According to Grapes, some of these new avenues Patterson will pursue will be within and outside of the marine industry. "With the support of our new parent company and its team of more than 15 engineers, along with our internal team, we are confident that we will be successful in this endeavor. We are excited for the future of Patterson."
As for the senior Grapes, he will be enjoying his retirement while traveling the world and pursuing new endeavors. "I would like to thank all of those in the river industry who have helped and supported Patterson over the years," he said. "It has made it an exciting career."