Port Of South Louisiana Sets Cargo Record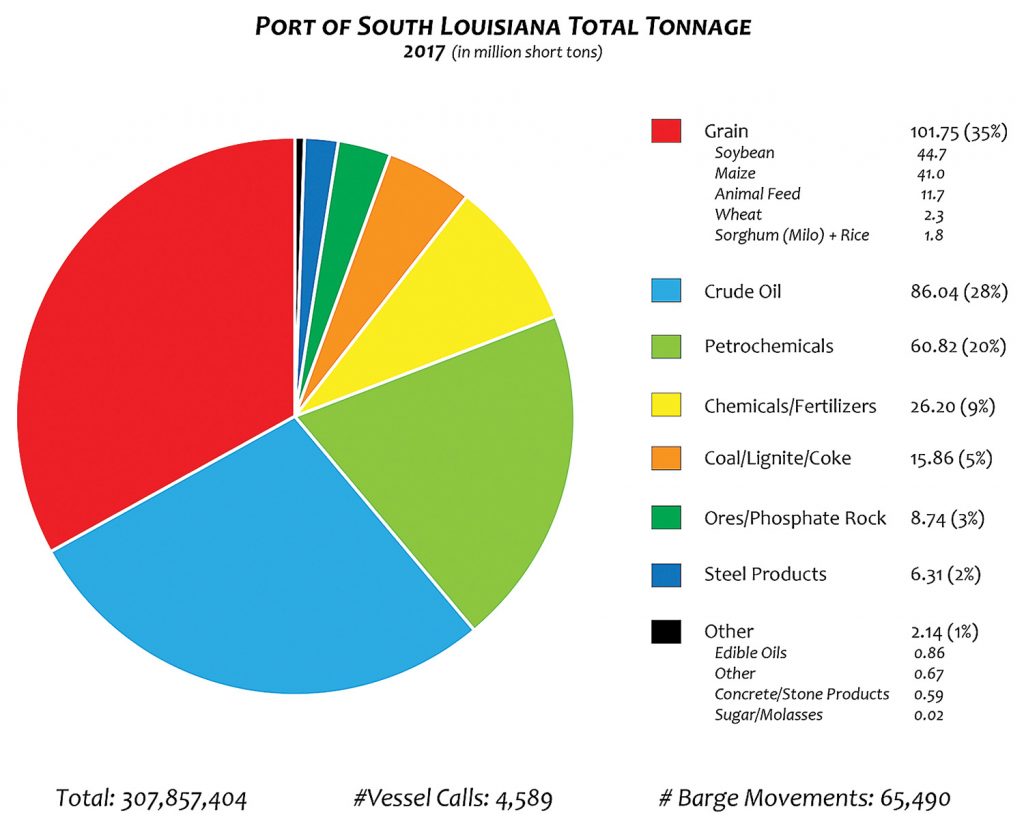 Last week, the Port of South Louisiana reported its cargo statistics for 2017, which set a cargo-volume record and surpassed 2016's tonnage mark by 4.4 percent.
The Port of South Louisiana, a 54-mile district that stretches from just upriver of New Orleans to Baton Rouge and includes the parishes of St. Charles, St. John the Baptist and St. James, recorded more than 307.8 million short tons in 2017—an increase of close to 13 million short tons over 2016 numbers.
Last year, the port saw significant growth in chemicals and fertilizers (6 percent increase); coal, lignite and coke (123 percent increase); crude oil (4 percent increase); ores and phosphate rock (2 percent increase); petrochemicals (4 percent increase); and steel products (41 percent increase).
Export trade for the Port of South Louisiana last year went up by 4.1 million short tons, with significant growth in grains (31 percent), chemicals/fertilizers (85 percent), coal/lignite/coke (84 percent), and crude oil (509 percent). Imports grew by 2 percent, with steel products leading the way with a 108 percent increase over 2016.
Sign up for Waterway Journal's weekly newsletter.
Our weekly newsletter delivers the latest inland marine news straight to your inbox including breaking news, our exclusive columns and much more.
The port also recorded increases in vessel calls and barge movements last year. Total vessel calls and barge movements in 2017 stood at 4,589 and 65,490, respectively.
"I was very pleased to see the Port of South Louisiana increase its tonnage, vessel and barge numbers by such an impressive amount," said Paul Aucoin, executive director of the Port of South Louisiana, in a statement. "We look forward to another good year."
Due largely to its grain handling, the Port of South Louisiana claims to be the largest tonnage port in the Western Hemisphere—above the ports of Houston, New York/New Jersey and New Orleans. For the years from 2012 to 2015, the Port of South Louisiana ranked 14th in the world in cargo tonnage, which was tops among U.S. ports.
Industrial facilities within the confines of the Port of South Louisiana include seven grain transfer facilities, four oil refineries and 11 petrochemical manufacturing facilities.