Scania Launches New, High-Power 13-Liter Engine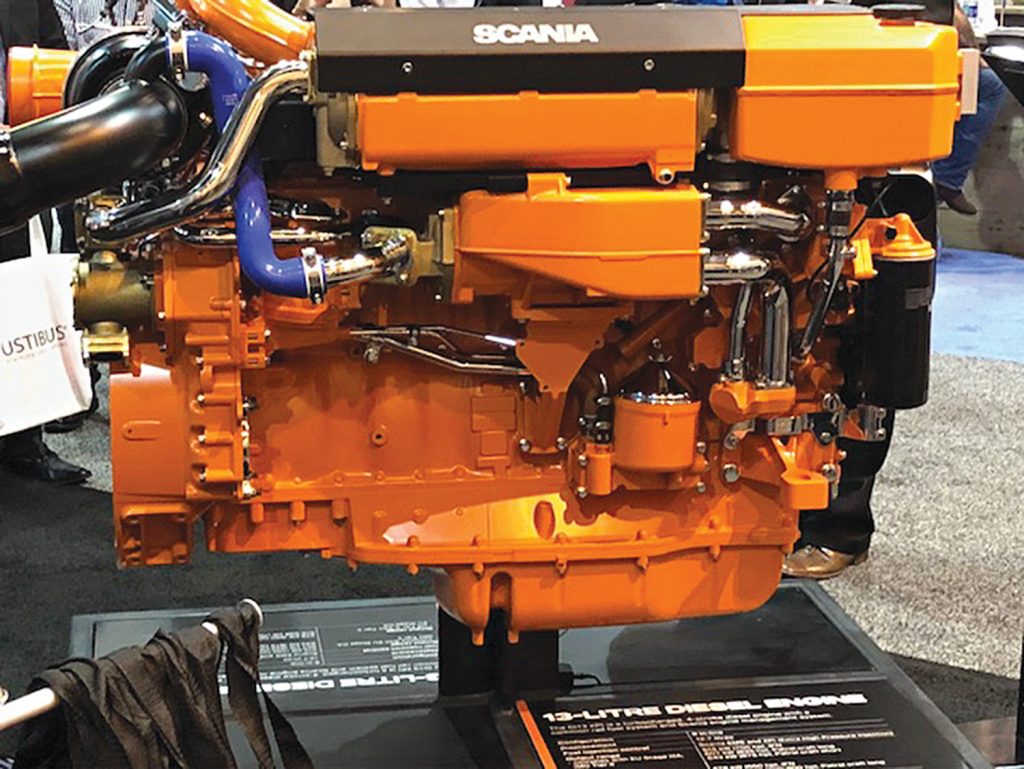 Scania USA is strengthening its position in the marine engine segment with the launch of a new six-cylinder, 13-liter inline engine. The new engine combines new power levels ranging from 650 to 925 hp. with reduced fuel consumption.
It's the second platform in Scania's marine engine portfolio to use common rail XPI fuel injection technology to reach higher power levels and lower fuel consumption. XPI technology was first introduced in Scania's marine engine offering in 2015 when the 1,150 hp. V8 engine was launched. However, the system has been used in Scania's engines for trucks and industrial applications since 2007, so the new engine benefits from a wealth of experience of this technology.
As well as lowering fuel consumption and noise levels, the common-rail XPI fuel injection system also gives a faster engine response and a quicker torque build-up.
"With the new power output levels, Scania is reinforcing its class-leading power-to-weight ratio and allowing our customers to increase their range of operation within current application areas, thanks in large part to the new Scania XPI fuel system," said Torben Dabrowski, global product manager-marine at Scania.
Sign up for Waterway Journal's weekly newsletter.
Our weekly newsletter delivers the latest inland marine news straight to your inbox including breaking news, our exclusive columns and much more.
"This new engine will give workboats a solution that meets their commercial power needs, exceeds other competitor engine's duty-cycles while meeting emissions requirements," said Alberto Alcalá, marine sales manager at Scania USA. "The high power and weight savings will allow designers the flexibility to add these EPA Tier 3 engines, up to 800 hp., without needing complex aftertreatment."
Scania also ensures that its customers have their engines in use as much as possible, with close to 2,000 service points strategically located across the world, of which 500 are dedicated marine service points.
The new marine engine range is part of Scania's modular system, which has been continuously developed over several decades. The system also gives Scania's customers global access to parts and fast, reliable services with similar workshop methods, while maintenance work will also be more efficient.
The new 13-liter engine offers up to 800 hp. at 2,300 rpm., with 2,000 hours a year of commercial use. The workboat rating is up to 700 hp. at 2,100 rpm., and is offered with unlimited annual hours. The ratings offer power, while remaining within EPA Tier 3 requirements, and avoids the use of any aftertreatment.