'Semi-Retired' Riverman Volunteers In Prison Ministry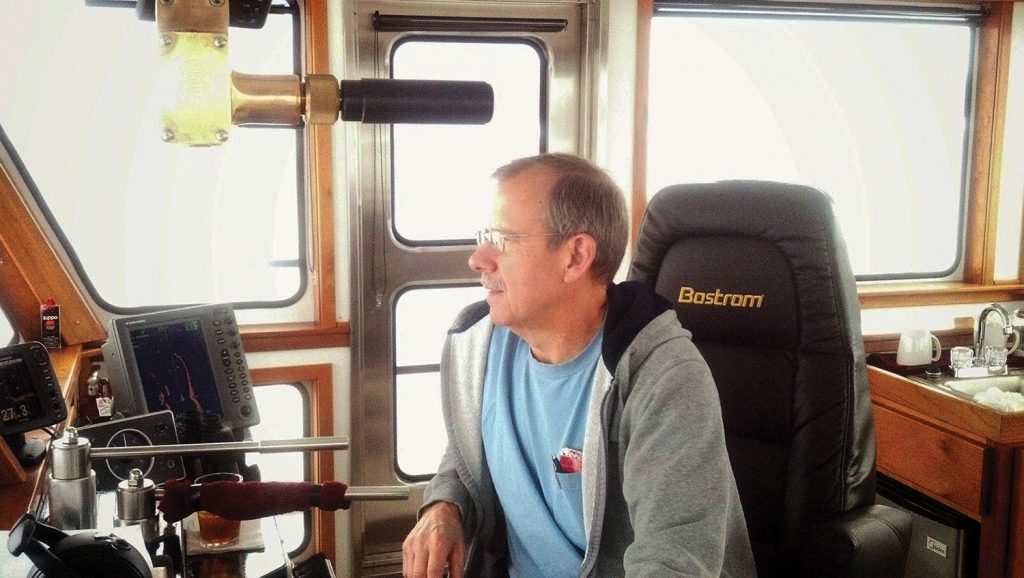 Built in 1886 of massive granite blocks and situated on the crest of a hill overlooking the Cumberland River at Eddyville, Ky., the "Castle" is a familiar landmark to rivermen. The medieval structure, as benign-looking as it may be, is in fact the Kentucky State Penitentiary, a supermax prison where some 850 of the "worst of the worst" criminals in the state are kept, often in solitary confinement. It also just happens to be where a semi-retired towboat captain and former river towing company owner from Paducah conducts faith-based programs with other volunteers in an effort to enrich the lives of the imprisoned men.
Capt. Dave Dewey was born and raised on the river. His family owned a grain elevator at Henry, Ill., which is located at Mile 196 on the Illinois Waterway. He remembers at the early age of 12 going on the boats that shifted barges in and out of the elevator. Fascinated, he spent many hours listening to boat traffic on a shortwave radio his dad bought him, and took photographs of as many towboats as he could to share with other hobbyists, one of whom was Dan Owen, who would become editor of the Inland River Record.
When in high school, he recalled, he helped a local man, Gordon Tindall, build a 200 hp. harbor boat named the Polly T to do some of the shift work at the elevator. He decked on it during weekends and over the summer. The little boat ended up being bought by Ed Trumbull, he said, who went on to form his own harbor service in nearby Lacon, Ill., known today as Trumbull River Services.
By the time he went to college, the river was in his blood and he left after two years to work full time for Port City Barge Line out of Greenville, Miss., despite his parents' objections, he said. He began as a deckhand, but received training as a pilot, mostly on the Missouri River. In 1972, he moved into the pilothouse on a permanent basis. The following year, he got his Operator of Uninspected Towing Vessel license, as required.
Dewey credited Gene Neal with bringing him ashore in 1976 as assistant port captain for Magnolia Marine Transport Company, Vicksburg, Miss. "He was my main mentor," Dewey said.
After several years in the office, he returned to the river, and then took a job with Union Mechling running the Illinois, Ohio and Lower Mississippi rivers, until his promotion in 1981, at the urging of executives Buck Lay and Les Sutton, to be the company's port captain.
The recession of the mid-1980s brought about a restructuring at Union Mechling (then known as Dravo Mechling and later National Marine) that created an opportunity for him to start his own towing company. That was when the company put its vessels under the control of four individuals, establishing separate entities for each. Dewey started with the mvs. Daniel Webster and Northern under the company name of Western Kentucky Navigation (WKN). The other boats were divided between Buck Lay, David Stokes and Melvin Sutton.
Dewey ran WKN out of an office in Paducah, with sometimes as many as 14 towboats under his management until 2010, when American Commercial Barge Line took over operation of the boats. Then, he returned to the pilothouse, forming River Marine Enterprises with Capt. David Smith to haul cargo on the Missouri River.
He retired in 2014, only then to become an instructor at the Seamen's Church Institute's Center for Maritime Education in 2015 until he retired again this year to do trip work and consulting, he said.
Mission Work
During his career, he and his wife, Pamela, did mission work through their church in Paducah that included juvenile volunteer services at a Kentucky detention center. In 2000, he participated in a three-day spiritual retreat called Walk to Emmaus, the objective of which was to "inspire, challenge and equip local church members for Christian action in their communities," and this is what eventually led him to prison ministry, he said.
The Kentucky branch of Kairos Prison Ministry International, which is the organization Dewey belongs to, has about 22 volunteers who meet regularly with from 24 to 30 inmates in the maximum security prison. The process entails two four-day programs per year on how God's love can impact their lives, Dewey said, as well as monthly "prayer and share" meetings, which are designed to relieve the inmates from feeling isolated and make them realize they are not alone. In February, the Kentucky Kairos group will initiate a program specifically for Kentucky's death row inmates.
"The prison administration is seeing a difference," said Dewey, who is on the Prison Ministry's state advisory council and serves as its financial secretary.
So what? Dewey was asked. What difference does it make if some hard-bitten criminal, who is guilty of some heinous crime and will probably never be returned to society, sees the light? Why go to all the trouble?
"I believe that we are all sinners and all need God's love, grace and forgiveness," answered Dewey. "These men have done terrible things and have to serve out their debt to society for their crimes, but they are still children of God. They can repent and seek God's forgiveness.
"Our focus is to show God's love to those whom many consider unlovable. We tell them that God loves them and that they are worthy of his love, that they can have hope of a better life, even in the prison environment, if they accept his love.
"We bring this message into the prison and we see the positive results. The goal of this ministry is to change the culture within the prison. In February, we will be meeting with 18 inmates on death row for four days. Some said this would never be done in Kentucky, but the door has been opened. We are praying for God to show up and make a difference in the lives of these men."