Longtime Naval Architect Frank Basile, 93, Dies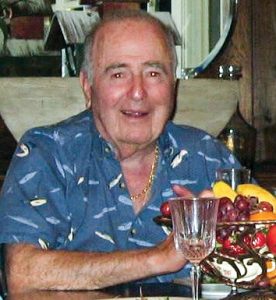 Frank Joseph Basile, the naval architect long praised for his innovative vessel designs, died February 6 at his home in Houma, La., surrounded by his family. Basile was 93.
In the maritime industry, Basile was known best for his work at Entech & Associates (now called Entech Designs), the naval architecture and professional engineering firm he founded in the early 1980s. There are some 600 Basile-designed vessels believed to be currently at work on the waterways in the United States and around the world.
A New Orleans native, Basile served in the U.S. Navy during World War II aboard a submarine. After his service, Basile attended Tulane University, where he earned a bachelor of science in mechanical engineering in 1947. From there, he worked as an engineer at Avondale Shipyard from 1947 to 1952. He then served as superintendent of marine operations at the Freeport Sulphur Company in Port Sulphur, La., from 1952 to 1961.
In the 1960s and 1970s, Basile was involved in both ship design and shipbuilding, working at Southern Shipbuilding Corporation, Houma Welders Inc. and Wall Shipyard, while also starting Design Associates Inc. in 1965. In 1974, Basile founded Modern Marine Power Inc., a Houma-based shipyard that built some 28 vessels in a 10-year period. That shipyard closed in 1983.
Sign up for Waterway Journal's weekly newsletter.
Our weekly newsletter delivers the latest inland marine news straight to your inbox including breaking news, our exclusive columns and much more.
Basile founded his signature venture, Entech & Associates, in 1972. Besides the scores of vessel designs that Entech produced, the company also offered marine surveys and casualty investigations, submersible-barge loadouts, and cargo loading and unloading supervision. Basile led Entech & Associates until 2014. Beginning that year, he served as consultant for Entech Designs, after passing leadership of the company to his protege, Kimia Jalili.
"I am so grateful for the last 10 years that I've known Frank," Jalili said. "I've had the opportunity to work for him, learn from him and share in his friendship as many of us have. His memory will forever be in our hearts."
Basile's vessel design portfolio was seemingly limitless. Basile-designed vessels include supply vessels, yachts, ferries, roll on-roll off ships, towboats, jackup boats, an articulated tug and barge, and tugboats.
"Just about anything that floats, he designed," said his son, Frank H. Basile.
His daughter Andree noted that Basile was still active designing vessels until 2016.
"My whole life, that's all he did," she said. "I can't remember him doing anything other than drawing boats."