Missouri Dry Dock & Repair Company Inc. of Cape Girardeau, Mo., recently completed a new office building that replaced one that dated from the 1970s and had suffered from several floods in a number of  years.
"After we had a few 100-year floods and one 500-year flood, it was time," said Rob Erlbacher II, Missouri Dry Dock's president since 1970.
With some stone facing and a beamed, vaulted central conference room, the new office building looks a bit like the lodge for a national park. Missouri Dry Dock worked with a local contractor to design and build it. Its higher elevation should protect it from future floods.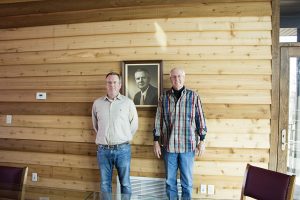 Its conference room has a wall of windows for river views, and a glass-topped conference table supported by three stainless steel pillars, machined by Missouri Dry Dock. The two end pillars are topped with brass propellers, the center one with a wooden ship's wheel.
Sign up for Waterway Journal's weekly newsletter.
Our weekly newsletter delivers the latest inland marine news straight to your inbox including breaking news, our exclusive columns and much more.
History
Missouri Dry Dock came into existence in 1954, when Rob's dad, Robert W. Erlbacher, was operating Missouri Barge Line Company and could not find a repair facility that met his standards. Missouri Dry Dock built five towboats for Missouri Barge Line during the 1950s and 1960s, all in active service today except one, and added a second drydock to its repair operation.
Today, Missouri Dry Dock operates with two 2,200-ton capacity drydocks, a complete machine shop, a propeller repair shop and a fabrication shop. Erlbacher said he is pleased that Missouri Dry Dock employs two families, the Fornkohl and Sticht families, that have provided three generations of workers.
Rob's son, Robert W. "Robbie" Erlbacher III, began working at Missouri Barge Line in 1998 as a deckhand. He later moved into the office and worked there until Missouri Barge Line was sold to AEP River Operations in 2008. Robbie later moved to Missouri Dry Dock, where he serves today.
Machine Shop And Propeller Shop
On the day The Waterways Journal visited, a boat was on the upper drydock. "We just put that up this morning for rudder and cooler repair," said Erlbacher.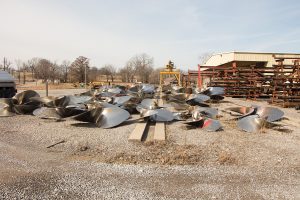 Outside the facility's large machine shop, several dozen repaired propellers and shafts sit waiting to be put to use by their owners.
Inside, more propellers in various stages of repair are carefully arranged on the shop floor, from half a dozen well-known towing companies. "We are blessed to have regular customers who like our work and who come back to us," said Erlbacher.
When it comes to repairing propellers, no other company can boast of Missouri Dry Dock's patented Latham Process system. "The propeller repair work is a consistently high percentage of our business. That was a process developed and patented by my father and a few of his colleagues, one of whom was named Latham," said Erlbacher.
The system uses custom-designed machines to measure and calibrate all the surfaces of a propeller, and to apply pressure and/or heat where necessary to restore the proper pitch. "We have six of those machines, which means we can work six propellers at one time," said Erlbacher.
He adds, "It's not always a question of restoring a propeller to its original dimensions. Sometimes a boat owner upgrades the boat's engines to more horsepower, so the propeller has to be modified to handle the additional horsepower."
So how many propellers are out there on the rivers that have been worked on by Missouri Dry Dock? "It must be in the tens of thousands," said Erlbacher.