Kindra Responds To Industry Challenges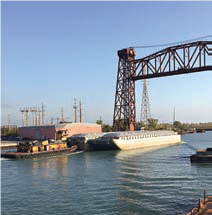 It's not often that two people bond over a fascination with barges. It's even rarer that they end up married. This is what happened to John and Jacqueline Kindra, owners of Kindra Lake Towing, after they met in Pittsburgh before settling down in Chicago.
There, they opened Kindra Marine to provide barge cleaning, repairs and unloading services to the industry. In 1992, the pair started up Kindra Lake Towing, with the purchase of three tugs, and began operation on the Calumet River and Lake Michigan. Today, Kindra Lake Towing operates six vessels—three lake tugboats and three river towboats.
John Kindra said the company moves conventional dry cargo and tank barges between South Chicago and Northwest Indiana, as well as moving barges on the Great Lakes. "We have chartered in deck barges for construction and heavy-lift projects and utilized sectional barges for special projects in the non-navigation waterways in the Chicagoland area," said Kindra, who added that the company also has fleets in Indiana Harbor and Calumet River, as well as Coast Guard-approved fleeting areas for tank barges.
Kindra said he enjoys the area and niche in which his company serves. "Depending on the wave heights on Lake Michigan, the barges will either be pushed or towed astern on a hawser," he noted. "The ability to do this makes Kindra Lake Towing a truly unique company." Kindra added that five of the company's six boats have retractable pilothouses for going under bridges without waiting for them to lift. And there are a lot of bridges that go over the Chicago-area waterways.
Sign up for Waterway Journal's weekly newsletter.
Our weekly newsletter delivers the latest inland marine news straight to your inbox including breaking news, our exclusive columns and much more.
"As a small, family-owned and operated business, we believe our most valuable asset is our employees," said Kindra, who added that many of the employees have been with the company since its foundation 26 years ago. "They are the boat crews that move our customer's barges safely and efficiently, the repair crews that keep our equipment in top-notch condition, the dispatcher who
performs the challenging job of dispatching our crews and equipment in the face of constantly changing scenarios, and our managers that ensure we are in compliance with the upcoming Subchapter M regulations and make sure we pass all of the audits we do every year."
Challenges
As with all industries, Kindra the barge industry has its challenges. "The fear of the Asian carp getting into Lake Michigan has caused some very irrational behavior," he said. "The Corps is currently developing a new set of preventive measures to be built at Brandon Road Lock and Dam in Joliet (Ill.)."
Kindra told The Waterways Journal that as the discussion takes place regarding the Tentative Selected Plan presented by the Corps, not enough value is being given to barge transportation. "I believe too much value is being placed on another electrical barrier," he said. "We do not need another site, with electricity in the water. Many of the environmental groups think that the millions of tons of barge freight can be easily diverted to rail or truck."
Beyond the carp debate and Brandon Road Lock and Dam, Kindra said that all the locks and dams that make up the Illinois River system are beyond their economic useful lifespan. "LaGrange Lock is in terrible shape," he said about the 79-year-old lock. "One of my concerns is that a catastrophic failure occurs at one of these locks and all barge traffic is shut off from Chicago."
Another issue that often presents itself not only to the Chicago area waterways, but to the industry as a whole, is flooding. Kindra said that currently, the Illinois, Upper Mississippi and Ohio rivers are experiencing high flood stages. "A direct impact on everyone due to flooding is that the tows can't move and the cargoes can't be delivered," he said. "When the barges can't get to us, we take advantage of the downtime to do maintenance projects on the boats. We know that for our success, we have to be able to move the barges when they arrive, so we are constantly working on the boats."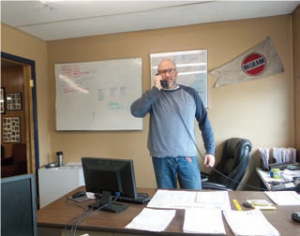 A final area of concern for Kindra is the lack of a Confined Disposal Facility (CDF) for the dredged material removed from the Calumet River. According to Kindra, the Corps has advised that the current CDF will be filled to capacity by the year 2022. "Steps need to be taken now to have another facility opened by then," he urged. "The material isn't pure sand, because Chicago was a heavy industrial area, so some of it has to go to the disposal site."
Kindra said the Illinois International Port District in Chicago has been involved in trying to get the ball rolling on a new CDF. "This issue isn't necessarily terrible for the barge industry, because we don't have anything that gets that deep, but it's not good for shipping activity that supports steel mills, which send cargo by barge," he said. "A new CDF should definitely be on the industry's radar."