New Crane Begins Work At Port Of Savannah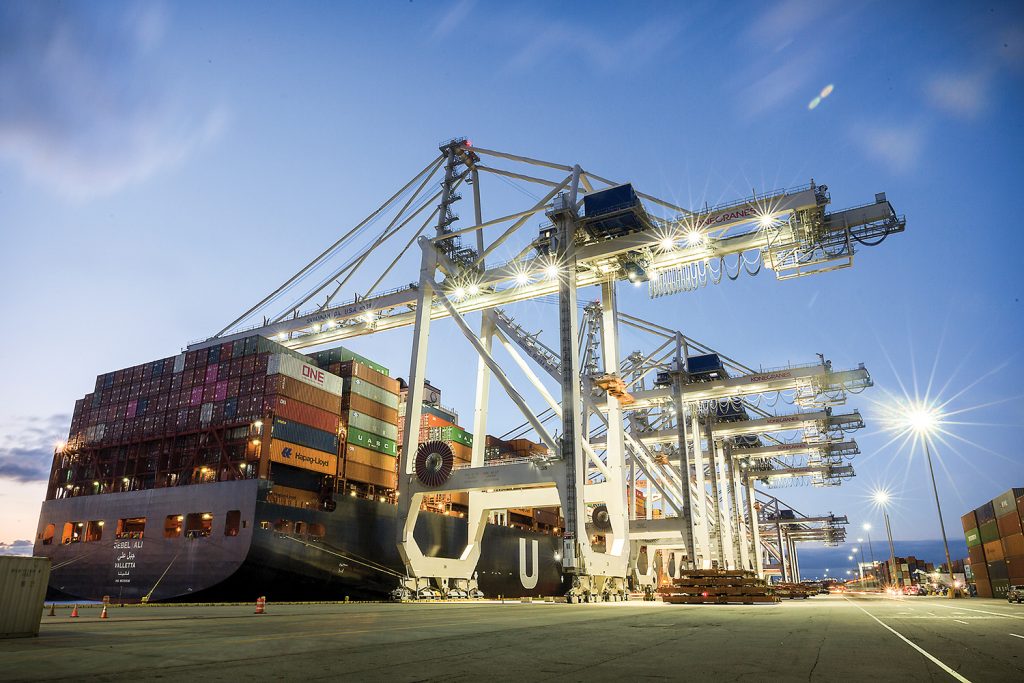 The first of Georgia Ports Authority's (GPA) four new Neo-Panamax cranes came online in the third week of March, bringing GPA's operating fleet to 27—more than any other single terminal in the nation.
The super-sized crane is tall enough to lift containers 152 feet above the dock. The crane started work before dawn March 20 on a 13,300-TEU (twenty-foot equivalent container unit) Hapag Lloyd vessel. Crane operators moved an estimated 2,700 containers on and off the ship during its time at the Port of Savannah.
"Georgia's ports are dedicated to staying a step ahead of market demand," said GPA Executive Director Griff Lynch. "These investments ensure port users can grow their business and supply chain efficiencies in Savannah."
Designed by Konecranes of Finland, these massive cranes can work the largest ships now calling the U.S. East Coast, reaching across vessels up to 22 containers wide.
Sign up for Waterway Journal's weekly newsletter.
Our weekly newsletter delivers the latest inland marine news straight to your inbox including breaking news, our exclusive columns and much more.
The second crane will come online this week, and the final two soon thereafter. Garden City Terminal—the largest single container terminal in the Western Hemisphere—will receive another six cranes by 2020, growing the fleet to 36. This will allow the port to move nearly 1,300 containers per hour over a single dock. With integral generators, the cranes are able to capture enough energy while lowering boxes to power themselves for 18 minutes of every working hour. 
The additional cranes, along with the Savannah Harbor deepening, will help accommodate the shipping industry's move toward larger vessels. Through its expanded locks, the Panama Canal can now handle vessels with a capacity of 14,000 TEUs.
In September 2017, the CMA CGM Theodore Roosevelt became the first vessel of that size to call the Port of Savannah.
"For shipping lines and their customers, these larger vessels mean reduced fuel costs compared to operating multiple smaller ships," said GPA Chief Operating Officer Ed McCarthy. "In turn, this reduced consumption shrinks the environmental footprint of the global logistics network."
Georgia's deepwater ports and inland barge terminals support more than 370,000 jobs throughout the state annually and contribute $20.4 billion in income, $84.1 billion in revenue and $2.3 billion in state and local taxes to Georgia's economy.
The Port of Savannah handled 8.5 percent of U.S. containerized cargo volume and 10 percent of all U.S. containerized exports in FY2017.