Corn Island Shipyard, Grandview, Ind., recently launched two 300-cubic-yard split-hull dump scows for Pacific Tugboat Services based in San Diego, Calif., a few months after it launched its latest dredge tender.
According to David Foertsch, vice president of Corn Island Shipyard, the truckable dump scows were designed by Glosten Naval Architecture & Marine Engineering. Each barge measures 78.6 by 24 by 9.8 feet and was constructed with half-inch deck, side and bottom plate, he said. The scows' overall length exempts them from loadline regulations.
The hydraulic power unit (HPU) was provided by Supreme Integrated Technology, Harahan, La., and is equipped with a Tier 4 engine to comply with emission laws, Foertsch added. "The HPU can be operated manually aboard the vessel or by remote control to a distance of 1,000 feet," he said.
The scows were launched at Corn Island Shipyard's primary facility, where sea trials were performed before they were taken to the shipyard's satellite yard in Tell City, Ind. Foertsch said the shipyard used its 1,200-ton capacity cradle marine ways to extract the scows, which were then disassembled into halves and shipped by rail to San Diego for reassembly.
Sign up for Waterway Journal's weekly newsletter.
Our weekly newsletter delivers the latest inland marine news straight to your inbox including breaking news, our exclusive columns and much more.
Dredge Tender
In March 2017, the shipyard contracted with Tell City Boat Works to build a 1,150 hp. dredge tender, the Capt. Bud, for Marinex Construction. The Capt. Bud, launched September 14, 2017, was designed by Tell City Boat Works and measures 55 by 20 by 8 feet, with an operating draft of 6 feet.
Two 575 hp. Tier 3 John Deere 6135 AFM85TIII diesel engines supply power to the vessel. The engines are coupled to ZF model W350-1 reduction gears, with a 4.53:1 ratio to turn four-blade, Kahlenberg stainless steel, 54- by 38-inch wheels on 5-inch shafts.
The boat's two steering rudders are controlled by dual main engine driven hydraulic pumps, supplied by Hydraulic & Pneumatic Sales Inc. Foertsch said the hull is made from half-inch plate on the bottom and half-inch plate on the deck and sides.
"Within the hull are reservoirs for 2,150 gallons of fuel and 735 gallons of dirty oil storage," said Foertsch, who added that the boat's superstructure steel is 5/16-inch plate throughout.
Foertsch said the pilothouse is equipped with an electronics package supplied by G.M.E.N.I. Inc., Paducah, Ky. The package includes a Furuno FA170 AIS system; a Garmin chartplotter, GPS, radar, depth sounder, MFD and 10-inch LCD; two VHF radios and a loudhailer. Mounted atop the pilothouse, said Foertsch, is an S-L incandescent 24V 15-inch search light, with manual lever gear control and a Marinco dual trumpet 12VDC horn.
On the main deck, there are three forward and three aft custom-fabricated heavy H-bitts integral to the hull. Foertsch said the forward center has an 80-inch pipe bull ring, and the bow is protected by an M100A stepped marine fender, with angle end plates. The stern, according to Foertsch, is protected by an M114 D-Guard rectangular pre-curved marine fender.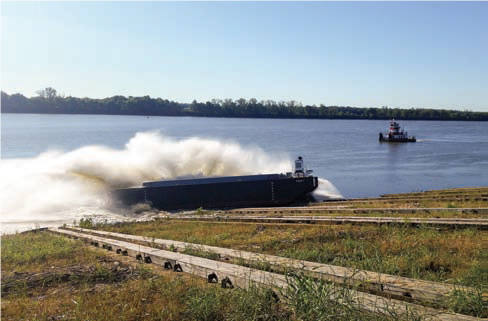 Capt. Bud
The Capt. Bud was named after the late Corn Island Shipyard general manager, Fontain "Bud" Martin Johnson Jr., who died of complications following surgery in Indianapolis, Ind., February 4, 2017. He was 73.
Born in Helena, Ark., he came from a long line of riverboat captains and
marine entrepreneurs. His father, Fontain Martin Johnson, was captain on the Mississippi Queen and the Delta Queen. His great-grandmother, Capt. Nettie Johnson, owned and operated a steam packet on the inland waterways and was one of the first women in the United States to hold a master pilot license. She is in the Merchant Marine Academy Hall of Fame.
Bud Johnson graduated from the University of Michigan with a degree in naval architecture and marine engineering. During his last year in college, he worked for Defoe Shipyard in Bay City, Mich. After college, he worked as chief naval architect for Phillips Petroleum in Bartlesville, Okla. He went on to manage a series of shipyards and towing companies along the inland river system and the Gulf Coast, and was said to have known the bends and depths along the river system by heart and could recite them with accuracy.
At Corn Island Shipyard, where he began in 1994, he designed and oversaw construction of barges, tugs, dump scows and many blue-water vessels, some of which exceeded 4,000 tons, for clients across the United States.
"Bud was such an asset," Don Foertsch, president of the shipyard, told The Waterways Journal last year (WJ, February 27, 2017). "He knew so much about the marine industry from his education and managing shipyards. He was always ready to take on new projects, challenges, utilizing his naval and marine knowledge. His love for the industry was known from coast to coast. He was truly a key to our success."
Corn Island Shipyard
For nearly 30 years, Corn Island Shipyard has quietly become known as a premier builder of custom barges and specialized marine structures. Since the launch of its first barge in 1991, the shipyard has worked to offer durable, high-quality products at a reasonable cost.
Corn Island Shipyard said it has achieved this goal by producing its vessels with a high degree of automation, employing a highly skilled workforce, and offering in-house design and engineering utilizing state-of-the-art 2D and 3D design programs. The shipyard has produced custom marine vessels for customers on the East, West and Gulf coasts, and in most states on the inland waterway system.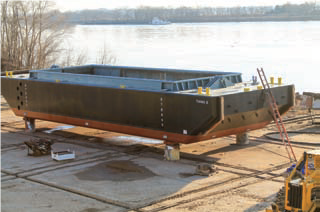 The company specializes in the manufacture of custom-designed products for both ocean service and inland waterway service. The shipyard produces vessels that are classed ABS, as well as unclassed vessels based upon its customers' requirements. Corn Island Shipyard currently has the capacity to build vessels up to 600 feet in length and 108 feet in width, according to the company.