Zeland David Deloach—best known as Z. Dave—is a longtime, well-known leader and representative of the maritime industry. Whether at a meeting of the American Waterways Operators in Washington, D.C., or the Gulf Intracoastal Canal Association in New Orleans, or speaking to legislators at Louisiana's capitol building in Baton Rouge, Deloach is known for his ideas, insight and experience.
But find him at the office of Deloach Marine Services in Port Allen, La., or at nearby A&Z Marine Shipyard, and Deloach will be doing what dads oftentimes love best: spending time with his kids. That's because both his towing company and the shipyard are family businesses, with his son, Trenton, serving as operations manager, and his daughter, Elissa, taking the lead in document control, safety and compliance. Deloach has another son, Zeland, who is an airplane pilot.
"You don't know what a great feeling it is to have your children want to come into your business," Deloach said. "I didn't encourage them. I actually discouraged both of them."
Trenton and Elissa Deloach got into the family business gradually throughout high school and college. For Trenton Deloach, that meant going to work on towboats occasionally starting in high school. After earning an engineering degree from Louisiana Tech, he went to work full time for the company, first on vessels and later shoreside. Elissa Deloach, who earned a sociology and psychology degree from LSU, began working at the office after college graduation and later took on the leadership role in safety and compliance.
Sign up for Waterway Journal's weekly newsletter.
Our weekly newsletter delivers the latest inland marine news straight to your inbox including breaking news, our exclusive columns and much more.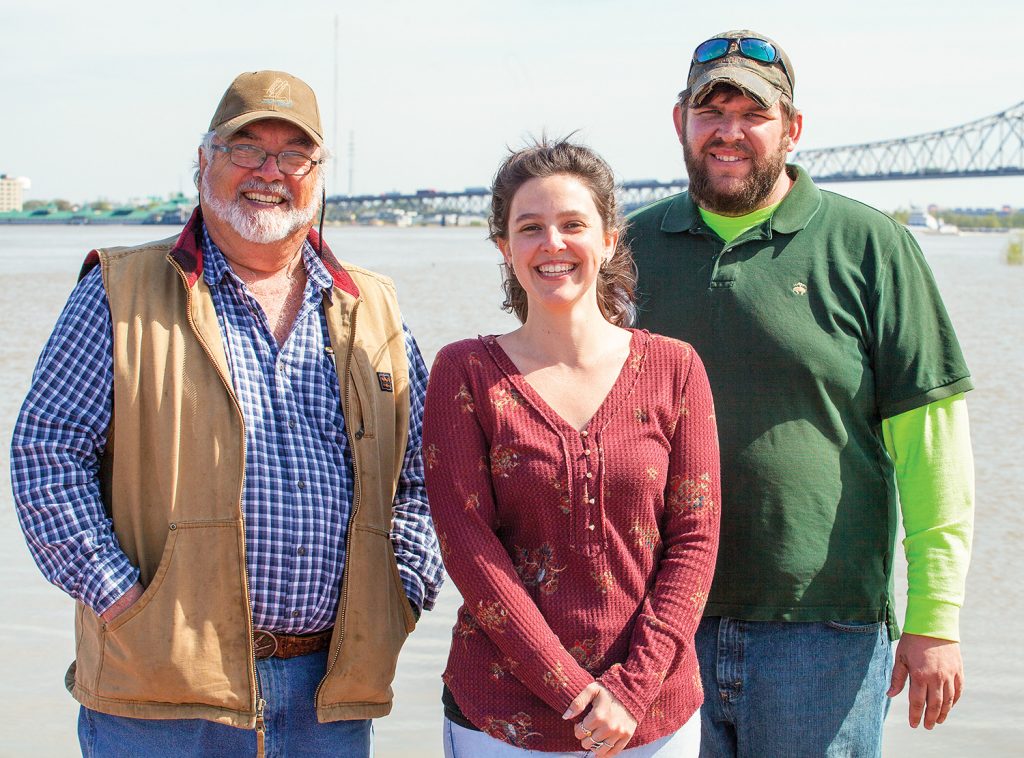 Their entry to the industry mirrored that of their father, who started out in the maritime industry in the early 1970s.
"I caught my first towboat in August of 1970 or 1971 on the Ouachita River as a deckhand," Deloach said. "I rode during time off in college, holidays, in the summers, any time I would have a chance to go ride a towboat."
Deloach was a student at Northeast Louisiana University in Monroe (now called University of Louisiana at Monroe). He graduated but knew right away that towing vessels were his true calling.
"I went out and caught a towboat and handed my mama my diploma," Deloach said. "She cried, but I told her, 'Don't worry, I've got a plan.'"
In a short time, Deloach earned an OUTV license (later called the master's license) to operate towboats. He worked on vessels for a few years, then worked onshore in the operations department for Chotin Transportation from 1975 to 1977. Then from 1977 to 1979, Deloach went back to work on boats.
Deloach, an uncle and several cousins then started Deloach Marine Services in 1979.
"We bought a small operation based out of Baton Rouge," Deloach said. "We had three boats, and we managed to make it profitable and stayed in business."
Deloach admitted the timing could've been better.
"Unfortunately, we went into business probably at the worst time in history," Deloach said. "Come October 1981, I believe, it was like someone turned the faucet off and all business ceased, and it stayed that way for about 10 years."
How did Deloach Marine make it, especially as a brand new business?
"I had my BBA in marketing and management, and I managed to get my Ph.D. in the school of hard knocks during the 1980s," Deloach said. "It took a lot of tap dancing, whatever it took to survive."
The business reorganized in 1988 and was renamed Delaware Marine Services. From 1988 until 2007, the company was led by Deloach and his cousin, A. David Deloach, or "A. Dave." In 2007, the company reorganized again when Deloach's cousin left the business and Ingram bought the fleet. Under the agreement, the reformed Deloach Marine Services now operates and manages nine vessels for Ingram. The company also owns four other towboats, two of which do outside work for Kirby. Vessels either owned or managed by Deloach Marine Services operate on the Lower Mississippi River and tributaries and along the Gulf Intracoastal Waterway.
Over the years, the company grew to operate as many as 16 towboats, although Deloach said about 12 was the company's optimum number. In 1994, Deloach bought a hull, which the company rebuilt at Verret Shipyard. Then in 1997, he bought a second hull to rebuild. That same year, he leased a slip on nearby Port Allen Canal, which connects the Mississippi River in Baton Rouge to the Gulf Intracoastal Waterway, and built it into A&Z Marine Shipyard. The shipyard offers topside repairs and complete conversions and refits of towing vessels.
And by this summer, A&Z will add drydock repairs and inspections to its list of offerings when it installs a 400-ton travelift to the yard.
Deloach said he hopes the new travelift will serve the towboat industry well as Subchapter M comes into effect, requiring more frequent hull inspections.
"We're fixing to add over 6,000 vessels in this country to that system, and the only drydock for a towboat in the Baton Rouge area is at Verret Shipyard," Deloach said.
The other alternative is going to New Orleans, but that comes at a significant time loss. Deloach estimated just getting to a drydock in New Orleans from Baton Rouge could take one to three days. He believes, with the new travelift, A&Z will be well positioned to serve the Baton Rouge market and beyond.
And as Deloach Marine Services and A&Z Marine Shipyard serve the maritime industry in the years ahead, it will continue to be a family affair, with Deloach and his two children at the helm.
"This is our life," Deloach said. "This company is our life. When you're in business, your business and your personal life are one and the same. You can't separate it."