Port of Winona Sees Strong Barge Year, Improves Port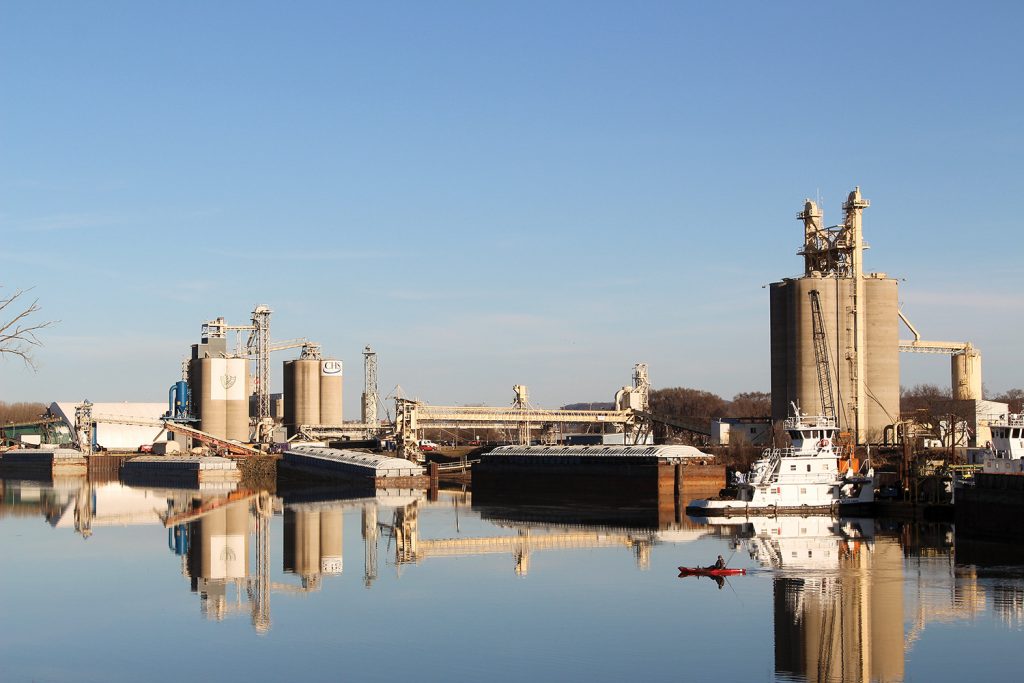 In 2017, the Port Authority of Winona, Minn., saw the highest number of barges moved in and out of its facility for at least 10 years—1,386 barges, according to Lucy McMartin, director of community development for the port. McMartin told The Waterways Journal that almost half of those barges carried outbound grain. "The 2017 season was one of our busiest in the last 10 or 12 years," she said.
McMartin attributed the surge in barge traffic to farmers selling stored 2016 grain to free up storage space, and to port improvements.
The Commercial Harbor contains docks, fleeting areas for barges, grain terminals and the Port Authority Commercial Dock. The municipal dock was established by the city in 1956 and is now operated by the port authority, which uses it for loading and unloading barges of fertilizer, salt and coal for tenants Archer Daniels Midland and CD Terminal LLC.
The CD terminal at Mississippi Mile 727 features 6 acres of outside storage and 50,000 square feet of inside storage. It offers three barge transload stations with 300 feet of sea wall and has a direct connection with a Union Pacific rail line. The CD terminal handles diverse, mostly ag-related cargoes including dried distillers' grains (DDGs), fertilizer and salt.
Sign up for Waterway Journal's weekly newsletter.
Our weekly newsletter delivers the latest inland marine news straight to your inbox including breaking news, our exclusive columns and much more.
Stormwater Improvements
In January, the Minnesota Department of Transportation (MnDOT) announced that Winona's port authority had been awarded $454,512 toward a project to install new paved driveways, retention ponds and reinforced concrete piping at the  port—all to improve storm water handling. The improved paving will direct storm water effectively to ponds and reduce dust to help with the truck traffic at the port.
The state grant will cover 80 percent of the project, which is estimated to cost $649,550. The money is part of $5 million awarded by MnDOT through the state's Port Development Assistance Program.
The port development improvements could start in fall 2018, but could wait until spring 2019, McMartin told local media.
Wabasha Barge Terminal
In addition to Winona's improvements, the Wabasha (Minn.) Port Authority also received $454,876 from MnDOT for a project to build a new barge terminal, which has an estimated total cost of $625,500. The project will construct a new barge terminal, which will include dredging the existing access channel and placing dredged material on the adjacent barge terminal site to raise elevation to create a 5-acre terminal pad and access road.
The project will "significantly increase opportunities for river freight users in the area that must truck to/from the Twin Cities for river access," according to the Minnesota Department of Transportation.
Wabasha is located about halfway between the Twin Cities and La Crosse, Wis., on the western bank of the Mississippi River where it narrows as it leaves Lake Pepin and passes the Nelson-Trevino Bottoms State Natural Area on the Wisconsin side.