Petroleum Service Corporation (PSC), the oldest and largest tankerman service in the country, is in the midst of celebrating two company milestones—having no recordable spills or injuries within its tankerman groups since August 2016 and the 15th anniversary of its Tankerman Career Academy.
"While the basic job of a tankerman hasn't changed much through the years, there has been a lot of progress made over the past several years in terms of safety and environmental performance," said Phil Johnson, president of marine operations for PSC. "This includes improved training processes, new technologies, better incident and 'near miss' reporting procedures, improved work schedules for tankermen, etc."
With the company's mission being to simply be the best at what it does, PSC said it achieves this through its commitment to safety, the environment and the advanced education of tankermen across the country.
No Spills, No Injuries
When a barge arrives at a refinery or chemical plant for loading or offloading liquid products, a U.S. Coast Guard-certified tankerman is required to serve as the "person in charge" of the transfer. These tankermen play an important role in the petroleum and chemical shipping industry—keeping products moving safely through the supply chain, while protecting the environment.
Sign up for Waterway Journal's weekly newsletter.
Our weekly newsletter delivers the latest inland marine news straight to your inbox including breaking news, our exclusive columns and much more.
Johnson said that PSC's tankermen work at more than 200 facilities throughout the nation's inland waterways, handling every type of refined product, hazardous chemical and liquefied gas. They work 24 hours a day, seven days a week and in every kind of weather, river stage and tidal condition.
In 2017, PSC's tankermen groups performed more than 34,000 barge transfers without any recordable injuries or spills to the water as a result of tankermen error. "This is the third time in six years that our tankermen have completed 365 consecutive days of operation with no spills," he said. "Considering the volume and variety of products our tankermen handled and the conditions in which they worked, this is a remarkable achievement."
Johnson began working as a tankerman for PSC in the 1970s. Throughout the years, he said he's had a front row seat for observing trends and changes in the industry, and he's most proud of the strides made to reduce spills and improve worker safety.
"I can remember when one spill in 5,000 transfers was considered to be an outstanding performance," he said. "We've continued to raise the bar for environmental performance year after year, and I'm very pleased with that. The safety mindset of tankermen has also improved dramatically, and you can see the difference today, not just in our company, but throughout the industry."
Making Strides Toward Safety
Work-hour restrictions have been a factor in the improved performance. "Although the nature of the business still requires tankermen to work a 24-hour, on-call schedule, the industry has pushed for tighter restrictions on work hours, to limit fatigue and reduce incidents caused by fatigue," said Josh Dixon, PSC's director of marine operations. "We've also made changes in our scheduling processes to give tankermen scheduled days off. That's made a big difference, while also improving the quality of life for our tankermen."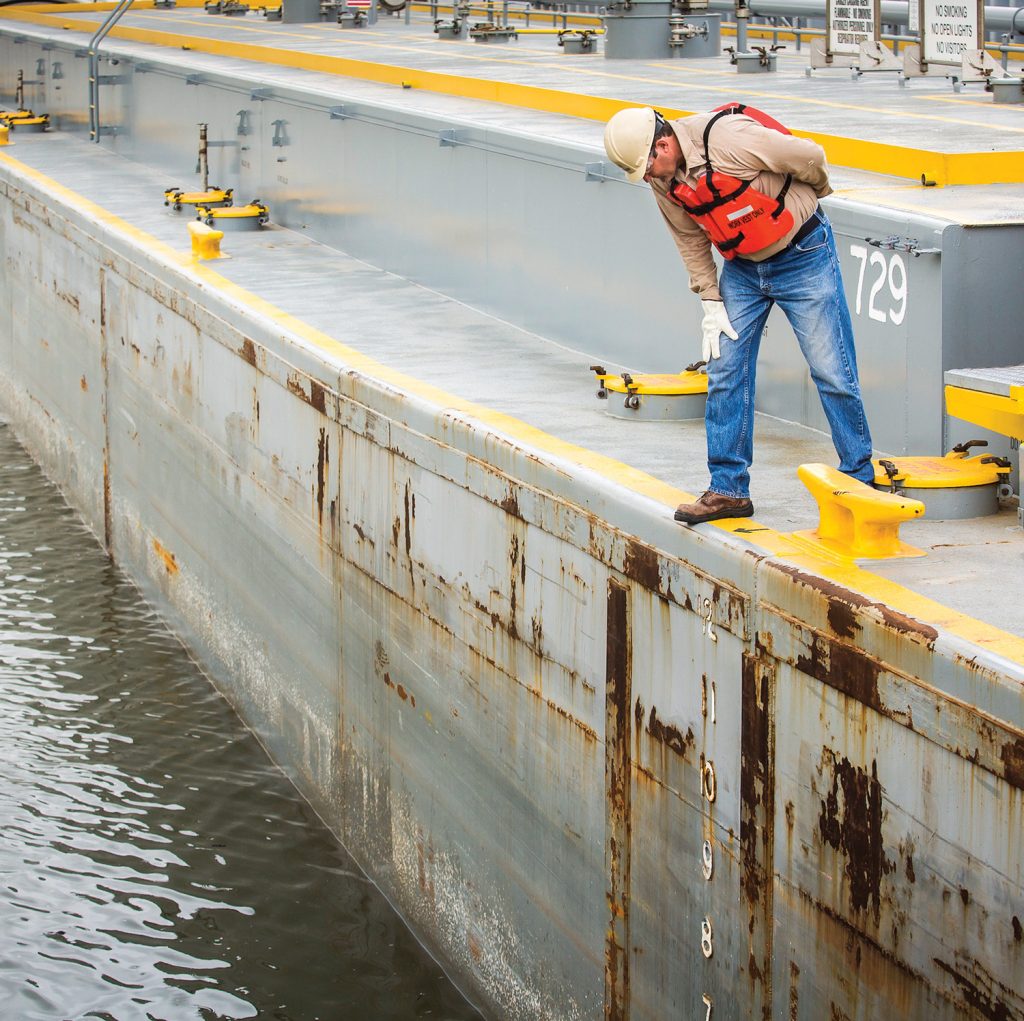 Dixon said better hazard recognition has also contributed to the reduction in on-the-job injuries. "Five years ago, our tankermen were reporting two to three near misses a month," he said. "Now, they're turning in more than 300 each month. That's one of the main factors behind us working for more than 20 months now without a recordable injury."
In addition to work-hour restrictions and improved hazard recognitions on the job, Dixon said new technology is also playing a part in helping to improve safety and environmental performance.
PSC uses a custom-designed software program for dispatching and a smartphone app to make it easier for tankermen to access information about specific products, barges and work locations. The company is also exploring the use of hazardous-environment-approved smartphones for tankermen, so they can access procedures and product information out on a barge.
"With our tankerman app, we can send out announcements regarding weather and river conditions," said Dixon. "For example, during the summer, we can turn on heat sensors based on the tankerman's location. If the temperature is over a certain threshold, we can remind the tankerman to take special precautions. We implemented this protocol in response to our last recordable injury in August of 2016, which was a heat-related illness."
The Academy
In 2003, PSC launched its Tankerman Career Academy, a four-month, tuition-based training program that features both classroom and one-on-one field training. To date, the Tankerman Career Academy has produced more than 225 new tankermen to meet industry demands. A number of the program's graduates now serve in leadership roles at PSC.
"That's one of the other things we've focused on in our effort to improve the quality of life for our tankermen," said Dixon. "We've worked to provide other career paths for tankermen looking to move into other areas of the product handling business. While many people in the marine industry may only know us for our tankerman services, through the years our business has grown and expanded into other areas, including in-plant and dock operations, terminal operations and warehouse operations. The diversity of our business has provided stability to help us weather industry ups and downs, as well as opportunities for our tankermen to advance."
With better working conditions, improved safety and environmental performance, new technologies and expanded career opportunities, the future looks bright for today's tankermen and the companies that rely on their services.
Today, after more than 65 years in business, the company has over 3,000 employees working at more than 100 sites throughout the U.S. and Canada, handling a wide variety of refined products, chemicals, fertilizers and plastics. In addition to tankerman services, PSC also operates dock facilities and performs loading and unloading of railcars and trucks within refineries and terminals. PSC loaded more than 600,000 railcars in 2017. The company has office locations in Baton Rouge, La.; and Corpus Christi, Pasadena and Port Arthur, Texas.