Rep. Todd Rokita On Waterways Infrastructure, The Jones Act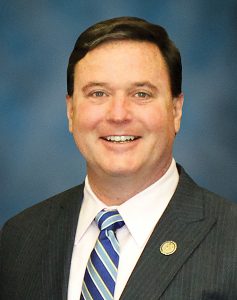 Todd Rokita (R-Ind.) is the representative from Indiana's Fourth Congressional District. Prior to his service in Congress, Rep. Rokita served as Indiana's Secretary of State from 2003 to 2011.
Rokita serves on several committees important to maritime and inland waterways interests. In the 114th Congress, Rokita was selected to join the Transportation and Infrastructure Committee. He is also vice chairman of the influential House Budget Committee.
Rokita has earned the U.S. Chamber of Commerce's Spirit of Enterprise award and the Friend of Farm Bureau award and is a three-time recipient of the National Association of Manufacturers Award for Manufacturing Legislative Excellence.
He holds a B.A. degree from Wabash College, where he earned Wabash's highest award by being selected as an Eli Lilly Fellow. He holds a Juris Doctor degree from the Indiana University School of Law and keeps his law license active.
Sign up for Waterway Journal's weekly newsletter.
Our weekly newsletter delivers the latest inland marine news straight to your inbox including breaking news, our exclusive columns and much more.
Rokita and his wife Kathy live in Brownsburg, Ind.
Waterways Journal: You have called the omnibus bill "the Washington swamp at its worst." Has its passage doomed an infrastructure bill for this year, in your opinion?
Rep. Todd Rokita: I believe that a large-scale infrastructure bill has become much more difficult to pass because of the opposition from Democrats. This is a bill that should have bipartisan support. Unfortunately, it seems as if the Democrats automatically oppose anything President Trump campaigned on and is now pushing for as president.
However, I am still hopeful that we can pass a bipartisan bill that not only funds maintenance and construction in a responsible way, but also changes current regulatory restrictions. This would help government funding go further without adding pointless delays to much-needed projects. President Trump's new executive order to speed up lengthy and costly approvals for infrastructure projects came at the perfect time to help jumpstart these projects that have been at a standstill for years.
WJ: Despite your unhappiness with the amount of the omnibus bill and some of its provisions, is there any good news for the inland waterways industry in it? What port and waterways-related provisions in it do you support or oppose?
Rokita: I believe the most important victory is no increase in lock fees or tolling provisions in the omnibus. Whether it is a spending bill or an authorization bill, I will not support any legislation that supports new lockage fees. I strongly support full use of the Inland Waterways Trust Fund so we can modernize the inland waterways and the HMTF receiving $1.4 billion in funding, especially since it appears to be following the funding schedule that Congress put in place.
WJ: The omnibus tripled TIGER grants. Washington pork or useful grants?
Rokita: I understand that grants like the TIGER grants are very popular because they fund major, critically needed transportation projects. However, these decisions should not be made by Washington bureaucrats who are uninformed about the projects or the city or the state the money will go to. The bottom line is, there is no "one-size-fits-all" infrastructure plan. The power and knowledge belong to the states because they're the ones who understand their needs better than some bureaucrat. Someone in West Lafayette or Kokomo should decide which road to build or bridge to repair, not someone in Washington, D.C.
WJ: What are you fighting for in this year's Water Resources Development bill? What are its prospects and tentative timeline?
Rokita: Our ports and waterways are of the utmost importance to Indiana. It's how we export our grain, steel, coal, and other products. It is also the cost efficiency of our water infrastructure that keeps our farmers and businesses competitive. I am working hard on sustaining the current level of capital investment from the Inland Waterways Trust Fund. I am also working on reforming the Harbor Maintenance Trust Fund and the way Congress and the Army Corps funds the projects to clear the backlog and get our harbors dredged and maintained properly. Secondly, I am looking at ways to speed up permitting and remove red tape so this maintenance can be done as quickly and cost effective as possible.
WJ: Are you encouraged about the amount of bipartisan agreement in the House on infrastructure issues—especially navigation infrastructure?
Rokita: It is encouraging to see both Democrats and Republicans talking about repairing our infrastructure. I find it very gratifying serving on the Transportation and Infrastructure Committee, because we accomplish the majority of tasks in a bipartisan fashion.
However, it is unlikely to push forward an infrastructure bill that Democrats will support. We saw this during the Obama stimulus, a huge influx of unpaid federal spending with little or no regulatory changes. Simply throwing money at the problem while still forcing projects to go through years or decades of review is not President Trump's vision and is not what's going to rebuild America. That is why I support President Trump's recent executive order to streamline costly and time-consuming processes for getting permits and approvals for infrastructure projects.
WJ: Can we expect to see more attacks on the Jones Act this year?
Rokita: There will always be Members of Congress who don't appreciate the importance of the Jones Act for the maritime industry and will look to modify or eliminate it. I fully support the Jones Act and I will continue to support it.
I also see it as my responsibility to help educate the president and his staff on how important the Jones Act is for American businesses and national security. President Trump connected with the forgotten men and women of America because he laid out his vision for bringing good-paying jobs back to this country. If the Jones Act gets repealed or interpreted incorrectly, those jobs would disappear.
I recently joined a letter that asked the administration to not take any actions that would weaken the enforcement of the Jones Act, and I will do everything I can to continue to work with the administration to protect the industry and its workers.
WJ: Getting smaller-focus for a moment, in your opinion, has container-on-barge reached a "tipping point" past which it will develop quickly, or does more have to happen? If so, what? And what role can Congress and MarAd play, if any?
Rokita: We are starting to see a slowdown of barge construction in the industry, but you can never be 100 percent certain if we are at a tipping point. I firmly believe that, if we implement policies proposed by President Trump, we can see a point or more increase in GDP growth. This translates into billions of dollars of new capital that can be used to invest in American businesses. Hopefully this leads to more manufacturing jobs and demand for U.S. products, which means more growth in the barge industry. However, our congressional leaders need to do their job by creating an environment where our economy can reach its full potential, and if it does, everyone will benefit.
WJ: Do you support the Maritime Administration's role as advocate for the Marine Highway program?
Rokita: As I said before, Indiana relies heavily on water infrastructure, but we are also known as "the Crossroads of America" because of the large logistics and trucking presence in the state. That is why I am supportive of getting freight moved domestically and internationally as quickly and competitively as possible. MarAd's Marine Highway Program is a vital component keeping our transportation system the best in the world.