Benco Brings Material Handlers To IMX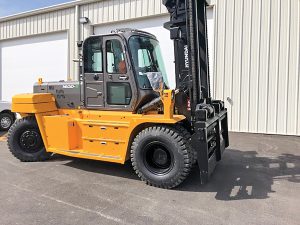 Benco Industrial Equipment, St. Charles, Mo., will bring a variety of material handling equipment to the Inland Marine Expo (IMX), being held at the Dome at America's Center in St. Louis, Mo., May 21-24. Benco/Hyundai will display equipment up to 36,000 pounds on the showroom floor at booth No. 811.
The company said it has served the material handling needs of customers, including ports and terminals, in the St. Louis Metro Area and throughout the Midwest for more than 10 years. Myron Potthast, sales director for Benco, said that whether a customer is looking for equipment for its newly purchased warehouse or is looking to replace aging warehouse supplies, Benco can be of service.
Potthast said the company, which is an authorized Hyundai forklift dealer, offers new and used forklifts, Factory Cat and Powerboss sweeper scrubbers, MacroAir fans, warehouse doors and docks, and new or used warehouse racks, scissor lifts, rental equipment and more.
"Ports and terminals use this equipment all over the world," said Potthast. "Hyundai is one of the largest manufacturers of overseas containers for port applications, one of the largest shipbuilders in the world and one of the largest forklift manufacturers up to 50,000 pounds."
Sign up for Waterway Journal's weekly newsletter.
Our weekly newsletter delivers the latest inland marine news straight to your inbox including breaking news, our exclusive columns and much more.
For more information on IMX or to see a list of exhibitors, visit www.inlandmarineexpo.com.