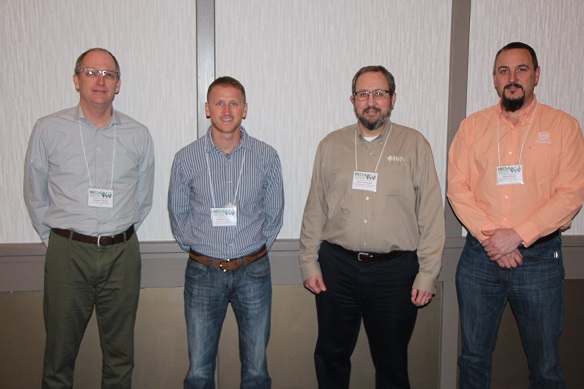 WEDA Midwest Chapter Meeting Focuses on Beneficial Use, Great Lakes Dredging and Material Management and More
The Western Dredging Association (WEDA) Midwest Chapter met in Toledo, Ohio from March 13 to 15. The meeting had its highest turnout in four years with 115 attendees and a record number of industry sponsors for the event.
Speakers and presentations included: Margarett Davis, Hile Group, The Experienced Crew-Millennial Advantage: Winning Strategies Across the Great Divide; Nicholas LaPointe, Port of Cleveland, Port of Cleveland, Beneficial Reuse Update; Scott Cieniawski, USEPA Great Lakes National Program Office, EPA's Great Lakes Legacy Act Remediation Program Status Update; Joe Cappel, Port of Toledo, Great Lakes Dredged Material Center for Innovation; Michele Leduc-Lapierre/John Hull, Great Lakes Commission/Hull & Association, Dredging in the Great Lakes: Challenges and Opportunities; David Emerman, Ohio Environmental Protection Agency, Ohio EPA – Sediment profiling, beneficial use and physical projects.
Sponsors included Anvil Attachments, AquaBlock, CableArm, Foth, Geosyntec Consultants, Geo-Synthetics, LLC., Great Lakes Dredge & Dock Co., Hile Group, Hull & Associates, Infrastructure Alternatives Inc., J.F. Brennan Company Inc., Kann Manufacturing, Land & Marine Supply, LLC, O'Brien & Gere, Robishaw Engineering Inc., Salem-Republic Rubber Company, Streamside, LLC.
President Steve Garbaciak said the 2019 Midwest chapter meeting will take place in either Memphis, Louisville, Kansas City or Minneapolis-St. Paul.
WEDA held a Dredging 101 short course prior to the chapter meeting. Forty-three people participated, including 15 local regulators from Ohio EPA. The short course is designed to help anyone interested in learning about the basics of dredging and dredged material. All attendees received a hand-out/syllabus with reference resources and information. The course qualified for four Professional Development Hours (PDHs). This was WEDA's first Dredging 101 short course. With a few minor tweaks, the short course will run again at WEDA's annul Dredging and Summit Expo in Norfolk in June. WEDA also announced that the next annual meeting in 2019 will take place in Chicago.
Get the latest infrastructure and dredging news in your inbox.
Powered by the Waterways Journal and International Dredging Review, our monthly Infrastructure Report newsletter covers dredging, construction and civil engineering.