IMX Presents Achievement Award, Honors 40 Under 40
For its fifth year, the Inland Marine Expo (IMX) and The Waterways Journal will present its annual IMX Achievement Award to an individual who has spent his or her career making significant contributions to the maritime industry. This year, the award is being given to Bruce Gibson.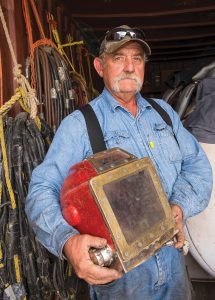 Gibson, a highly respected commercial diving and salvage professional, has served the river industry for more than 40 years through his work at Okie Moore Diving & Salvage Company, St. Charles, Mo. Okie Moore is now owned by Wepfer Marine. Look for more information on Gibson in your IMX Directory.
In addition to the achievement award, IMX will be recognizing its first class of under-40-year-old professionals for its new 40 Under 40 Award. All 40 award winners were nominated by various industry executives and peers for their hard work and dedication to the industry.
Starting with the May 28 issue of The Waterways Journal, four of the 40 Under 40 recipients will be featured in each weekly issue. A brief biography and photo will be included of each award winner.
Sign up for Waterway Journal's weekly newsletter.
Our weekly newsletter delivers the latest inland marine news straight to your inbox including breaking news, our exclusive columns and much more.
This year's 40 Under 40 recipients include Kyle Aldrich, executive vice president of Evansville Marine Service Inc.; Anthony Almerico, general manager with Cooper/T. Smith Mooring; Aimee Andres, executive director of Inland Rivers, Ports & Terminals Association; Capt. Allison Baley, staff captain with HMS Global Maritime; Michael Binsfeld, vice president-civil group with J.F. Brennan Company Inc.; Chris Blanchard, managing director-northern marine operations with Cooper Consolidated LLC; Patrick Boles, vice president and chief financial officer of Ivy Marine Consulting and Tug & Barge Solutions; Doug Bonderer, operations manager of AGRIServices of Brunswick; Raleigh "RL" Bourg Jr., president of Bourg Marine Inc. and Darbor Marine LLC; Michael Brown, area vice president of Gallagher Marine Group; Erik Cooper, executive director of Cooper Consolidated LLC; Kasey Eckstein, founder and president of WIMOs Association and director of outside sales and business development for Marquette Transportation; Heather Ervin, associate editor of The Waterways Journal; Bart Freeman, purchasing manager of SCF Marine; Kent Furlong, president of Hines Furlong Line; Austin Golding president of Golding Barge Line Inc.; Chas Haun, executive vice president  of Parker Towing Company; Capt. Calfonte Harrell, captain with American Commercial Barge Line; Sarah Michelle Hattier, business development partner for Conley Marine Services; Matt Hayden, vice president-sales and customer service for Turn Services; Rob Innis, director-transportation operations for LafargeHolcim; Aaron Kirk, chief mate with the U.S. Army Corps of Engineers; Jason Koenig, senior account executive of Waterways Journal Inc.; Robert "Mark" Lloyd, maritime instructor for San Jacinto College's maritime program; Mary McCarthy, quality and customer service for Canal Barge Company; Patrick McNeill, manager of towing operations for Wood Resources-Wood Towing; Meagan Matura, chief administrative officer for Superior Marine Ways Inc.; Ben Morvant, operations manager at Crescent Towing; Capt. C.R. Neale, captain for Neale Marine Transportation & Fleeting LLC; Capt. Ryan Newton, manager of vessel operations for Campbell Transportation Company; Chase Osorno, vice president-special projects for Accutrans Inc.; Tim Parker III, president of Parker Towing Company; Ben Parrish, project manager of San Jac Marine, a Kirby Company; Brian Patterson, construction division manager at Amherst Madison; Jared Phillips, operations manager of Parker Towing Company; Brandon Richards, CEO of Panolin America; Cody Shields, assistant port engineer for Luhr Bros.; Lucas Taylor, terminal manager for Oakley's Port 33; Matthew Williamson, marine industrial field service technician for Cummins Sales and Service; and Capt. Eric Wolfe, general manager of Mt. Vernon Barge Services.
Gibson and winners of the 40 Under 40 award will be honored during the May 22 general session at 11:45 a.m. in the Ferrara Theater at the Dome at America's Center, where IMX will be held this week, in St. Louis, Mo.