Quest Pro Explosion Proof Coil Has Use In Marine Industry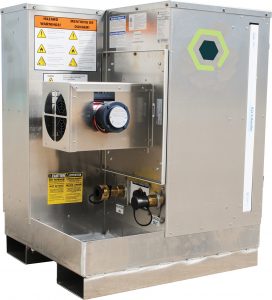 Quest Climate Control Equipment, a division of Therma-Stor LLC, Madison, Wis., introduced its patent-pending Quest XP300 Pro Explosion Proof Coil (or fan coil) at the Inland Marine Expo (IMX) in St. Louis, Mo., last month. Quest offers a line of rugged, high-performing, climate control equipment for the construction, concrete and painting industries.
The XP300 fan coil, however, can also be used by the inland marine industry, according to Quest. The company said the product can be used where closed spaces and volatile compounds interact. For instance, crewmembers coating a tank barge's interior or sandblasting a hull would not want to be exposed to any kind of spark while undertaking such projects.
The XP300 fan coil, when connected to a Quest hydronic heat source placed well outside of any dangerous areas, will deliver warm, dry air safely into a chosen location. Quest said doing so will keep workers warm, while speeding the drying time of coatings or paints.
The XP300 transfers heat from a heated glycol circuit to an air stream that is being forced through an internal hydronic heat transfer coil. The product can then direct a stream of warm dry air over the workmen and assemblies they are working on, to provide comfort, enhance the quality of workmanship and improve productivity.
Sign up for Waterway Journal's weekly newsletter.
Our weekly newsletter delivers the latest inland marine news straight to your inbox including breaking news, our exclusive columns and much more.
Quest said its PowerHeat line of products, which includes the XP300, are eco-friendly because they reduce the need for combustible fuels and use up to five times less fuel in some cases. The products also use an organically neutral propylene glycol to produce dry, heated air.
In addition to its PowerHeat line, Quest said it has a broad range of solutions for the marine industry. Other products include dehumidification, ventilation and air-moving products to control onboard condensation that causes wheelhouse windshield fogging, mold development and rust or corrosion. Using these products, according to Quest, can improve the health of live-in crews and significantly reduce costs related to mold and rust remediation.