Harken Announces MOB Rescue System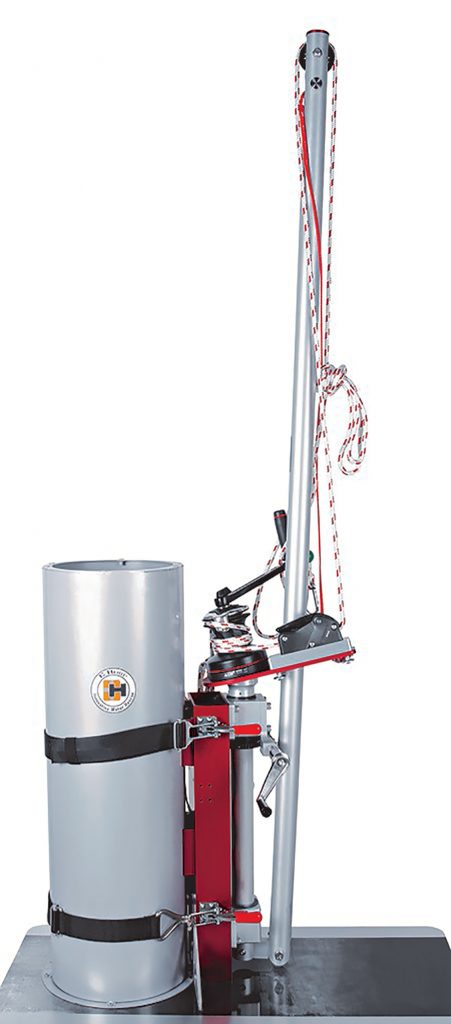 Harken Industrial recently announced a manufacturing and distribution agreement for the complete C-Hero Man Overboard (MOB) Rescue System.
The system will be manufactured to ISO 9001 standards by the company in Pewaukee, Wis., and distributed by C-Hero, a California-based company. Harken will sell the system through its industrial products network in the United States and globally.
Rescue Davit
The system's rescue davit is lightweight and portable. It consists of a small crane and a self-tailing Harken winch that attaches to any bitt on a vessel. The radial winch in the system provides mechanical assistance that allows a rescue to be performed by a single crewmember, the company said. The crane's boom is long enough to clear tires and fenders.
The MOB system provides quick recovery of a conscious or unconscious person who has fallen overboard. Deployed via a 12-foot, lightweight pole, a strap goes over the person in the water and then under their arms for a vertical recovery using the rescue davit. Crew members stay onboard and inside the bulwarks while performing the rescue.
Sign up for Waterway Journal's weekly newsletter.
Our weekly newsletter delivers the latest inland marine news straight to your inbox including breaking news, our exclusive columns and much more.
Shane Smith, founder of C-Hero, started his maritime career working with his father in Hawaii, where he gained experience in diving, salvage, bunkering and ocean towing. He later moved to California, where he worked for more than 30 years as a towboat captain performing coastwise towing, pushing barges on the rivers, and ship docking in San Francisco Bay. He has operated push boats, conventional and tractor tugs.
Smith spent the next part of his career training captains and helping companies go through internal and external audits of their marine safety management systems (SMS). He said that he became concerned that most SMS used by towing companies were focused on complying with required monthly or quarterly MOB drills, while not demonstrating a way to retrieve a person from the water.
Effective MOB Recovery
Smith said that he started C-Hero in a garage with the objective of helping crews with effective MOB recovery. The C-Hero system provides a three-minute MOB recovery while underway. Smith said he still goes out on boats to stay in touch with the needs of the crews and their companies.