Middle River Marine (MRM), an Ozinga company, christened two boats, the mvs. Gwyneth Anne and Kamryn Olivia, August 21 at Joliet Terminal in Joliet, Ill. The christening highlighted how the Gwyneth Anne and Kamryn Olivia will both enhance MRM, Ozinga Materials & Logistics' marine services business, and be an added celebration to the fourth-generation, family-owned company's 90th anniversary, the company said in a news release.
The Gwyneth Anne is MRM's fifth boat. It was built in June 2017 by Marine Builders. The boat is 65 feet long by 28 feet wide by 9 feet deep. It has 1,325 hp. from two Cummins QSK19-M main engines that turn 66- by 51-inch propellers through 6:1 Twin Disc reduction gears. The retractable pilothouse when fully raised provides an eyelevel of 32 feet. The inside of the Gwyneth Anne boasts brick flooring, granite countertops and three sleeping quarters.
Towboat Kamryn Olivia, built in 2018 by Steiner Construction, is a retractable-pilothouse boat with Z-drives from ZF Marine. Two Cummins QSK-38 diesel engines provide 2,000 hp. The boat is 77 feet long and brings the number of boats currently in Ozinga's fleet to six.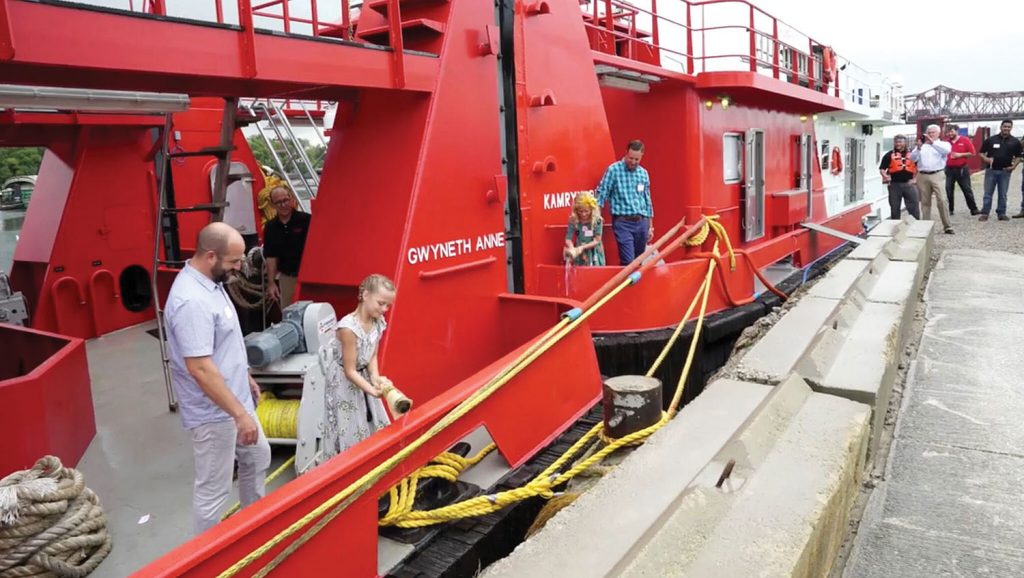 The Gwyneth Anne and Kamryn Olivia—named after the daughters of Justin Ozinga, president of Ozinga Ready Mix Concrete and Jeff Ozinga, executive vice president of Ozinga, respectively—join the Alivia Faith, Elyse Noelle, Mikayla Skye and Sydney Reese on the Illinois waterways. These boats help Ozinga's Materials & Logistics team serve customers from Peoria to Chicago and mark a meaningful milestone in further establishing the importance of waterways in the Midwest.
MRM is a full-service barging and marine services company that operates a network of nine river-based terminals. Earlier this year, MRM facilitated the demolition of the old Morton Salt building on Wacker Drive in Chicago, utilizing 11 barges to recycle 16,592 tons of material. These barges, equivalent to 668 semi-trucks, eliminated roadway traffic for more efficient and environmentally friendly transportation. In 2017, MRM moved 1,563 barges, reducing Illinois road congestion by 90,168 semi-trucks.
"The addition of the Gwyneth Anne and Kamryn Olivia have allowed us to provide extremely reliable and responsive levels of service to our customers across the industrial, agricultural, and construction materials markets.  Our customers expect the highest levels of service, and having these two brand-new boats, which were designed and built to maximize operating efficiencies while minimizing our environmental footprint, have allowed us to achieve excellent operating and service performance this year," said Aaron Ozinga, president of Ozinga Materials & Logistics.