The Kansas City, Mo., we know today is a diverse and populated metropolitan area on the Missouri River, the nation's longest river that extends from the Rocky Mountains of western Montana and down 2,341 miles to the mouth of the Mississippi River at St. Louis, Mo. Incorporated by Frenchmen from St. Louis and Native Americans engaged in the 19th century fur trade, Kansas City developed into a dominant shipping hub west of St. Louis. Nonetheless, it would take another 100 years for the city's port to be officially opened.
In 1977, the Kansas City Port Authority, now known as Port KC, was established. Governed by a nine-member citizen board of commissioners appointed by the mayor, the port authority is a public corporation and a political subdivision of the state of Missouri.
Due to navigation concerns and change in transportation trends, the terminal operator at that time chose not to renew its lease in 2007 and the port closed. But not for too long.
In 2012, Port KC signed a 25-year lease, repaired the property's infrastructure and initiated a marketing plan to bring attention back to the port. In 2015, the port signed an operating agreement with Kaw Valley Companies Inc., the port's current operator. Later that year, the port received its first barges in years and has been growing at an exceptional rate ever since.
Sign up for Waterway Journal's weekly newsletter.
Our weekly newsletter delivers the latest inland marine news straight to your inbox including breaking news, our exclusive columns and much more.
In only a few short years, Port KC is once again making a name for itself as it continues to see an annual rise in barge tonnage, expands its storage capacity, improves its infrastructure and advocates for the Missouri River under the leadership of its new president and CEO.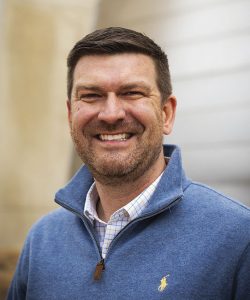 Port KC's New CEO
On September 18, Port KC announced that Jon Stephens would replace former port president and CEO Michael Collins (WJ, September 24). Collins announced his resignation last November and officially left his position on January 2 for a new role with JE Dunn Construction.
With more than 20 years of leadership experience spanning development, tourism and civic affairs, Stephens came to this new role from the Unified Government of Wyandotte County and Kansas City, Kan., where he served as director of economic development. Stephens began his role at Port KC October 8.
Stephens said that his primary focus is to continue to position the port as a leading voice for port infrastructure and navigable waterways in the region. "Continual support of adding and reactivating ports along the Missouri River is vital to the growth of Port KC as a key stop within the network," he said. "I also want to lobby for legislative support that allows us to keep tapping the potential of the port as a leading transportation network for the future—one that is sustainable, cost-effective and vital to the country."
A native of Kansas City, Stephens grew up in the Hickman Mills area of Kansas City and attended the University of Missouri. Beginning his career in advertising and marketing, he turned those skills to executive and community leadership, first as president of the Kansas City Power & Light District, then as president and CEO of Visit KC and several other interim executive and consulting roles through his firm, Rockhill Strategic.
"Playing a key role in the continued transformation of Kansas City is simply a dream come true," he said. "As a city, we have ignored the river for too long. It is one of our most vital assets. We must continue a thoughtful and lasting return of people, business, entertainment and economic vitality to the riverfront.
"Kansas City has made significant advances in the last decade," he said. "Port KC, with its extensive capabilities in development, logistics and planning, has possibly the greatest opportunity of any organization in Kansas City to not simply support these generational projects, but to play a lead role in guiding the destiny of our city into the next century for the benefit of all."
A Port Of The Future
When asked about the challenges faced by the port, Stephens said that while the port has some hurdles to overcome, the benefits far outweigh the concerns. "We simply have to identify the resources to continue to invest in our port and the network of ports to become modern, high-tech ports that are ready for the shipping methods customers will want in the future," he said.
In addition to continued investments, Stephens said the port is in the early stages of developing a "port of the future" with its new Missouri River Terminal (MRT)—a dynamic, 415-acre multimodal facility.
Stephens said the port is also in the midst of planning for the construction of a 7,000-ton-capacity dome at Port KC. The dome, said Stephens, will increase the port's storage capacity by 43 percent and will allow for increased tonnage shipped through the port.
"More importantly," he said, "the commerce generated at the port has brought five private terminals on line—ADM, MFG, NORAG, Central Plains Cement and the Port of St. Joseph have all shipped cargo through the port in 2018." Collectively, Stephens said the mid-Missouri region expects to ship 450,000 tons this year.
In 2016 and 2017, the port underwent a 10-acre expansion and completed a rail spur to reconnect Port KC to the Union Pacific Main Line. The addition of rail expanded the port's existing multimodal connections at the terminal, which include proximity to major railroad yards, highways and the Missouri River.
With so much going on at the port over the last few years, Stephens said he most wants people to realize the vitality of the port as it continues to accelerate. "The growth of the port operations has been done in conjunction with Port KC revitalizing the riverfront with trails, amenities, housing and retail," he said. "In short, we are just getting started in Kansas City."
Dan Hays, director of port operations for Kaw Valley Companies, said the port operator hopes to continue expanding business by both barge and rail in 2019. He said the port has plans to add additional dry and bulk storage, in addition to obtaining new loading and unloading equipment to fit the growing port's needs.
Missouri River Terminal
In late August, Port KC announced that its board of commissioners approved the selection of Nossaman LLP and John Smolen, lead partner on the project, to advise Port KC staff in the formation of a successful public private partnership (P3) to develop MRT.
Port KC said it plans to transform the land along the Missouri River, the site of a former steel mill owned by the AK Steel Corporation, into a full-scale inland intermodal port.
"We were pleased to approve the engagement of Nossaman LLP on this project, and we look forward to their inclusion in our team as we move forward with this transformative project," said Dana Gibson, chairman of the Port KC Board of Commissioners.
AK Steel Corporation previously used the site as a landfill for its steel manufacturing and finished-product transportation and distribution hub. The port said that the land will require some environmental remediation. Port KC said it is well versed with environmental cleanup and mitigation, having already successfully taken on similar projects at Berkley Riverfront and Richards-Gebaur Commerce Park.
The port said it plans to eventually develop the site for intermodal, light manufacturing and freight distribution via rail and barge. With proximity to the Missouri River on the north, I-435 to the west, and rail access from the Kansas City Terminal Railroad to the south, the port said the land parcel has the potential to be a major multimodal freight transfer facility.
The port said that no opening date for MRT has been announced. Once the terminal is completed, MRT will operate concurrently with Port KC.
River Studies Support Shipping
As a way of advocating for the Missouri River, Port KC is sponsoring the Lower Missouri River Study with the Corps of Engineers to help improve navigation and flood control between Kansas City and the mouth of the river at St. Charles, Mo.
Currently, the lower Missouri River depends on tributary rivers and streams to support navigation. The port said this is the first time an official analysis of the initial design and structures of the river system has been conducted. The study will help determine whether structures are performing as originally intended and if they need improvements. The study will also examine new technologies that may be employed to improve freight movement and efficiency.
"The port will continue to support the study, advocate for new technology, and aggressively market the river as a valuable and efficient shipping method," said Stephens. "Staff will continue to nurture and strengthen connections with other domestic inland ports and ports around the world."
Economic Impact
In 2016, the Missouri Department of Transportation (MoDOT) completed an impact study that revealed the contributions Missouri River ports make to the economy. The study revealed that approximately 34 percent of Missouri's economy is supported by ports, which leads to more than $2.4 billion in state and local tax revenue.
MoDOT said that Missouri ports sustain 290,000 jobs annually, resulting in $100.6 billion in economic activity. Port activity has been building and growing in the region, with tonnage shipped through Missouri ports increasing by 78 percent between 2001 and 2016.
This year is perhaps the biggest year for the port, which Stephens said the port projects a 189 percent increase in tonnage for 2018 when compared to last year. In 2017, the port handled 38,000 tons. Stephens said the port expects to handle approximately 110,000 tons this year.
Corps Projects In Kansas City
As the Kansas City Engineer District wrapped up final contract awards for fiscal year 2018 in October, it took a moment to reflect on a few major accomplishments and how they tie into the district mission.
The district awarded about 1,360 contracts worth more than $328 million in fiscal year 2018.
"I am very proud of the teamwork that was on display as we concluded the fiscal year, as our professionals delivered these projects," said Col. Doug Guttormsen, commander, Kansas City District. "Our stakeholders work incredibly well with us so that these projects, large and small, benefit our region and beyond."
Some highlights from the Civil Works branch this fiscal year include:
• Kansas City Levees (Kansas City, Mo. and Kansas City, Kan.) protects more the $22 billion in investment, more than 94,000 jobs and 7,000 structures. Congress appropriated $453 million for the district to fully fund the remaining design and construction improvements for this system. This will be the biggest civil works project the district has designed and built in decades.
• St. Joseph Levees System L455 and R471-460 Project (St. Joseph, Mo.); the overall levee system project was fully federally funded in FY2017. During 2018, construction on Brown's Branch gatewell structure was significantly advanced and a $1.6 million levee improvements contract was awarded for the left bank (Missouri side) of the Missouri River along the L455 levee unit. The Corps of Engineers said that it will award two more construction contracts on the right bank of the Missouri River in 2019.
• Emergency Management; construction contracts were awarded in FY2018 totaling over $2.6 million to repair and restore levees damaged by floods from 2015, 2016 and 2017. In addition, more than 100 Kansas City District personnel deployed to Puerto Rico in support of Hurricane Maria; Texas for Hurricane Harvey; North and South Carolina for Hurricane Florence; and California for wildfire recovery.
Missouri River Connections
In addition to these projects, the Corps has been busy maintaining dikes and structures to allow for more efficient navigation on the Missouri River. Late last year, Central Plains Cement barged dry cement from its plant below Kansas City at Sugar Creek, Mo., on the Missouri River to its terminal at Omaha, Neb., for the first time in many years.
Some Missouri River businesses have been working with the port since it reopened. Steve Engemann, president of Hermann Sand & Gravel and Missouri River Towing, both based in Hermann, Mo., said he is excited to witness the growth at the port. "Port KC fits in well with our routes," said Engemann, who does deliveries for Artco and SCF Services. "We hope they continue to expand."
Lucy Fletcher, business development manager for AGRIServices of Brunswick LLC, Brunswick, Mo., also works along the Missouri River. Although AGRIServices does not currently utilize the port, Fletcher said the company and the port share information and there is a degree of synergy between the two facilities.
"I think between us, other Missouri River businesses and Port KC, we complement each other rather than compete," said Fletcher. All of this could change as AGRIServices itself has recently expanded to three locations.
"For AGRIServices, that gives us a 100-unit train availability, and another port in Waverly to sync with that will be up and functioning by next harvest," Fletcher said. "We're also looking to add additional tenants to our already up and running port in Brunswick and to expand our yard to accommodate additional product movement and services."
About an hour's drive north of Kansas City, the St. Joseph Chamber of Commerce held a ribbon-cutting ceremony to celebrate the St. Joseph Regional Port Authority's new storage facility and new operator, TransPort 360, on October 11. Two barges of steel coil bound for Kansas on the Missouri River were being unloaded at the port during the ceremony. According to Brad Lau, executive director of the St. Joseph Regional Port Authority, Port KC will send the St. Joseph port referrals from time to time.
"Missouri ports provide incredible economic benefits to the region, and Port KC is a crucial part of that success through its operation, advocacy and partnerships in the region," said Stephens. "Port KC's goal is to create the most innovative port in the United States to fulfill its mission to grow the economy of Kansas City's port district through transportation, global commerce and development."