The Maritime Throwdown, a three-part competition that pairs line-handling and -throwing challenges with prizes to promote safety and excellence among mariners, held its second annual event October 13 in Gonzales, La. Fourteen mariners battled for a share of close to $4,000 in prize money.
Anthony Pettry, first mate aboard Amherst Madison's mv. Charleston, traveled all the way from his home in Powellton, W.Va., to compete in the Maritime Throwdown. And he didn't just compete—he excelled.
Pettry won the Anchored In Muscle Challenge, a line-throwing competition where mariners attempt to catch a line on a timberhead from the greatest distance. Pettry's 28-foot throw won him the $1,000 winner-take-all prize. Pettry went on to finish second—and just 30 seconds off the lead—in the Maritime Throwdown course, which garnered another $400 in prize money, along with half off any course at the Gulf Coast Maritime Academy.
Pettry was one of only two competitors to either win or place in more than one event. And his winning throw in the Anchored In Muscle Challenge was a sight to be seen.
Not bad for an afternoon competition doing what Pettry, a 10-year veteran with Amherst Madison, is already passionate about.
But what truly sets Pettry apart is what he did next: Pettry took all of his prize money and, rather than spend it on himself, used it to bless others in his community.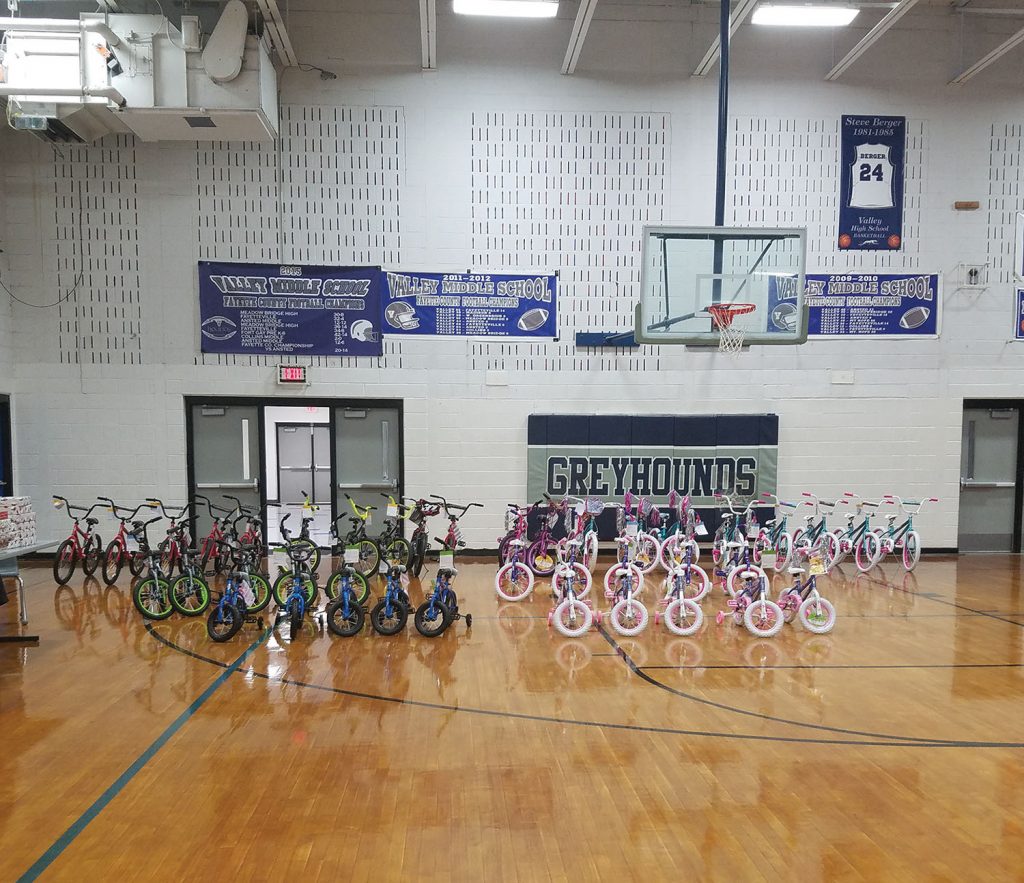 He first spearheaded a construction project for a stranger in need.
"I spent the first $600 of the money I won fixing an elderly woman's roof and porch roof," Pettry said. "My sister-in-law does home healthcare and told me about her client's roof leaking."
Pettry led the work to first tear out the old railing and roof over the woman's porch, then replace it with new tin and wood.
Pettry then took the rest of his prize money and used it to grow an annual Christmas bicycle giveaway he and his wife, Stephanie Pettry, have been doing for the past decade.
"For the first eight years, I just found people in the community and did it discreetly," Pettry said. "Then last year, my wife and I bought 16 bikes to give through the local Eagles Club and four others to local kids."
This year, Pettry used his Maritime Throwdown winnings to buy 20 bikes, which were given through the local Eagles Club's kids' Christmas party. David Mace, a friend of Pettry's and a deckhand aboard Amherst Madison's mv. West Virginia, added another 10 bikes as well. Pettry said his goal is to give even more next year.
"My goal next year is to buy 100 bikes," Pettry said, "so I plan on sweeping the Throwdown."
Pettry offered a special thanks to Amherst Madison for not only supporting his participation in the Maritime Throwdown but also for paying his travel expenses to Louisiana and back.
When asked what led him to use his prize money to help strangers, Pettry said it's all about spreading joy during the Christmas season.
"I get more joy out of seeing others' happiness than anything I can buy for myself," he said.