The first class of brown-water deckhand training began on December 4 at Delgado Community College's Marine & Industrial Training Center with nine students from Enterprise Marine.
"While it has become apparent that (brown-water deckhand) training is needed, as of now there are no industry or regulatory standards providing direction to meet this need," said Mike Freeman, a Delgado instructor who helped develop the class.
Delgado designed the training with half-day modular segments, in which companies can choose how many days and what training they prefer for their new hires.
"Our approach to modular training allows companies the ability to cater their training program to suit their needs without having to create a program from scratch" for each company, Freeman said.
Most modules are 3-1/2 hours, or half-day training, but some modules must be combined and cannot be taught individually. During inclement  weather, classes can be easily switched between outdoor and classroom training, Freeman said.
The modules can also be altered. One of Delgado's partner companies selected a segment in which students are taught galley food preparation and safety, so they arrive at the facility early to cook breakfast at Delgado's on-site facility, break for a self-cooked lunch and finish the day cooking their supper.
In addition to safe food handling, that segment introduces students to basic meal planning, pantry inventory and provision ordering. Food handling is not a stand-alone modular unit but incorporated with others.
Modules offered include orientation and terminology, safety basics, four separate line-handling classes, man overboard and skiff operation, water survival, H2S training, benzene training, firefighting, CPR and maritime security.
Adding to the curriculum or creating new modules to supplement the already-developed modular training classes is an option, Freeman added.   
"We believe this is what will ultimately make the modular training concept successful, the ability to add or eliminate subject material without affecting the course as a whole," said Stephen Faust, an instructor who was hired from an inland towing company to help coordinate the deckhand training instruction.
A new 40- by 100-foot towboat pad was created for line handling and tow building. Industry inland partners donated concrete, equipment and supplies for the pad, which is painted to simulate a multiple barge tow, complete with actual cleats, timberheads and winches.
An industry-donated wheelhouse was added and the instructor, acting as wheelman, can direct students via VHF radios, simulating real-life tow building.
"Delgado is very appreciative of our strong Maritime Steering Advisory Board that made this happen," said Rick Schwab, Delgado's senior director. "This could not have happened without their support."
"We'll try to incorporate company manuals and set up a computer in the classes to use their JSAs [job safety analyses] before the field work," Freeman added. 
"Our initial classes will be with industry partners, but we look forward to offering open-enrollment classes to individuals who would like to work on the water in the future," said Schwab.
Schwab currently promotes Delgado's maritime training to high school students. Future open enrollment classes will be coordinated with industry recruiters, he predicted.
Delgado just recently secured a maritime grant that will allow the offering of discounted tuition for deckhand and brown-water training to companies and students.
New Fire Field Props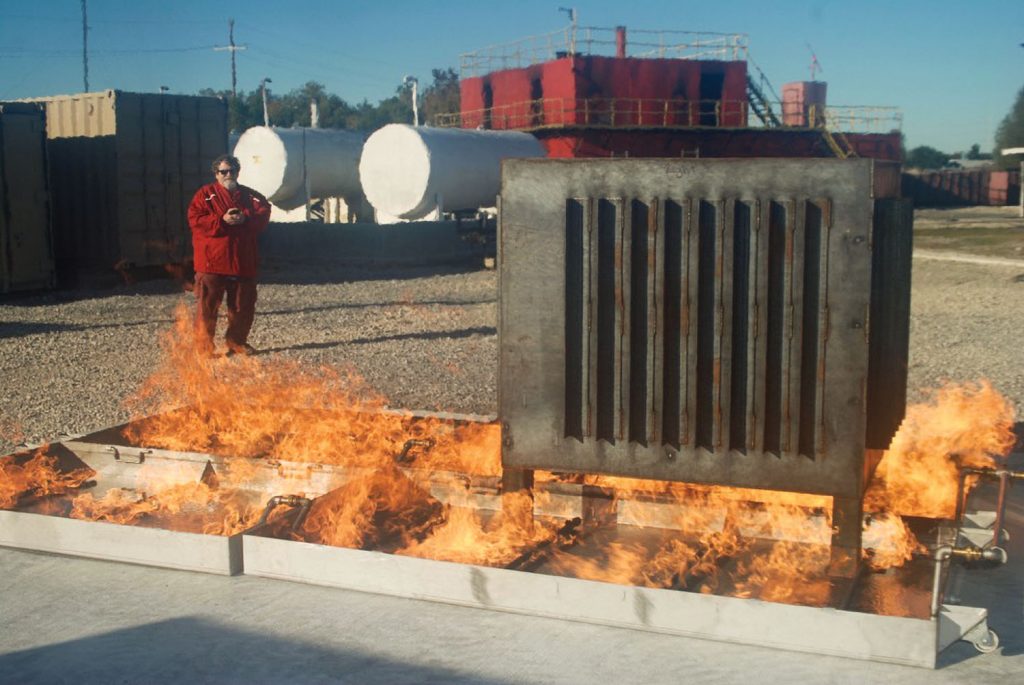 The school also recently completed installation of four new fire training "props" that have been added to the fire field. Financed by a federal grant, the new props were demonstrated by Fire School Coordinator Ricky Heyd. They can be ignited and extinguished by a remotely-controlled, hand-held wireless device that resembles a television remote.
The props simulate fires in valve flanges, open fire pit, LNG tank and a pipe rack where students have to actually turn valves to shut off fuel to a burning fire.
When the open pit fire is being used, it is filled with water. The fuel spreads from the underwater ports making a larger fire, said Heyd, who retired as a professional firefighter and fire investigator before working full time at Delgado.
"We're looking at using liquid propane fuel in the future," Heyd said. "It makes for bigger fires, and I like big fires," he said with a twinkle in his eye.
River City Campus
Schwab was recently tapped as executive director of Delgado's new River City Campus, offering training in conjunction with the Marine & Industrial Training Center.  Located on the West Bank of New Orleans near the Huey P. Long Bridge, the River City Campus will focus on shipyard training skills.
The River City campus will offer non-credit professional certification for welding, including tacking, fitter and aluminum welding. The full shop in the 40,000-square-foot building will have 51 welding booths, a machine shop and a diesel mechanical component.
In addition, engine mechanics, machinist, forklift operation, rigging and crane safety, stevedoring and marine electrical classes will be offered.
The River City campus was funded by a $10 million grant as part of the U.S. Navy contribution to build an advanced manufacturing workforce.
Development of the expanded facilities and training was coordinated with Delgado's 20 industry partners, Schwab said.
Schwab will be presenting Delgado's application for selection as a National Center of Excellence in January. The state of Louisiana has designated Delgado as its lead marine training facility.
Jobs on the water offer what is really a  "different life" from land jobs, Schwab said. Students can earn while they learn without the crushing college tuition debt of other professions. Tuition-assistance grants are being offered now through Delgado, he added.
"Greenhorns will always be greenhorns," Freeman concluded, "but we can shorten the learning curve, making training better and safer.  New hires have so much to learn and everything is new to them. But if they already have been introduced to JSAs and equipment functions, a mentor can be teaching something else when the new hire arrives on board."
"Delgado is designing programs for competency-based training to make sure we keep our regional workforce gainfully employed and Louisiana maritime and industrial industries able to compete worldwide," Schwab said.
Caption for top photo: Instructor Stephen Faust teaches line-handling.