Heading west from New Orleans, US 90—or Highway 90, as it's better known in Louisiana—winds through the heart of Acadiana, passing thousands of acres of sugar cane fields, small towns and sleepy bayous lined with fishing boats.
But the Southern Route 66 also guides passersby near five ports and their connected waterways, which not only have a rich culture and history of their own but also play a significant role in the oil and gas industry, both nationally and internationally.
These are Louisiana's Coastal Energy Ports: the Port of Terrebonne (Houma), the Port of Morgan City, the Port of West St. Mary (Franklin), the Port of Iberia, and the Port of Vermilion (located in Abbeville, just west of where US 90 turns north toward Lafayette).
Scattered along about 100 miles of Coastal Louisiana, these ports connect with the Gulf Intracoastal Waterway and have direct access to the Gulf of Mexico. Because of those strategic connections, the ports of Terrebonne, Morgan City, West St. Mary, Iberia and Vermilion are all perfectly positioned as oil and gas service ports.
(Sidebar: Louisiana Coastal Energy Ports At A Glance)
Louisiana's Energy Legacy
Oil and gas exploration has a long history in South Louisiana, with the first platforms built on repurposed barges in the marsh in the 1920s and 1930s. As the years passed, oil exploration pushed farther and farther offshore, and the industry to serve those deepwater platforms grew up organically in South Louisiana. Over the years, the Louisiana Legislature established each of the five Coastal Energy Ports to promote commerce and serve the oil and gas industry. For the most part, each of the ports specializes in oilfield-related fabrication, while also serving as launch points for oilfield personnel and goods.
"All of our ports for 35 or 40 years fabricated jackets for platforms," said Craig Romero, executive director of the Port of Iberia. "There were 7,000 platforms built for the Gulf of Mexico over that 40-year period."
That wave of exploration cemented Louisiana's role in the United States' oil supply. According to a 2018 study by Dr. Loren Scott for the Grow Louisiana Coalition titled "The Energy Sector: Still a Giant Economic Engine for the Louisiana Economy—An Update," Louisiana accounts for 16.1 percent of the nation's crude oil and lease condensate production, 8.6 percent of the nation's gross withdrawals and production of natural gas, and 18 percent of the nation's petroleum refining capacity. That same study found that more than 92,000 miles of oil and gas pipelines cross the state.
For Louisiana, the overall impact is huge. According to Scott's study, the oil and gas industry supports more than 260,000 jobs in Louisiana. But nationwide, that oil and gas production—supported by the Louisiana oil and gas service ports—has ushered in decades of mobility and prosperity for the country.
"You and I can have the fuel we need so we can do what we do on a day-to-day basis," said Gary LaGrange, the longtime Louisiana port leader who previously led the ports of West St. Mary, South Louisiana and New Orleans, and, most recently, served as executive director of the Ports Association of Louisiana.
Reputation For Excellence
LaGrange said the intricacy and skill associated with modern-day oil platform fabrication can't be understated.
"These platforms are built in parts and assembled on site," LaGrange said. "It's absolutely mind boggling how accurate these structures are."
Critical to fabricating those platforms is a highly skilled workforce, and South Louisiana, a region whose people are known for their can-do attitude and excellence, has just that. Jay Campbell, executive director of the Abbeville Port Harbor & Terminal District, which oversees the Port of Vermilion, attributed that strong workforce to the community's heritage of hard work and the state's early development of a trade school system.
"In all honesty, the work ethic of guys here is a huge factor," Campbell said. "We're famous down here for our quality of work."
Two other environmental factors also make Louisiana perfectly suited to servicing the oilfield industry: the state's unmatched waterways and the ability for shipyards to work year round.
As an example, Romero pointed to a project to build a rig bound for Alaska. Out of 153 proposals from ports around the nation, the Port of Iberia was in the final two ports under consideration. The other finalist? The Port of Seattle.
At first glance, the Port of Seattle would appear to be a shoe-in based on location. Not so fast, said Romero.
"Our labor costs were astronomically lower than the West Coast," Romero said. "And being able to work practically year round—a hard freeze down here is 29 degrees."
Romero added that all five of the Louisiana Coastal Energy Ports work cooperatively, with large projects sometimes even split among them. One example of that cooperation was the Shell Appomattox, Shell's largest floating platform in the Gulf of Mexico. The hull for the Appomattox was built in Korea, with the superstructure built in South Louisiana. The platform departed its final assembly site in Texas in May 2018 and is expected to begin production in the Gulf sometime this year.
"All five ports work very closely together," he said. "We feed off each other."
Diversifying For Future Success
With the advent of fracking and volatility in offshore oil and gas exploration, especially after the Deepwater Horizon spill in 2010, Louisiana's five coastal energy ports have had to diversify and innovate to stay busy.
Romero said for about 15 years the energy ports were also busied with activity connected to plugging and abandoning production locations in the Gulf no longer in use.
"About 5,000 platforms have been plugged and removed over the past 15 years," he said.
In addition to that, the ports are benefiting from the longterm relationships they have with oil companies.
"We've been lucky," he said. "A lot of the companies who did deepwater platforms are now looking at midstream projects."
One such company is Dynamic Industries, a Port of Iberia tenant, which is building modules for a polyethylene plant in the Northeast. The first of 92 modules departed Iberia in December 2018.
"It was fabricated in South Louisiana and will be transported by barge up the Mississippi and Ohio rivers to Pennsylvania," Romero said.
Shipments of the modules are expected to continue through 2019.
Repurposing to meet current market demands may be a challenge, but it's a challenge Louisiana's energy ports are eager to meet.
"We never dreamed we'd be doing this," Romero said.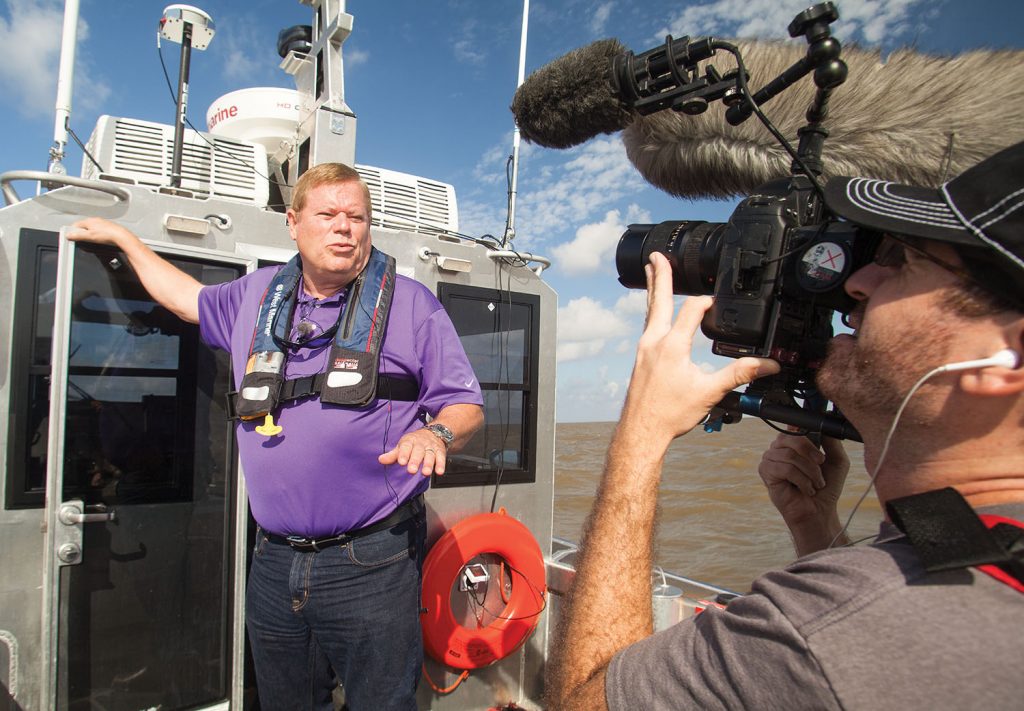 Shared Challenge
Besides market shifts, another common challenge faced by Louisiana's energy ports is securing funding for dredging. This is especially true for the Port of Morgan City, where fluid mud or "fluff" in the bar channel has drastically limited ship traffic between the port and the Gulf.
After years of advocating and an innovative demonstration project in 2016, the Port of Morgan City has amassed around $45 million in dredge funding to be used over the next few years to fully dredge the entirety of its channel.
"This is going to get us back to our original dimensions of the channel, which we have not had in a long time," said Mac Wade, executive director of the Port of Morgan City. "This is going to give us a 400- by 22-foot channel."
For Morgan City, that will mean greater diversity, since draft restrictions have stymied the port's import-export business and, to an extent, its shipbuilding abilities.
The Port of Terrebonne also has some dredge funding on the way to fully dredge the Houma Navigation Canal, thanks in part to supplemental funding connected to Hurricane Harvey.
David Rabalais, executive director of the Terrebonne Port Commission, said Louisiana's energy ports are traditionally at a disadvantage with regard to dredging, due to how the U.S. Army Corps of Engineers allocates funding.
"The way the federal government looks at ports, it's all about cargo," Rabalais said. "So we're at a disadvantage. We don't track cargo, but we move a lot of stuff. It's high value. They dole out dredging dollars based on cargo tonnage."
Tommy Clark, Louisiana's first appointed Commissioner of Multimodal Commerce, admitted it's hard for lower-tonnage ports to secure dredge dollars.
"There are a lot of hurdles you have to go through to get that funding," Clark said.
Clark praised both Wade and Rabalais for making their voices heard both at the state level and in Washington, D.C. He said his office, while committed to helping ports achieve adequate funding for channel maintenance, is also working with them to identify new ways of garnering dredging dollars.
"We're trying to entice people to think more outside the box," Clark said regarding funding for channel maintenance.
Public-private partnerships, Clark said, are a possible solution for supplementing scarce Corps funds.
And while market trends and government mechanisms can't always be predicted, one thing is sure.
"Our workforce and waterways are our strength," Campbell said.
Caption for top photo: Aerial view of the Port of Terrebonne. (Courtesy of Terrebonne Port Commission)