Instead of celebrating its 60th anniversary with a public ceremony, America's Central Port—located in Granite City, Ill., just across the Mississippi River from St. Louis, Mo.—celebrated with a brand-new website, and by continuing to pursue new investments to increase its value to the region and the country.
Centrally located with access to four U.S. interstates, six Class 1 railroads, 30 miles of rail, two multimodal harbors, warehousing, and 100 acres of development-ready land, the port serves manufacturers across the food, fiber and energy supply chains and is a key component of what has been dubbed "America's Ag Coast."
Today the port moves freight with a value of $1.1 billion annually. Its tenants provide 900 full-time jobs and an annual economic impact of $282 million on the local economy.
The new website is the work of marketing director Alex Burkart, who grew up in nearby Edwardsville, Ill., and has spent his life in the St. Louis region. Burkart, a marketing veteran, had been on the job at the port for about two months and put the new website together in about six days, he said.
Sign up for Waterway Journal's weekly newsletter.
Our weekly newsletter delivers the latest inland marine news straight to your inbox including breaking news, our exclusive columns and much more.
Besides updating some information about port properties, Burkart made sure to include more historical information about the port and its origins. That included a section on the port's intimate connection with the Chain of Rocks Canal.
Chain Of Rocks Canal
The Chain of Rocks was and is just what its name suggests, a 17-mile long chain of potentially deadly rocks along the bed of the Mississippi River north of St. Louis. It is the only such natural obstruction on the river between the Twin Cities and New Orleans. St. Louis business interests had long urged the Corps to address it. In 1947, the Corps began construction of what would become known as the Chain of Rocks Canal and Locks and Dam Number 27, the most southerly lock and dam on the Mississippi River. It was one of the Corps' largest and most complex projects.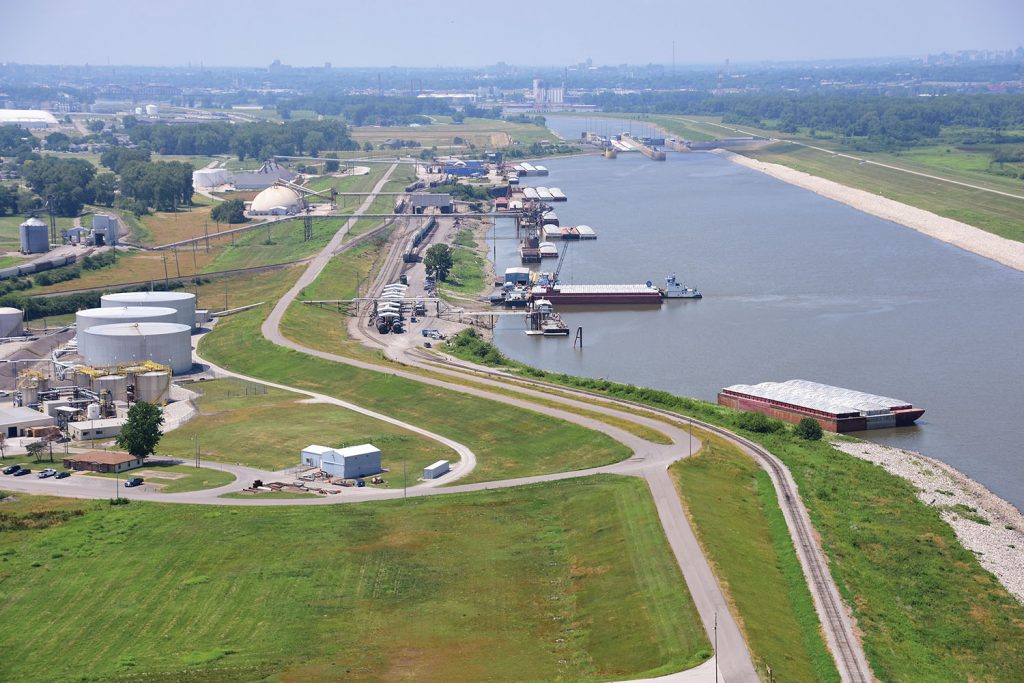 As the website notes, it was during that construction that the Corps dug out a one-mile notch in the canal, just above the locks, to be used for future barge fleeting and transloading needs.
Local interests lost no time in taking advantage of that opportunity. Legislation championed by Illinois State Rep. Lloyd "Curly" Harris and local attorney Randall E. Robertson was introduced and passed on April 1, 1959, to create the Tri-City Regional Port District. a special-purpose unit of government that operates within its own means without collecting tax revenue.
Speaking of the port's origins, Burkart told The Waterways Journal, "It was a time when we all came together, public and private sectors alike, to build up America, and I wanted to recall those times and remind visitors to our site of them."
Port Champion
The port district's current executive director, Dennis Wilmsmeyer, has led the district since 2010. Before taking the port's helm, the Granite City native was its general manager from 1999 to 2010. Always bullish on the port and the region, Wilmsmeyer led the renaming of the district as America's Central Port in 2011.
In 2012, just two years into the job, Wilmsmeyer was named Citizen of the Year by past award recipients. Wilmsmeyer said he was "humbled [and] shocked" by his selection.
When a new regional freight agency and interagency partnership, St. Louis Regional Freightway, was launched in 2015, Wilmsmeyer was chosen to head its marketing committee. At the time, he said, "It's time that we stand up and recognize the tremendous assets we have [in the St. Louis region] and tell the world about them" (WJ, May 9, 2016).
New Investments
Continuing advancements in river, rail, and road infrastructure are among America's Central Port's top priorities to attract new tenants.
Some key updates in the last few years include the 2016 opening of the $50 million intermodal Madison Harbor, infrastructure improvements to increase the lifetime of various port facilities, and multiple rail expansion projects, including a 1,500-foot rail spur installed in November 2018 to serve a 60-acre development-ready site for prospective tenants.
Looking ahead, other ongoing projects include:
• Renovations to a 6,500 square-foot former steam plant, a 42,000 square-foot former U.S. Army locomotive maintenance bay, and the addition of a rail spur and dump pit for a harbor bulk storage building.  Total project cost is estimated at $3,270,000, with an expected start date of this summer.
• A grant from the Illinois Department of Transportation (IDOT) will enable Granite City harbor dock surface improvements that will make last-mile trans-loading more efficient at this particular harbor. Total project cost is $1,367,130, with an expected start date of this summer.
• Another IDOT grant will build a new highway entrance to the port at a cost of $2,000,340. The estimated start date on this is summer of 2020.
"America's Central Port plays an essential role in bringing jobs and direct investment to the region," said Mary Lamie, executive director of The St. Louis Regional Freightway. "As part of the third largest inland port in the country, with access to four interstates, over 20 miles of rail, six Class I railroads, and the northernmost lock and ice-free river port, they are one of the most strategically located assets in the region for the entire freight industry."
James Alexander, senior vice president of Economic Development St. Louis Regional Chamber, said, "America's Central Port has been a great partner to the St. Louis Regional Chamber, and they continue to do a phenomenal job in helping establish relationships to bring outside investment to the region."
"America's Central Port is a momentous driver in attracting foreign investment to the region," said Tim Nowak, executive director of the World Trade Center in St. Louis. "Its central location, abundance of Class-I rail served space, river access, and multimodal capabilities makes the port one of the region's greatest assets to reach international markets."
Caption for top photo: The port's new Madison Harbor opened in 2016, south of Locks 27.