The board of commissioners of the Port of New Orleans (Port NOLA) voted March 28 for the port to execute the purchase of a pair of new 100-foot gauge container gantry cranes, which will be used at the port's Napoleon Avenue Container Terminal.
The board approved a $23.4 million contract with Shanghai, China-based Shanghai Zenhua Heavy Industries Company Ltd. for construction and delivery of the cranes. In announcing the contract, Port NOLA noted there are no domestic manufacturers of container gantry cranes.
"These new cranes are vital to our success and growth here at Port NOLA," President and CEO Brandy Christian said. "They will increase our efficiency so we can accommodate larger and wider ships more quickly and meet the growing needs of our carriers and shippers."
The port—and the entire Gulf region—is seeing an increase of larger regional container ships, which range in capacity from 8,000 to 9,500 twenty-foot-equivalent units (TEUs). The 100-foot gauge gantry cranes, with their ability to service wider ships, are ideal for those "workhorse" container ships, according to the port.
Sign up for Waterway Journal's weekly newsletter.
Our weekly newsletter delivers the latest inland marine news straight to your inbox including breaking news, our exclusive columns and much more.
Port NOLA already has two 100-foot gauge cranes in operation at the Napoleon Avenue Container Terminal, along with 50-foot gauge gantry cranes already in place.
The port expects construction, transport and installation of the new cranes to take about 18 to 20 months, meaning the last half of 2020.
It's a timely investment for the Port of New Orleans. The port's container business has doubled in the past decade and grew 12.3 percent from 2017 to 2018. Last year, the port handled 591,253 TEUs, setting an all-time record.
Much of that growth is driven by the boom of petrochemical manufacturing on the Lower Mississippi River between New Orleans and Baton Rouge. Port NOLA has particularly benefited from the export of plastic resins.
In addition, the expansion of the Panama Canal and a boost in port calls from shippers that use the Suez Canal mean Port NOLA connects directly with 58 global ports of call and with more than 450 by means of the transshipment of containerized and breakbulk cargo.
Port, Railroad Receive EPA Grant
Besides the forthcoming gantry cranes, Port of NOLA and project partner New Orleans Public Belt Railroad (NOPB) have been awarded a National Clean Diesel Funding grant from the U.S. Environmental Protection Agency. Proceeds from the grant will cover about 40 percent of the cost for retrofitting one of NOPB's conventional diesel locomotives with a cleaner engine that will produce lower emissions than current regulations require.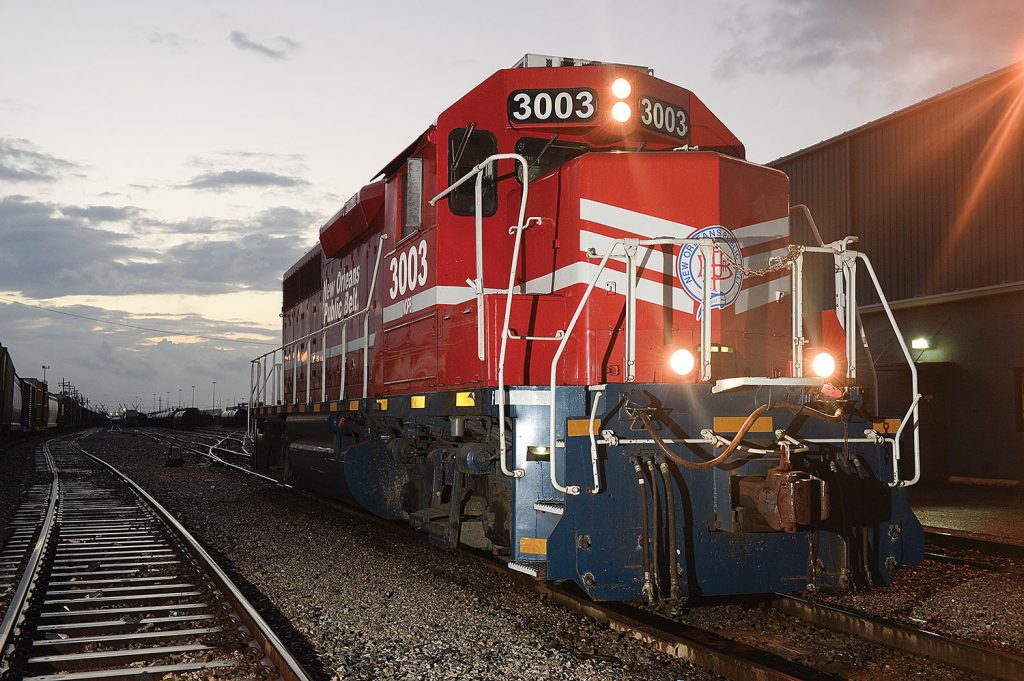 Once in service, the "eco-locomotive" will be the first of its kind in the greater New Orleans area. The locomotive will meet Tier 4 standards and carry the added benefit of improved fuel economy. The engine will sport a new paint scheme with green accents.
Port NOLA and NOPB expect the retrofitted locomotive to return to service sometime this spring.
"EPA's clean diesel grants fund cleaner, more efficient transportation to help protect the environment and keep our economy growing," EPA Regional Administrator Anne Idsal said. "Port NOLA and NOPB's efforts to upgrade its locomotive fleet will contribute to improved air quality and benefit the New Orleans community."
Christian, who also serves as CEO of NOPB, said the alignment of the port and NOPB, a Class III switching railroad, will continue to have benefits for customers and the surrounding community.
"With Port NOLA and NOPB now fully aligned, we are able to make strategic investments that provide air quality benefits for the community while providing superior service to our users and Class I partners," Christian said. "Port NOLA's commitment to sustainability drove the decision to apply for this EPA grant, and we look forward to seeing the eco-locomotive on our system."
In addition to the new EPA grant, Port NOLA sponsors the Clean Truck Replacement Incentive Program, which promotes the retirement of older trucks in exchange for newer, more fuel efficient and clean-burning models, while NOPB has launched a locomotive idle reduction plan.