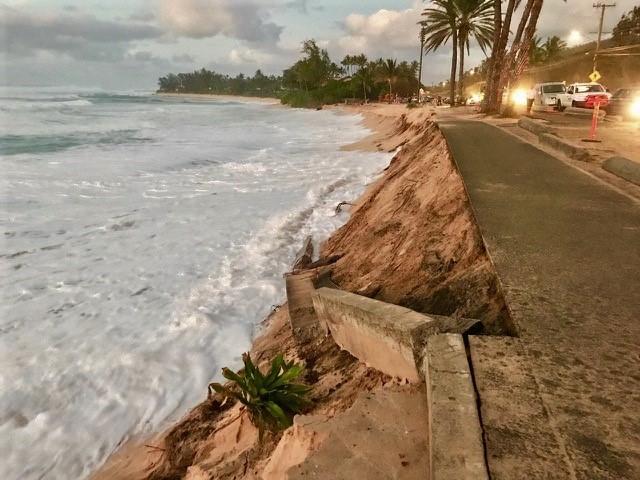 Kahana Beach Nourishment Project Presented to Public as Ocean Engineers Seek Solutions to Sea Level Rise Damage in Hawaii
A proposal for a regional response to erosion partially caused by sea level rise (SLR) in Hawaii was introduced to the public on March 8 in the form of an Environmental Impact Statement Preparation Notice (EISPN) "Kahana Bay Erosion Mitigation Project Lahaina District, Island of Maui" with a 30-day public response period.
Property owners at Kahana Beach on the island of Maui have been struggling to protect their oceanside buildings from damage by rising tides and storm events for years, but the seawalls and geotextile sandbags they employed are deteriorating and may exacerbate the erosion along unprotected areas. At present the area has lost more than half its usable beach.
A committee representing nine condominium complexes along the shoreline retained local coastal engineering company Oceanit to design a project to restore, rehabilitate and preserve the sandy beach. Oceanit's team leader Michael Foley, Ph.D., P.E. is managing the ensuing study, which is evaluating the placement of up to 100,000 cubic yards of dredged sand on the shore to recreate a contiguous 3,500-foot-long beach with sufficient width and elevation to protect the buildings and provide a recreational resource.
As part of the design, Oceanit is considering groins, breakwaters or other structures that would be placed to retain the nourished sand and stabilize the beach. The installations could be configured to mimic the structure and function of natural reef formations, a topic that Foley wrote his Ph.D. dissertation on in 2015. The rocks or concrete used to build coastal structures may serve as substrate and habitat for reef fish, coral and other marine life. The beach profile would absorb and dissipate wave energy, while enlarging the amount of dry beach park available for use by the public.
Get the latest infrastructure and dredging news in your inbox.
Powered by the Waterways Journal and International Dredging Review, our monthly Infrastructure Report newsletter covers dredging, construction and civil engineering.
The Hawaii Department of Health regards sand as a pollutant, which cannot be placed in the water or on the beach unless measures are taken to manage risks to water quality, adding that element to the engineering design of any beach nourishment plan.
The Kahana project is in early stages of planning and development, and while beach nourishment is the preferred option, "We are still evaluating other options such as dune restoration and managed retreat," Foley said.
Foley is the contact for submission of public comments on this EIS. In addition to his leadership role in Oceanit's coastal engineering department, he serves on the Board of Directors for the Hawaii Shore and Beach Protection Association (HSBPA) and is a member of the board of the American Shore and Beach Protection Association (ASPBA).
"We are working to develop solutions that increase resiliency against expected climate impacts," Foley said.
The increased wave action and tide levels caused by climate change is expected to cause significant damage to structures and armoring that protect the state's infrastructure, most of which has been built along the coasts at sea level.
"The airport is at sea level; wastewater treatment, electrical systems, our parking garage is at sea level," Foley said. "King tides cause inundation of the stormwater system. Sea level rise will affect much of our infrastructure, and so much investment is involved that we need environmentally responsible projects to protect the structures now to buy time for more long-term solutions," he said.
Dredging in Hawaii is on a much smaller scale than on the mainland, Foley said. Sand volumes are about 10 percent of those in typical U.S. East Coast beach nourishment projects. Environmental protections in Hawaii are strict, with concern about coral reefs, cultural and archeological resources, fishing grounds and fish habitats as well as the protection of surfing and other recreational resources.
"There is a backlog of dredging in the state, especially for beach nourishment," Foley said.
"The coastlines are sediment deficient. For decades, this has been ignored and emergency situations exist all over the state," he said. "There is a range of projects in design stages, including at Waikiki on Oahu, where we are looking at shoreline stabilization methods that can be applied, especially where buildings are close to the sea."
OCEANIT'S ROLE
Oceanit has joined in the statewide effort to save its islands from sea level rise and climate change.
Dr. Patrick Sullivan founded the company in 1985 as an ocean engineering consulting firm focused on environmental and civil engineering.
Sullivan said of his starting the company, that he "just wanted to solve difficult problems (for Hawaii)." Over the years, Oceanit has grown to be involved in many fields from artificial intelligence and machine learning to nanotechnology and aerospace.
With headquarters in Honolulu, the company employs more than 160 scientists and engineers in Hawaii, California, Texas and Washington, D.C.
"However, with Hawaii as our home, coastal engineering has always remained a core focus for Oceanit, one which Mike Foley is carrying forward," Sullivan said.
Oceanit is one of the private companies working in cooperation with the State of Hawaii to address the long-term threat of SLR.
The Hawaii Sea Level Rise Vulnerability and Adaptation Report outlines the projected and measurable consequences of sea level rise in Hawaii and posits that seas will rise by more than one meter by the end of this century. Official projections have stated that this may even be a low estimate. Waterfront housing or fortifications, harbor facilities, seawalls and beaches are degrading under today's ocean conditions. More on this report can be found at: https://dlnr.hawaii.gov/blog/2017/12/28/nr17-200/.
The report furthers Hawaii's commitment to the Paris Climate Accord of 2015, a United Nations agreement to deal with greenhouse gas emissions mitigation, adaptation and finance.
When U.S. President Donald Trump threatened to withdraw the country from the accord in 2017, the governor of Hawaii a week later signed a bill that adopted the accord's goals, and agreed that Hawaii would keep pace with environmental commitments made by all the signatories.
The technical report assesses the coastal hazards of sea level rise, provides recommendations for improving resilience to coastal hazards, and provides a framework for improving resilience.
It includes maps of the islands, specifically the five inhabited islands, that illustrate the areas and infrastructure that will be inundated by this rise. Because most of the state's infrastructure is located at sea level along the coastlines, the rise presents a deadly threat. Chronic coastal erosion has already caused many seafront properties to be unstable, endangering multiple billions of dollars' worth of property.
There are four counties in Hawaii governing the eight populated islands. In all there are 132 islands in the archipelago.
Honolulu county encompasses the island of Oahu and has the largest population at 990,000. Maui County has a population of 170,000 on three islands. Hawaii County on the "Big Island" has the largest land mass and is the youngest island, but has only 13 percent of the state's population at 200,000. Kauai, with a population of 72,000 is the oldest island. It has many developed beaches and therefore a great need for dredging for beach reclamation. Kalawao County is the smallest county in the United States, with an area of 35 square miles and a population of 88. It occupies the Kalaupapa Peninsula of Molokai, which is part of Maui County.
THE MISSION OF RiSE
Foley's team is dubbed RiSE – Resilient and Sustainable Engineering — and its mission is to help Hawaii develop sustainable solutions to challenging problems, such as a potential one-meter rise in sea level.
An Oceanit paper describing RiSE states that the critical issues of sea level rise and climate change – and the various symptoms of these shifts – are affecting both the worldwide population and the residents of Hawaii.
There are four key challenges to be expected from sea level rise, and the RiSE team works directly to combat these issues:
Inundation is the base of SLR. A higher ocean level will lead to more powerful waves, larger storm surges, and increased damages due to wave height that we are so far unprepared to handle.
Erosion will have negative impacts beyond the obvious pushing back of physical shorelines and reduction of usable land. Fine sediments affect water quality, which impacts reefs and continues to contribute to the global warming/SLR/erosion cycle.
Salt intrusion can cause issues in certain locations and micro ecosystems that are normally not high in salt, such as wetlands, coastal groundwater, and lowland plant life, which includes Hawaiian-specific agriculture, such as rice and taro.
Rising groundwater tables are both caused by and lead to severe drainage issues, causing larger and more frequent flooding and decreased drainage where needed. This makes high-rainfall areas near the coast particularly susceptible to post-storm damage above and beyond what has been seen previously.
Dr. Dayan Vithanage, director of engineering at Oceanit, said "As engineers, we are here to find the most appropriate solution to the problem. So we must constantly innovate."
The team focuses on protective measures that can survive and function under chronic stress and recover quickly from extreme events. It works according to four main concepts for mitigating rising sea levels and climate change, all used in combination dependent on specific scenarios.
Armoring
Armoring is one of the more straightforward models of protecting the Hawaiian Islands from rising waters, but is not always the right solution for Aina (land). This can include different options: coastal armoring seawalls, bulkheads (vertical walls that retain soil but provide little protection from waves) and revetments (sloping structures on banks and cliffs).
"Fundamentally, there is an issue with the concept of building walls to stop flooding," said Rachel Gittman, an environmental scientist and ecologist at East Carolina University. "We should not be thinking that we can stop every flood."
Foley agrees that armoring is not a permanent solution at the current rate of sea level rise progression.
"We can dedicate…planning and research to (armoring) in order to have more time to perfect moving out or retreating," he said. "Coastal armoring structures are not always appropriate for Hawaii specifically, as they alter the natural beauty of our islands and could fundamentally alter the way we enjoy certain coasts, beaches, and waterfronts."
Adapting
Adapting and reclaiming land involves steps such as refilling eroded/lowered areas with additional sand or other material to regain the land mass, and/or rebuild upon diminishing ground, backfilling in areas where a seawall has been undermined.
Adaptation methods are a more viable option when paired with worldwide actions to lower environmental damage. But without a strong and consistent commitment to these actions, land reclamation is a temporary fix. Reclamation could act as a stay to create additional time to plan and implement more permanent solutions.
Moving to Sea
Moving out to sea, commonly seen in southeast Asia, works with the ocean instead of against or in spite of sea levels.
Moving out to sea would require flexible anchoring systems to accommodate for continuing sea level increase. Oceanit's Dr. Dayan Vithanage is a proponent of this method, as he holds a belief that is popular in Hawaii: "we think we own the land and can manipulate it, but the land owns us and allows us to be here."
While Vithanage argues that moving out to sea is the most reasonable action in his opinion, he also holds a positive outlook on the time and resources still available to us.
"Time is still on our side to plan… small houses and structures can be raised," he said, along with the creation of protected lagoons and levees that protect the shoreline while still maintaining some of Hawaii's beach-based tourism.
Retreating
The option of retreating inland immediately is not a viable option in Hawaii. Rebuilding a complete infrastructure with an anticipated future shoreline in mind would never gain widespread acceptance from landowners and policy makers. However, the long-term nature of this option makes it a much more feasible course of action over time.
Oceanit engineer Grant Tokumi said, "This is not a 20-year happening that we need to get all done right away… this is a 200-year happening."
Implementing a retreat means making conscious decisions from now on with an inward moving shoreline in mind: as buildings and roads naturally require repairs and replacements through age or damage. Hawaii needs to begin the process of moving them further inland and making plans to condense infrastructure more centrally on the island.
Oceanit maintains an open dialogue internally and in the community about the challenges presented by sea level rise. The company's scientists and engineers cross-pollinate their ideas to deliver innovations and solutions that will make a difference in Hawaii.
Foley summarized his comments by saying "sea level rise presents a daunting problem on a global scale. The challenge of this generation is to develop sustainable solutions for our aging infrastructure that is in the path of imminent inundation. Successful engineering in the era of climate change will require innovative technology and engagement with local communities."