Survitec Introduces Foam Buddy Firefighting Backpack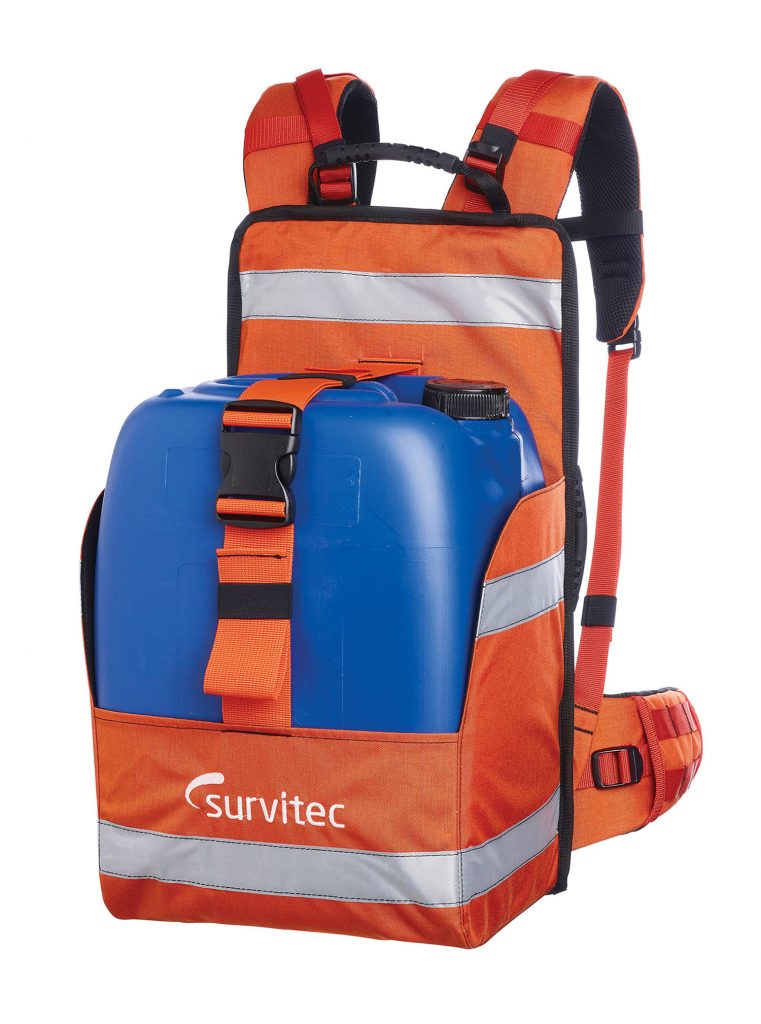 Maritime, offshore and defense safety company Survitec announced that it has launched a unique backpack in which to carry firefighting foam, allowing first responders to fight fires more efficiently without having to lug cumbersome drums to different locations.
The Foam Buddy backpack is worn over a firefighting suit and designed to carry a 20- to 25-liter can of marine firefighting foam concentrate.
Normally, first responders carry the foam canister in their free hand as they advance to fight the fire, but with the Foam Buddy, firefighting teams need only to carry the self-inducting foam applicator (hose) that connects to the cannister on the firefighter's back. This allows the firefighter to be more agile and safer when attending fires.
Grzegorz Przeradzki, Survitec product manager, said: "In every standard application in the past, firefighters have had to move the foam concentrate cannister each time they move to a different location. With the Foam Buddy, the firefighters' hands are free to concentrate on the nozzle and fight the fire, giving the user extra mobility as well as making them more efficient in critical situations."
The backpack is especially suitable for fighting fires on helicopter decks and open decks on vessels, such as fleet auxiliary vessels, chemical carriers and oil tankers.
The Foam Buddy is comfortable and easy to wear and uses the FAS plus ergonomic suspension system. It is fully adjustable to ensure a tailored fit for every user and has ergonomic shoulder straps, a sternum strap and removable hip strap. It has reinforced stitching throughout and there is a quick-release system for immediate removal if required.
Designed to accommodate the standard-size canister used by manufacturers of marine foam concentrate, Foam Buddy can easily be adjusted to accommodate canisters of other dimensions.
Deck fires can spread quickly, especially if flammable liquid is spilled and creates pool fires. First responders must work in a fast and agile way to control the source and extinguish the flames, and to avoid further spills from catching alight.
When using portable equipment to seal a pool fire, foam is one of the best options, as it creates a low-expansion foam blanket, cooling the flames and preventing oxygen from feeding the fire. To create a foam blanket big enough, the standard-use portable foam applicator with built-in inductor sucking from a foam cannister, connected to the nearest fire water hydrant, is proven to work. However, the speed at which the foam blanket is created is key to its success.
Przeradzki said: "It is vital that the firefighter can move quickly around to apply the necessary foam. With the new Survitec Foam Buddy, this job will be much easier and safer."
Survitec has provided survival and safety solutions to the marine, defense, aviation and offshore markets for 160 years. Survitec has more than 3,000 employees worldwide covering eight manufacturing facilities, 15 offshore support centers and more than 70 owned service stations.