American River Transportation Company (ARTCO) officially welcomed two new harbor boats into its fleet recently. The christening ceremony was held at its shipyard in Waggaman, La. April 11. The boats, which have been in operation a number of months, are the mvs. Louisiana Purchase and Louisiana Transporter, both built by Eymard Marine Construction & Repair.
Breaking the bottle over the top deck railing of the Louisiana Purchase was Tommy Ducre, a welder at ARTCO's shipyard, while Anthony Taormina, an ARTCO coordinator of northbound shipping, did the honors for the Louisiana Transporter. Over 1,100 pounds of crawfish were consumed at the event, it was reported.
The Louisiana Purchase measures 72 by 30 feet with a 10-foot draft. It is powered by two Cummins QSK38-M1 Tier 3 engines that produce 2,000 hp. total. Reduction is Twin Disc 7:1. The engines turn 74- by 55-inch propellers.
Fuel capacity of the Louisiana Purchase is 18,000 gallons. Auxiliary power is provided by a set of John Deere 50 kw. generators. Steering is electric over hydraulic from Custom Hydraulic Components. Deck equipment includes two 40-ton Patterson winches.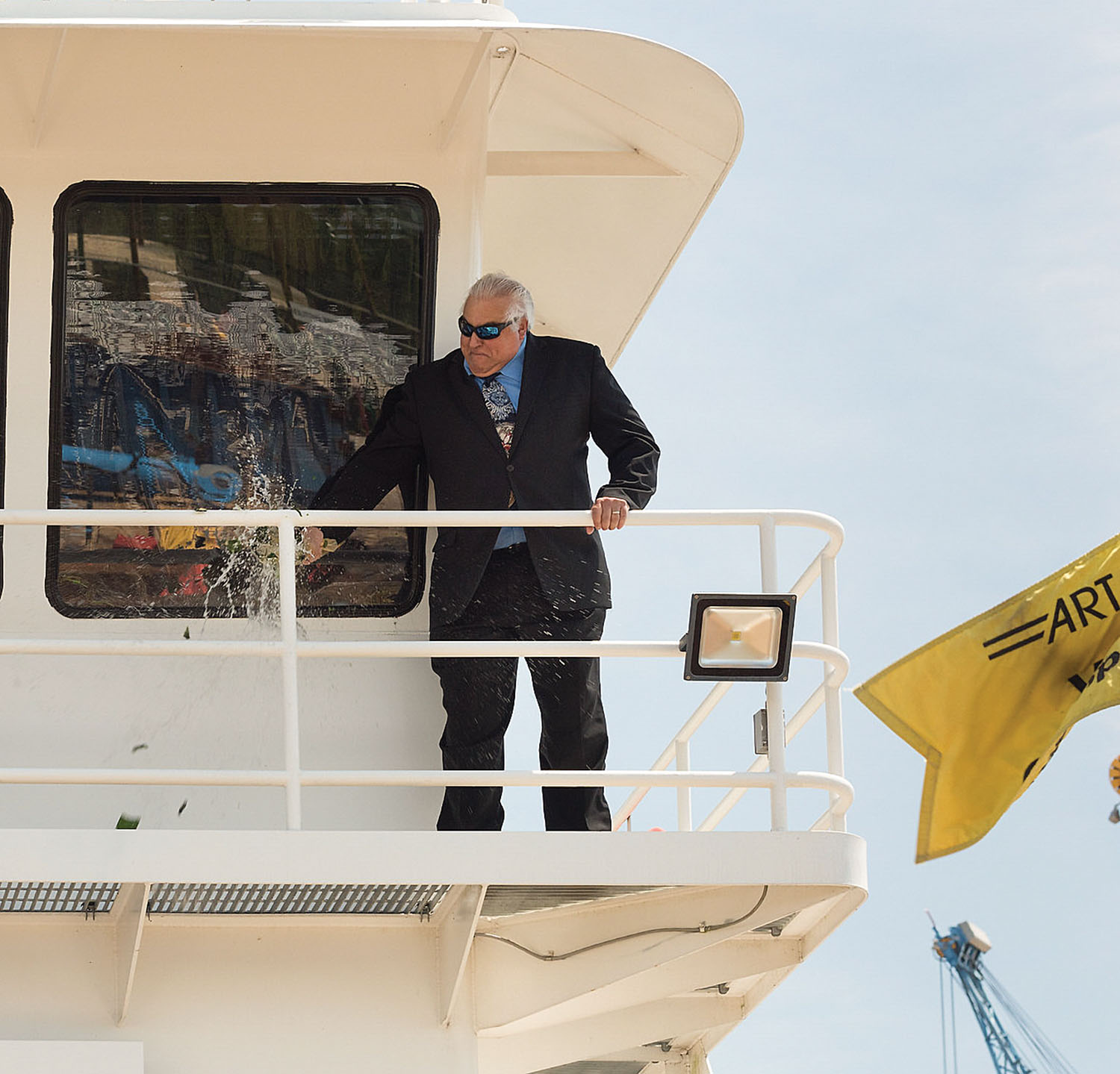 The Louisiana Transporter is also a 2,000 hp. vessel with the same engines and reduction gears as the Louisiana Purchase, only it is a bit smaller, measuring 64-1/2 by 28 feet with a 9-1/2-foot draft. The wheels are 72 by 55 inches. There is tankage for 10,430 gallons of fuel.
Both vessels are lunch bucket boats with no crew accommodations, but with efficiency galleys and deck lockers. They have been working in the New Orleans area.
At the christening ceremony, Seamen's Church Institute Chaplain Tom Rhoades, responsible for the Lower Mississippi, Gulf and Houston Ship Channel, offered the blessing for both vessels and presented the captains with a ship's Bible and a flag of the United States Merchant Marine.
Caption for top photo (click on photo for full image): Tommy Ducre christens the mv. Louisiana Purchase. (Photo courtesy of ARTCO)