Almost three years to the day after the bankruptcy of Sneed Shipbuilding Inc., the "new" yard at Channelview, Texas, now owned by Kirby Corporation and named San Jac Marine LLC, completed the construction of its first towboat. Sneed filed a Chapter 11 bankruptcy petition March 4, 2016. On March 29, 2019, San Jac Marine put the finishing touches on the mv. Steve Holcomb.
The new boat is not the only Kirby vessel to have been produced at the Channelview site, however. Sneed, at its peak one of the most recognizable names in towboat construction, built the hull of Kirby's Joe Lochrico, an 84-foot, 2,000 hp. towboat, in 2016; another shipyard, Vessel Repair in Port Arthur, Texas, finished the job after Sneed went bankrupt.
Meanwhile, a month after the Steve Holcomb was completed, over in Houma, La., the second in a series of towboats currently under construction at Main Iron Works for Kirby hit the water. Main Iron Works delivered the mv. Sandra Leigh Ivey on April 25. (The shipyard delivered the first boat of the series, the mv. Bailey, at the end of last year—see WJ, January 28.)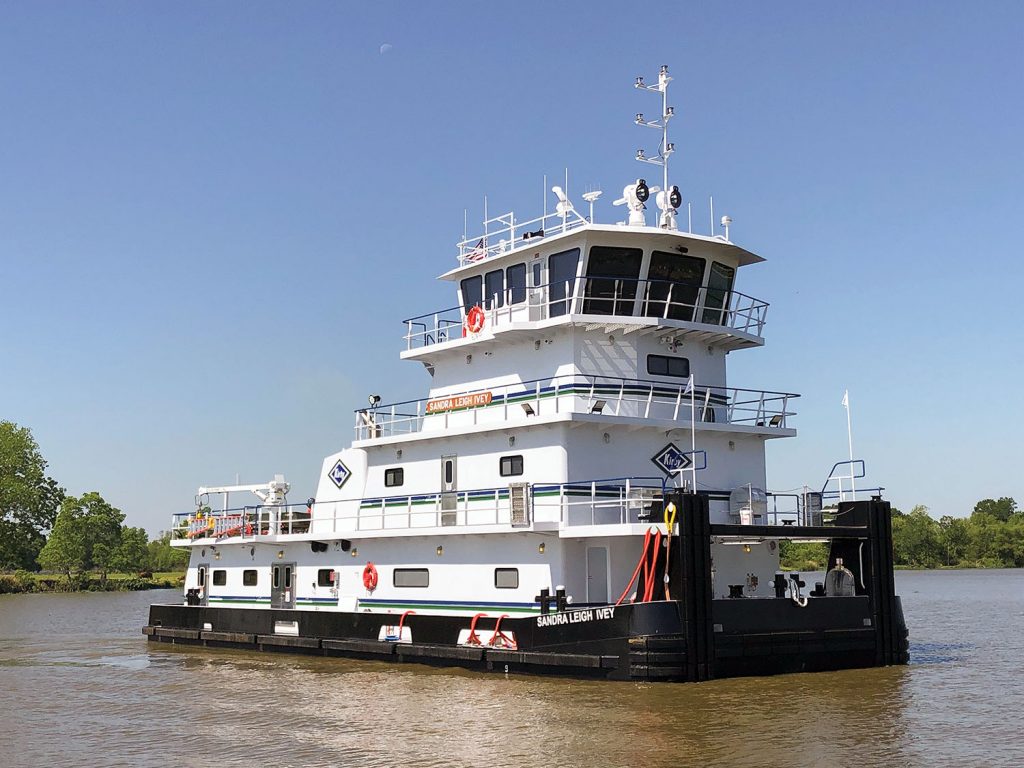 Designed by Sterling Marine and fully Subchapter M compliant, the mvs. Steve Holcomb and Sandra Leigh Ivey are similar, but not identical, twin-screw towboats measuring 88 feet long with 2,680 hp. The fact that the Ivey is wider than the Holcomb accounts for most of the differences in the two. For example, the Holcomb is 32 feet wide and can hold 25,500 gallons of fuel and 3,035 gallons of potable water, while the Ivey, at 35 feet, has tankage for 35,000 gallons and 6,500 gallons, respectively. Also, because they were built by different yards, there are some interior dissimilarities, as well. But, generally speaking, they are the same.
Both new boats have Caterpillar 3512C-HD Tier 3 main engines paired with Twin Disc MGX-5600 reduction gears (6.04:1) and a tailshaft braking system from Sewart Supply. The engines turn Sound five-blade, 85- by 59-inch propellers on 8-inch shafts with Wartsila seals and Cutlass bearings. The engines are cooled by a Fernstrum closed-circuit cooling system.
Both vessels have centrally heated and air-conditioned accommodations for a crew of eight. The deckhouse has epoxy floors and pop-in ceilings. There is a complete galley and lounge for the crew and ample soundproofing. Ship service in each case comes from a pair of 99 kw. John Deere generators. Wastewater is treated by MSD Type 2 Sea Horse systems.
Rio Controls & Hydraulics furnished and installed the electric-over-hydraulic steering systems and related alarms. In each pilothouse is a full suite of communication and navigation equipment featuring Furuno 2117BB/DC 12 kw. radars with 19-inch flat-screen monitors. The vessels have perimeter HD camera systems and are HDTV/satellite TV-ready in all rooms below the wheelhouse and WIFI-ready throughout the boats.
To cut down on glare in the pilothouses, the ceilings are painted black, and to provide the pilots with 360-degree vision, there are large floor-to-ceiling windows. When drawing 8 feet 6 inches, the boats provide the pilots with a 35-foot eye level.
On the towboats' decks are 40-ton Nabrico winches, car puller capstan systems and Rowan Koenig deck cranes. Each boat is equipped with a fleet deck.
About the Namesakes
The Sandra Leigh Ivey is named for the wife of Bill Ivey, who retired after 29 years at Kirby as president of Kirby's Marine Transportation Group, after a long career in the inland marine transportation business. Along with a few friends, he managed Rio Marine, which later became Alamo Inland Marine. He joined Kirby when it acquired the Alamo Inland in 1989. The Iveys have been married for 57 years and have two children, six grandchildren and two great grandchildren.
The Steve Holcomb is named in honor of Kirby's former vice president of investor relations, who retired after 45 years of service at Kirby. Holcomb started his career as a corporate accountant at Kirby Industries Inc., where the focus was on exploration and production, transportation, and financial services. He was promoted to vice president and controller in 1989 and served in that capacity until 2002, when he took on the role as vice president-investor relations. Following his semi-retirement in 2014, he was the driving force behind creating "Fair Winds, the History of Kirby Corporation," published in 2017.
The new vessels join a fleet of some 300 towboats and 1,000 tank barges transporting petrochemicals, refined products, oil products and liquid fertilizers on the Gulf Intracoastal Waterway, and the Mississippi, Illinois and Ohio rivers.
Caption for top photo: The mv. Steve Holcomb is the first boat to come out of San Jac Marine LLC, Kirby's new shipyard on the site of the former Sneed Shipbuilding. (Photo courtesy of Kirby Inland Marine)